MAGNUM OPUS
By
Guest
| Posted March 16, 2022
Smart home professional: Home Technology Solutions (HTS)
Project Location: Charlotte, North Carolina
When maverick developer Jim Gross acquired a disused university dormitory in Charlotte's affluent Myers Park neighborhood in 2017, many locals were skeptical that he'd be able to realize his vision to transform the compact corner plot into 24 luxury, full-floor condominiums capable of fetching upwards of $1.25 million apiece. But with a smart design inspired by the elegant pedestrian streets of Europe, sleek, high-end interiors, and a slew of smart technology powered by Control4, Opus Myers Park has already proved Gross's critics wrong. At the time of writing, half of the properties have already been sold, despite the project having been completed just as the pandemic hit.
The condos, which range in size from 2,500 to 3,100 square feet (plus terraces), are spread across four 5-story and one 4-story steel-and-concrete buildings, all linked by a delightful tree-lined, lamplit courtyard that meanders its way through the complex. Conveniently situated just a couple of miles from the city's uptown business district, Myers Park has a range of recreational facilities, shops, bars, and restaurants and is one of Charlotte's oldest suburbs. It's peppered with pretty old churches and houses, although the latter are increasingly being replaced with luxurious mansions to cater to the ongoing influx of wealthy high-flyers. Charlotte is one of the fastest-growing cities in the U.S. and the country's second-largest banking center after New York.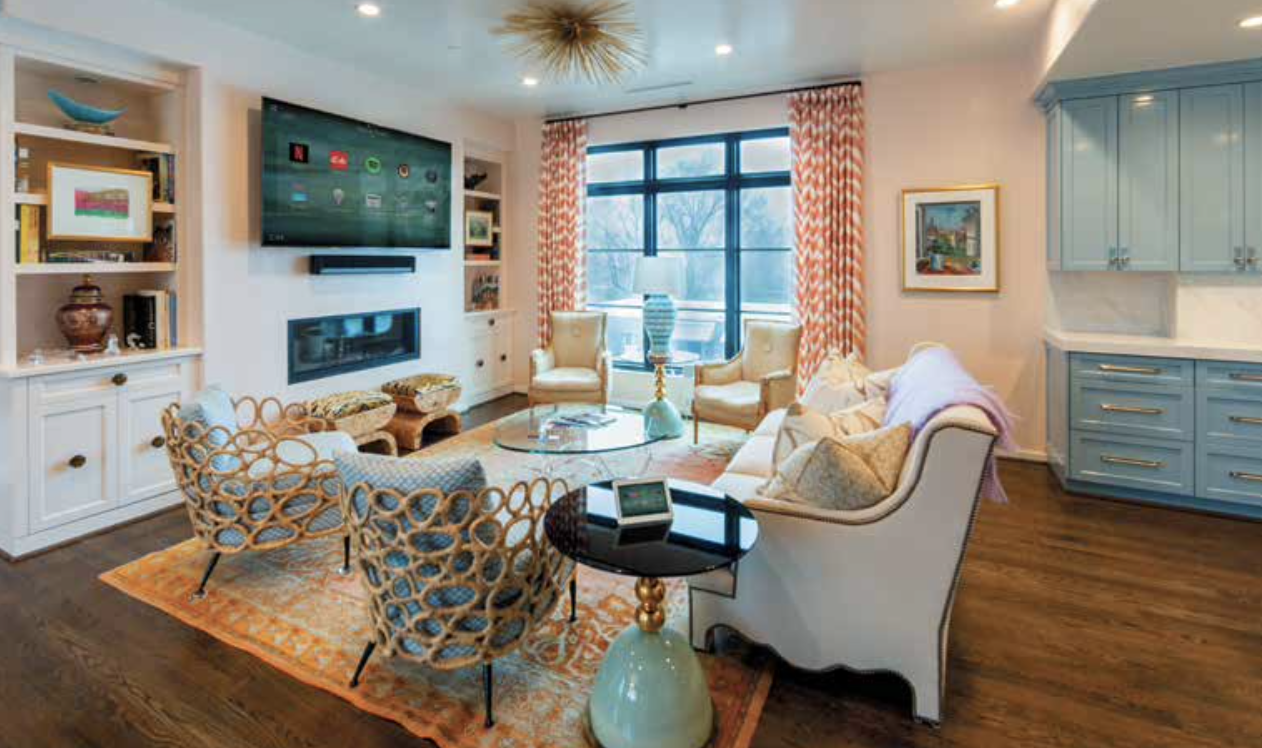 So, when Jim Gross heard Queen's University wanted to sell its old dorm, situated on one of Myers Park's best-known intersections, he bought the site without knowing precisely what he was going to build on it. And, he says, it didn't come cheap. "I started pushing around pencil and paper and figured out it had to be condominiums. But there was a whole list of things I thought sucked about condos—the hotel feel when you walk down the hallway to get to your unit; the odor; the noise; the fact they only have windows on one or maybe two sides," he says. "I came up with the idea of doing freestanding building stacks over the top of an underground garage. Each condo would have its own individual elevator entrance from the garage, and the four building stacks would be separated by fire escapes so every resident would have their own floor with windows on all four sides."
Pushing the envelope
In the hands of a less visionary developer, the site might have been turned into a claustrophobic, concrete monstrosity. But although Jim has been developing property in Charlotte for more than 30 years, he used to be an architect working under the late, lauded I.M. Pei, who most famously designed the glass pyramid at the Louvre in Paris.
"I'm a bit of a lone-wolf developer," says Jim. "My dad used to work on Wall Street, and I've inherited his acumen when it comes to numbers, but because I started out as an architect, I always put the artistic side upfront. Why don't I just build a box, like everyone else? Because to me, that's the most boring thing in the world! I always like to push the envelope. When I start a project people often scratch their heads and ask why, then all of a sudden light bulbs go off and they say, 'Ah, so that's what he's up to!'"
And in the case of Opus Myers Park, what Jim was "up to" was proving that it was possible to have dense, urban, luxury living in Myers Park without it feeling cramped or soulless. "My idea was to create this little urban walkway through the development, modeled after the historic pedestrian streets you often find in European cities. I am a big proponent of maximizing urban space, and I knew that if everybody had their own building and there was a cool walkway running through them, linking queens and providence [the two roads at the intersection], I could create something people would love," says Jim.
Beyond the physical design, smart tech is an essential part of what makes Opus Myers Park so luxurious. Early on in the project, Jim brought in Home Technology Solutions (HTS), a Control4 smart home professional he'd worked with on several previous developments, to oversee the extensive installation.
Mike Fitton, President and CEO of HTS, says: "Every condo has at least five automated lights as standard, which can be set up however the owner wants, and people often opt to add more. All the bedrooms and common rooms are centrally wired for tv, and there are four zones of audio with high-end episode speakers. Everything can be controlled using the Control4 tabletop touchscreens in their condo or from a smartphone. They can even control everything by voice using devices like Amazon Echo or Google Nest if they want," says Mike.
As well as automated lighting and entertainment, thermostats are also connected to the systems, meaning people can easily control their condo's temperature, even when they're not there. And every condo has high-speed wi-fi built-in.
For Mike, though, the most exciting part of the setup is the automated access and security. "This was the first project where we really maximized the use of Control4 for security, access control, and surveillance. When someone's at the gate or calls from the elevator in the garage, you can see and speak to them. You can also see live feeds from cameras in common areas like the courtyard and garage. And each condo has a camera in their own vestibule, pointing at their door, which only they can access," he says. "Another security feature that some owners have found useful if they're away a lot is the ability control4 gives them to make it appear as though someone's there, by mimicking how and when the owners typically open and shut their shades or turn lights on and off," Mike adds.
And because the system is powered by powerful Pakedge networking, and HTS has wired up all the condos for potential additions to the setup, there's plenty of capacity for owners to expand the system as they see fit.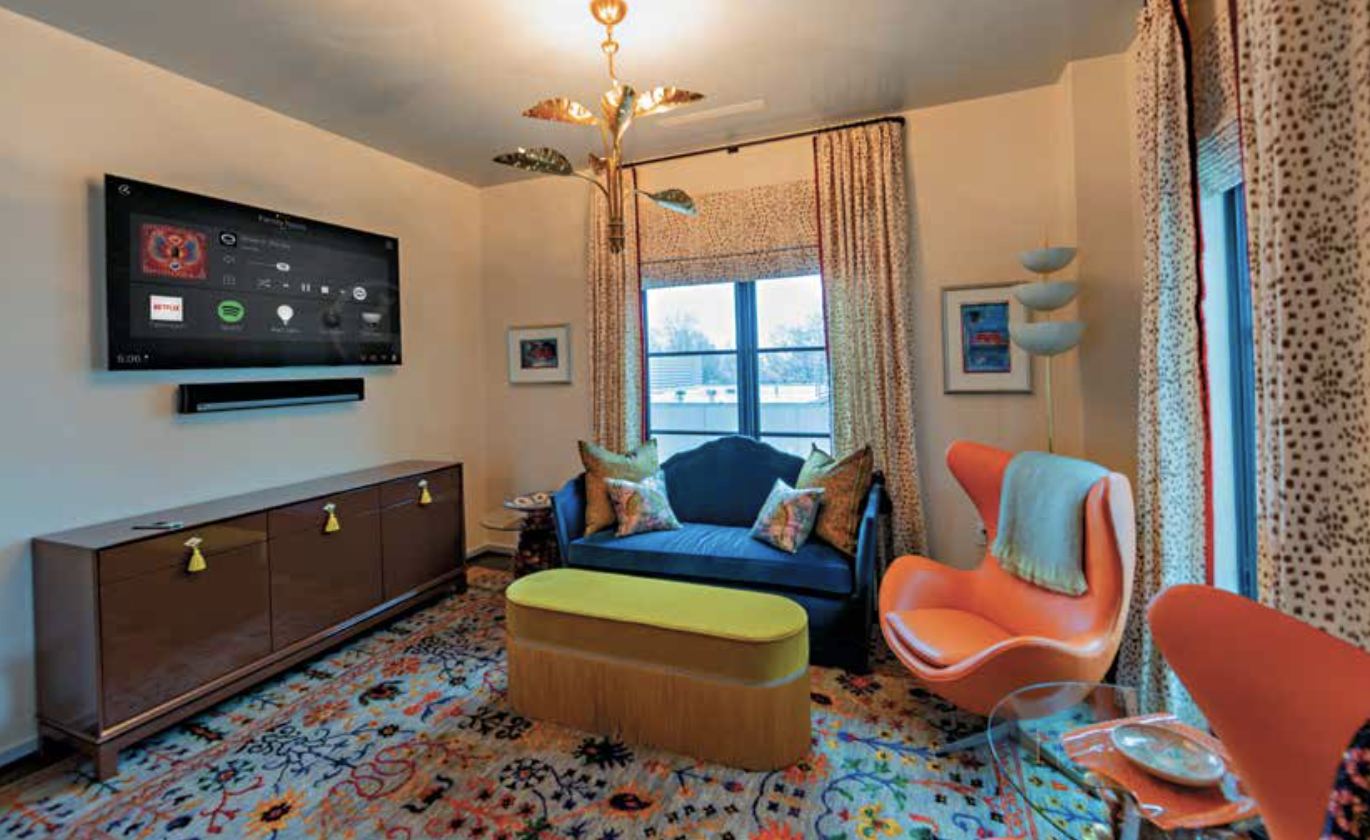 From concept to community
By 2019, people were already moving in, although the entire project wasn't completed until early 2020.
One owner, who enjoys taking international cruises with his wife, told Smart Home: "We have found the Control4 system quite helpful with security and access already. But when we can travel again, it will be very important."
Another, who lives in one of the penthouse condos, said: "We were impressed with the way HTS explained how to use all the features since we are not very technology savvy. But the built-in automation of our televisions, music, and cameras is very easy to use. In fact, the COVID 'stay-at-home' order was quite welcome, enabling us to relax and thoroughly enjoy our home technology."
Mimi Patrick and her husband Bailey, both long-time Charlotte residents, moved into their condo in November 2019. "We love Opus," Mimi says. "It is so convenient and so sunny and just easy to live in. We feel safe, and I never worry when I'm out of town that something will happen. No more downed trees, flooded basements, yard maintenance—we just get
on the elevator and go."
"I love that I can click on the touchscreen by my bed in the morning and see what the temperature is outside and get the forecast for the day. I can set the room temperature easily on the same screen. The T.V.s are huge and awesome. Listening to music in any room is simple. I love that I can see who's at the elevator when the bell rings or let someone in the gate with a touch of a finger. It really is wonderful, and once we got the hang of it, very intuitive," she says.
And during the pandemic, the tech has certainly been well tested. "Our children were grown and working, two in NYC and one here in Charlotte. Then came covid. Our daughter has been with us since then (with her puppy), and our son and his fiancée stayed on and off until they moved to San Francisco in August. We were all working from home, and—amazingly—it worked out just fine, even with four adults with separate monitors set up around the condominium, not to mention three dogs. But the wi-fi never glitched, and everyone was able to work relatively easily," says Mimi.
"All in all, we love living here and feel so fortunate to have a smart home." ■
For more articles like this one, be sure to check out the latest Smart Home Magazine
here
!
Want to learn more about getting started upgrading your home with smart features? Drop your information in the contact form below!
We take your privacy seriously and we promise we won't spam you; please see our privacy policy for details. By submitting your information, you are confirming that you are 18 years of age or older.
Thank you
Category
BUILDING & DESIGN