COMPLETE SMART HOME CONTROL
TOP TO BOTTOM—INSIDE AND OUT
This was one of the best decisions I've made for myself and my home.
Ervin, Control4 Homeowner
EVERY HOME CAN BE A SMART HOME
It's a common misconception that in order to have a smart home, you must get in during the building phase. We've debunked that myth. Whether your home is yet to be built, in the construction process, or has been standing for years, Control4 has the power to make it the smartest one on the block. And size is of no importance; you can smarten up a small flat or a sprawling estate. Our products are built to scale. This means you can start with a universal remote for all of your entertainment equipment and then add a few smart lights or door locks (or anything else) as you're ready to expand.
OUR PRODUCTS MAKE HOMES INTELLIGENT
Your Control4 home is powered by a system controller—the brain of your home. Then, by using a Control4 interface—like a handheld remote, a wall keypad, or touch screen—you can conveniently connect to wired and wireless devices, allowing you to adjust the thermostat, start music throughout the house, close the shades or garage door, or perform many of these actions in unison. From a full smart lighting line to audio equipment, thermostats, cameras, speakers and beyond, we've developed products that enhance your security, comfort, convenience, and entertainment at home.
WE PLAY NICELY WITH OTHERS
Our software operates on an "open" platform. This means you have choice. Whether you want to use products from other manufacturers or choose the products we have purpose-built for the smart home, it's entirely up to you. Brands like Bose, Dish, Denon, LG, Samsung, and Sony already have Control4 technology built into many of their products, but Control4 also communicates with tens of thousands of devices from over 300 brands. The way you listen to music, relax, work, watch a movie, cook, entertain, and create—are all made better when the products you personally know and use every day are integrated into a single system.
A HOME THAT WORKS FOR YOUR LIFE
A Nest thermostat, a Phillips Hue light bulb, a Ring doorbell camera—they're all controlled through their respective apps. But do any of them communicate together? Does your porch light illuminate at night when the doorbell is pressed? Will your door camera allow you to remotely grant access to a service worker while you're away? Can every light be turned off as the thermostat sets itself into "Away" mode when you leave for work? With Control4, your home can do all of this—and so much more—on an easy-to-operate system the whole family will love.
SMART HOME SCENES
Make life more effortless and enjoyable
---
An effortless departure
A press of a button turns off every light and television, then arms the alarm.
A helping hand
A voice command brings up the kitchen lights and turns on Food Network.
Movie night with the family
Set the scene automatically with lights that dim as the movie starts.
A warm welcome
Arrive home to a well-lit house, shades drawn, and the perfect temperature.
The ultimate party
Tap an app and send your house music to the patio and pool.
CONTROL THE ENTIRE HOUSE
With a tap, by voice, or with no command at all
---
ONE APP FOR THE ENTIRE HOUSE
There's no need for separate apps to control the shades, thermostat, and a light bulb. Replace them all with one that manages and controls all of these devices together. You'll be amazed when you can prepare the house on your way home by dialing back the temperature, closing the shades, and bringing up the lights—without jumping app-to-app. House divided? No worries, we have both iOS and Android users covered.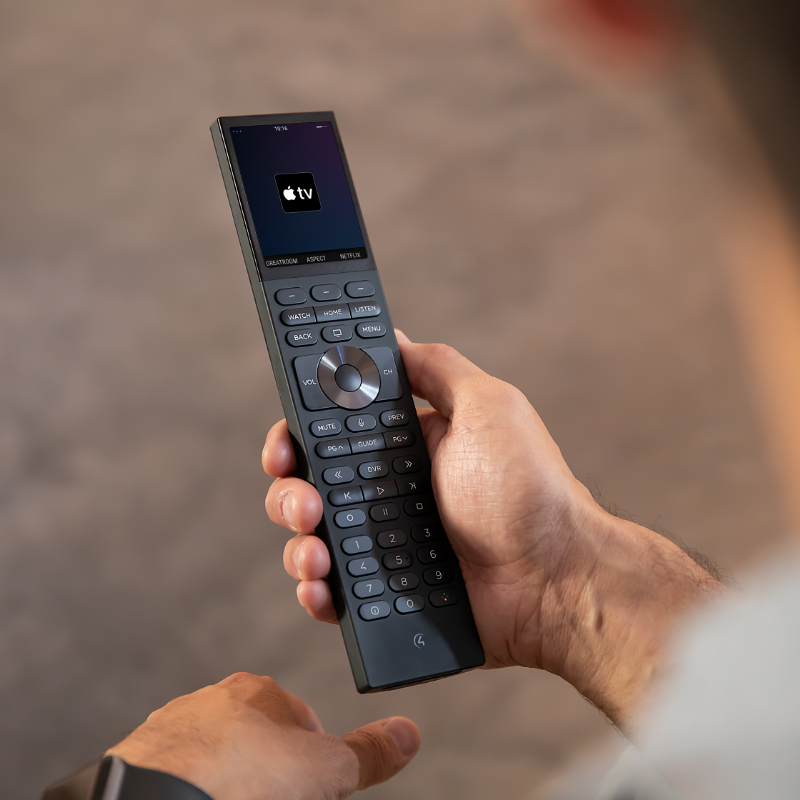 INTUITIVE AND CONVENIENT
We put the power of home control where it makes sense: the handheld remote while watching TV, on a lighting keypad for when you're running out the door or turning in for bed, a touchscreen while you're cooking so you can see who is at the door and let them in, or even by voice as you enter with your hands full.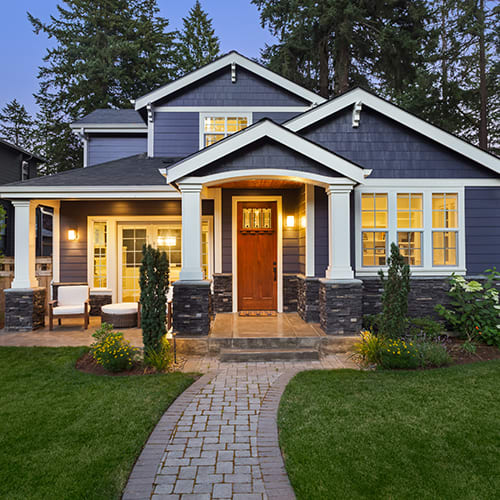 AUTOMATICALLY RESPONDS TO YOUR LIFE
An intelligent home also works for you without having to touch anything at all. For instance, who wants to come home after a long day to a dark house? Instead, arrive home from work to a brightly-lit exterior, lights to lead a pathway indoors, and your favorite streaming music station playing overhead. When your smart home prepares itself for your arrival, departure, morning rise, or bedtime ritual, that's convenience at its best.
REALIZE THE FULL POTENTIAL
OF YOUR CONTROL4 SYSTEM
With a 4Sight subscription, you can use the Control4 App to access and control your system from anywhere in the world (with an internet connection). 4Sight also enables additional features (depending on your system design) that will allow you to get the most out of your Control4 system:
Remote Access: Stay connected to your system, anywhere, anytime (with internet access) with full access to all your devices, controls, media and scenes through the Control4 App for Android or iOS – including Apple Watch
Notifications: Your Control4 system can send notifications and alerts to your mobile device about sensor readings, device status, and state changes to keep you informed, even when you're not around.
Intercom Anywhere: Use the intercom functionality to call to/from a Control4 Touchscreen, video doorbells and door stations, and the Control4 App for iOS and Android, allowing you to stay in contact from anywhere.
Voice Assistants: Incorporate hands-free interactions and experiences through the integration of Alexa and Google Voice Assistants into the Control4 system using cloud-to-cloud support.
Scene Personalization: Use When>>Then Scene Personalization to modify and add scenes on top of the core automation that your independent Control4 Professional programmed for you.
Learn More
NEW TO CONTROL4?
You don't know what you're missing. That's why you must #C4Yourself! Visit a Control4 Showroom today to experience the comfort, convenience, peace of mind, and enjoyment a truly intelligent home delivers.
#C4Yourself
A PRO IS THE WAY TO GO
Much like electricity, plumbing, and heating and cooling, a complete smart home is not a DIY project. With individual "smart" products that are added to your home, the more complexity you will introduce because they simply don't talk or listen to one another. In order to get a seamless, fully integrated smart home system, you'll want to hire an experienced and well-trained installer. Control4 Smart Home professionals give you confidence that your system is expertly designed, functions on a robust network, and features personalized experiences in tune with how you live.
Learn More
ALREADY A CUSTOMER?
Log into your account to renew 4Sight, connect to voice control, get hands-on with When >> Then Automation, manage your profile, or find your dealer's contact information.
Sign In
Get Started
Sign up below to receive more information.
We take your privacy seriously and we promise we won't spam you; please see our privacy policy for details. By submitting your information, you are confirming that you are 18 years of age or older.