Add a Touch of Magic to Every Home
Smart-Home Solutions for Architects and Interior Designers
What do interior designers, architects, and Control4 have in common? We share the common goal of creating an atmosphere that is both beautiful and functional for the family who dwells in the space. Take a moment to learn more about how you can bring your designs to life through smart-home technology.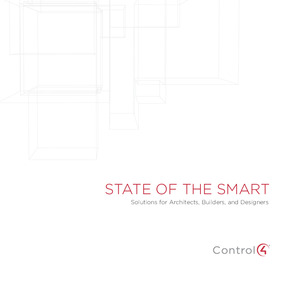 Download State of the Smart
Set your business apart. Get your complimentary ebook for insider tips on how to create elegant, livable spaces that will delight each discerning client.
We take your privacy seriously and we promise we won't spam you; please see our
privacy policy
for details. By submitting your information, you are confirming that you are 18 years of age
or older.
Orchestrating the Entire Home
Control4 assists you in designing polished smart-home experiences that connect your client's entire home. With one touch, homeowners can dim the lights, play music, turn up the heat, lock the doors, arm the security system, and more. Or, their house can respond to their schedule and needs without touching anything at all.
And our solutions always complement any home decor or architecture—working behind the scenes in every space and blending seamlessly into your vision.
It's Time to See the Light, Differently
From concept to creation, you spend an abundant amount of time getting every aspect of every project just right. Now you can replace multiple switches and dimmers with one subtle, beautiful keypad—getting rid of wall acne forever.
With mix-and-match colors and finishes for hardware as well as endless lighting options and automation, Control4 Smart Lighting will subtly, but effectively, enhance your every design.
Black Boxes, Blacklisted
As you know, technology can distract from the look of a room. Control4 gives you the flexibility to show or hide away the entertainment equipment in a room and control all tech from a single remote.
Multi-room video allows you to keep every project clean and beautiful, while still giving the owners access to all of their favorite content. The homeowner can also watch the same thing in every room of the house, perfect for entertaining during a big game.
Audio is Meant to Be Heard, Not Seen
Your clients can enjoy easily controlled, high-quality music throughout the entire house—and even outside—with speakers that are nearly invisible. Or, have them custom designed to match with your crafted design and decor if you prefer sound that makes a visual statement.
With Triad speakers, you have the option of over 20 real-wood veneers to match any type of millwork as well as the ability to match speakers and grills to any color of paint. Blend these speakers seamlessly into your design for the most beautiful sound you may never see.
POWERED BY CONTROL4
We believe that everything is better when it works together. That's why our smart-home technology works together to create a single-remote, single-app experience that makes living smart effortless.
When you add Control4 to your services, you set your business well above the competition to captivate your clients. Reach out to a Certified Showroom Dealer in your area or contact us to get started.
Designing Smarter
Home automation is a feature that many of our customers requrest. Offering Control4 automation sets us apart from our competition.NELSON HOMES
Control4 is the right solution for every project we do. It has a lot of features, it's reliable, and at the right price point, and that's a winning combination.MORGAN MILLWARD, CINEMA SYSTEMS CORP.
I don't have a lot of time to go through a lot of procedures. But if I can reach out and touch one button and have music on, it's wonderful.CONTROL4 HOMEOWNER