A CINEMATIC EXPERIENCE
IN YOUR HOME
We've been using our home theater more often than I expected because it's so effortless to control and it really emphasizes the magic of everything we watch.
Dave P., Control4 Homeowner
DEDICATED THEATER ROOM
More than just a space to watch a movie, your theater is meant to be a place of isolation, drawing you away from the outside world and straight into the action.
It's the perfect ambiance that leaves your family lost in the cine-magic, the go-to spot for friends to enjoy the big game or the next binge-worthy series, and a space you'll never want to leave because the viewing experience brings it all to life.
Create your perfect escape and then surround yourself with those who matter most.
It's not a switch. It's not a bulb. It's about setting the perfect scene—every time.
EQUIPMENT THAT ENGAGES YOU
When you have an uncompromising adoration for high-quality picture and sound, only top-notch entertainment equipment will do.
Control4 builds some of the finest products available to create unsurpassed cinematic moments in your home theater. We also work with your favorite leading brands in projectors, screens, audio systems, and more.
And, to make your investment worth every penny, everything is unified and orchestrated through one effortless system, making the experience simplified and even more magical.
ONE REMOTE. SIMPLIFIED CONTROL.
A tap of the "Movie" button drops the screen, activates the projector, queues the sound, and dims the lights. Enjoy a more simplified viewing experience by replacing multiple remotes with just one that is sleek, sophisticated, and easy for the whole family to use.
The true magic of a home theater is when everything comes together. With Control4, you make your theater investment worthwhile by removing the complexity of managing it all.
LAYER IN LIGHTING
Lighting is an integral part of the movie experience and with Control4 it's completely integrated. Pressing "Play" brings down your overhead lights while the sconces layer in the most optimal viewing levels. Pressing "Pause" brings the lights back up to lead the way for a refill or a trip to the restroom.
Let Control4 take the guesswork out of your theater lighting control. From accents to starlit ceilings, aisle lights to dimmable cans, you'll set the perfect mood with smart lighting that is both effortless and convenient.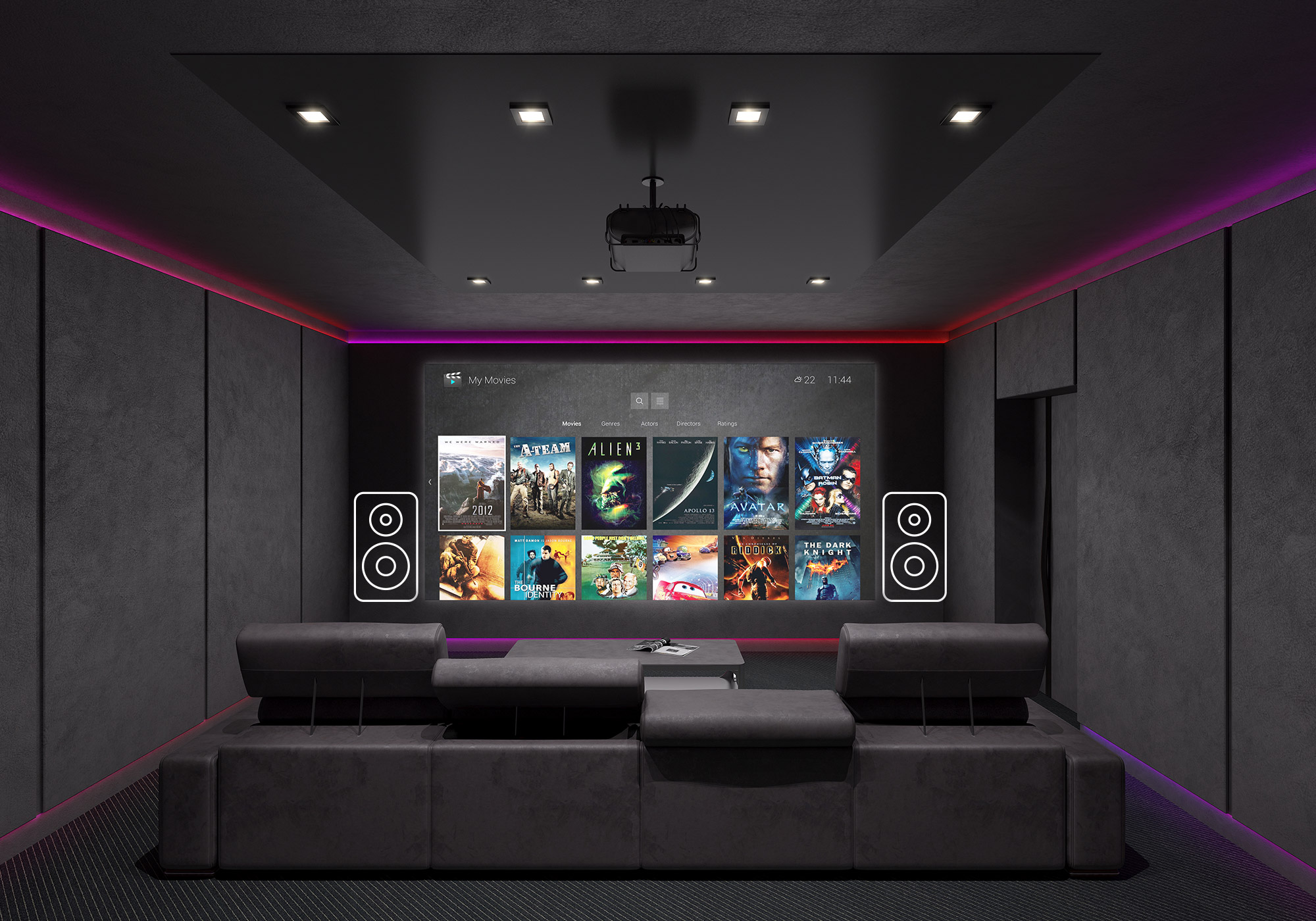 DOLBY ATMOS
ELEVATE THE EXPERIENCE
First there was Stereo Sound
Stereo sound is simply a left and a right speaker placed in front of you. Imagine a performance stage, with the audio coming directly toward the viewer or listener. For the most adequate sound experience, you'd want to be seated at equal distances between both speakers.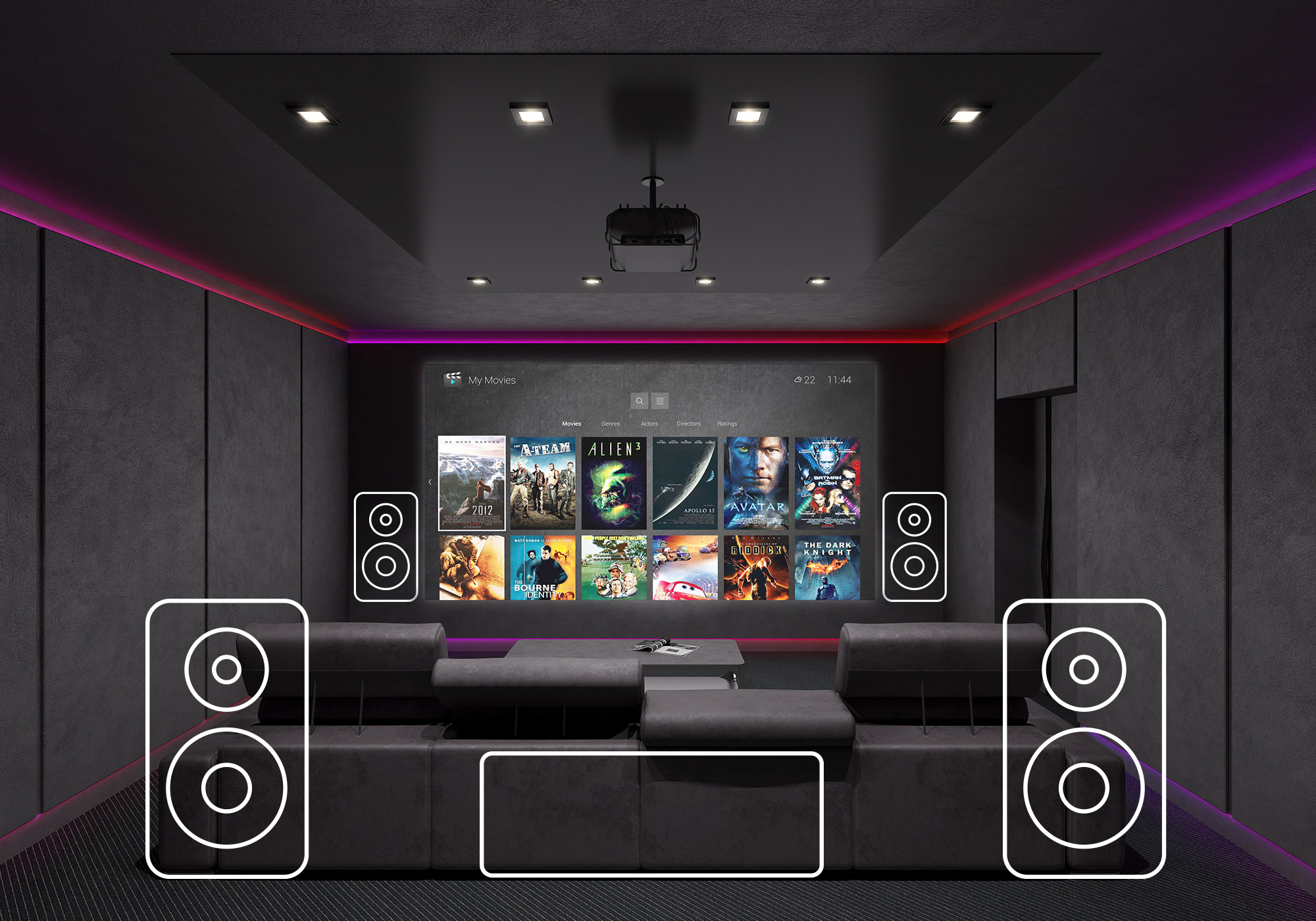 DOLBY ATMOS
ELEVATE THE EXPERIENCE
Then came Surround Sound
Surround sound begins with stereo sound and adds in speakers to the sides and behind you. Surround sound recreates this same performance stage, but provides a more immersive experience with a sound field that truly draws you in—especially appealing for action movie lovers.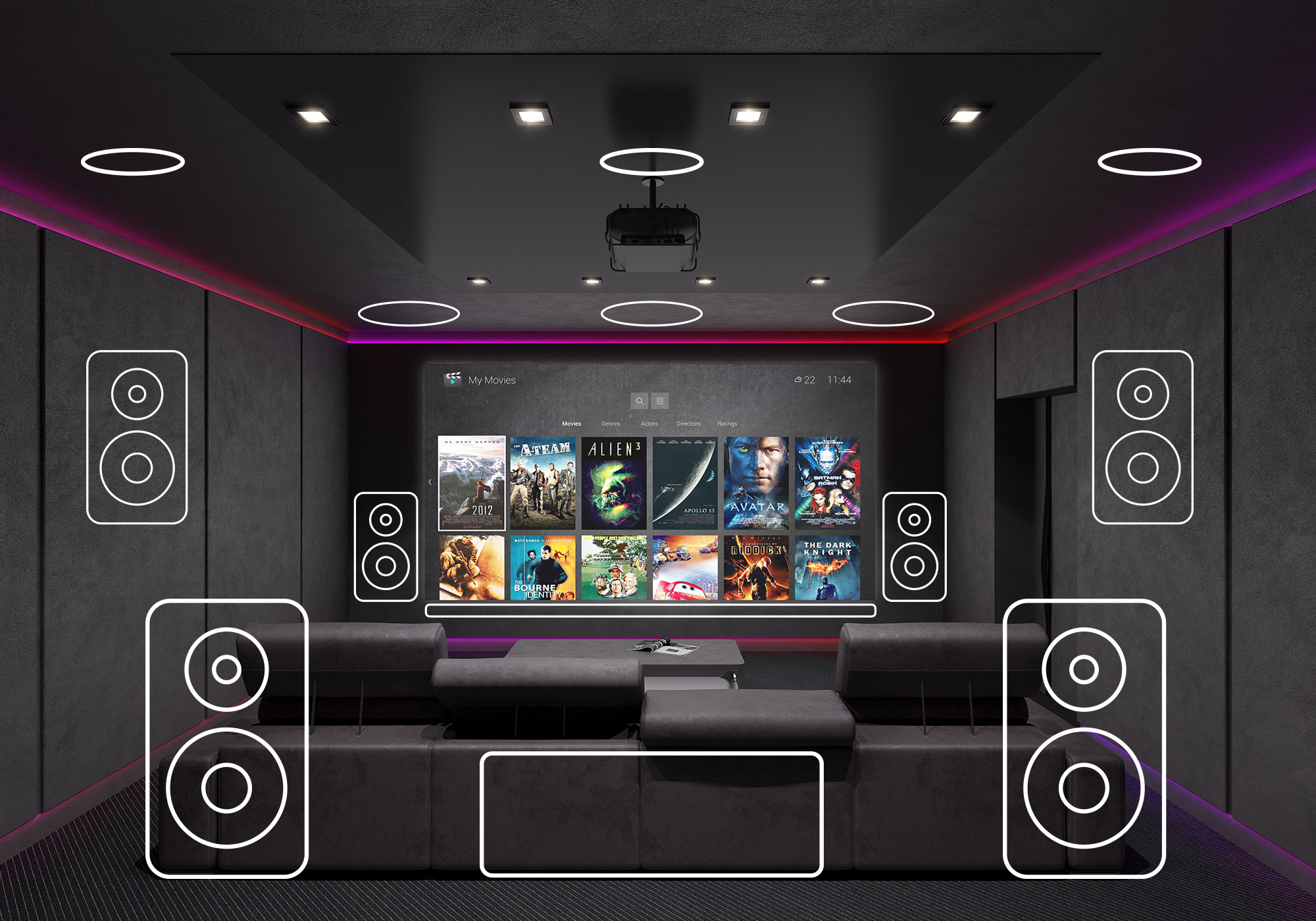 DOLBY ATMOS
ELEVATE THE EXPERIENCE
Now there's Dolby Atmos
Dolby Atmos introduces theater-grade speakers above you to make the experience even more realistic. The sound travels from all directions and captivates the most discerning sound enthusiast. It is the best residential sound application for home theaters that is available today.
DOLBY AND TRIAD A DISTINCT ADVANTAGE
Control4's Triad audio line was chosen by Dolby to help deliver Atmos to residential applications. Our expert design service team has designed thousands of Dolby Atmos systems for home theaters worldwide.
Theater-grade in-ceiling speakers allow you to enjoy the same experience tonally from all angles in your viewing environment, no matter where you are sitting. Our speakers are crafted the same for all types of applications—in-wall, in-ceiling, and in-room—so that they sound the same, wherever they are placed in the theater.
Omnidirectional depth immerses you into the action and excites your senses. Listen to every footprint and breath like they're happening right beside you. Feel that bomber plane whirring overhead as if you're in the center of a war zone. Extraordinary clarity and detail captivates you with a dome of sound that engineers "steer" for the most significant impact.
SIT BACK AND RELAX
YOU HAVE A SMART HOME OS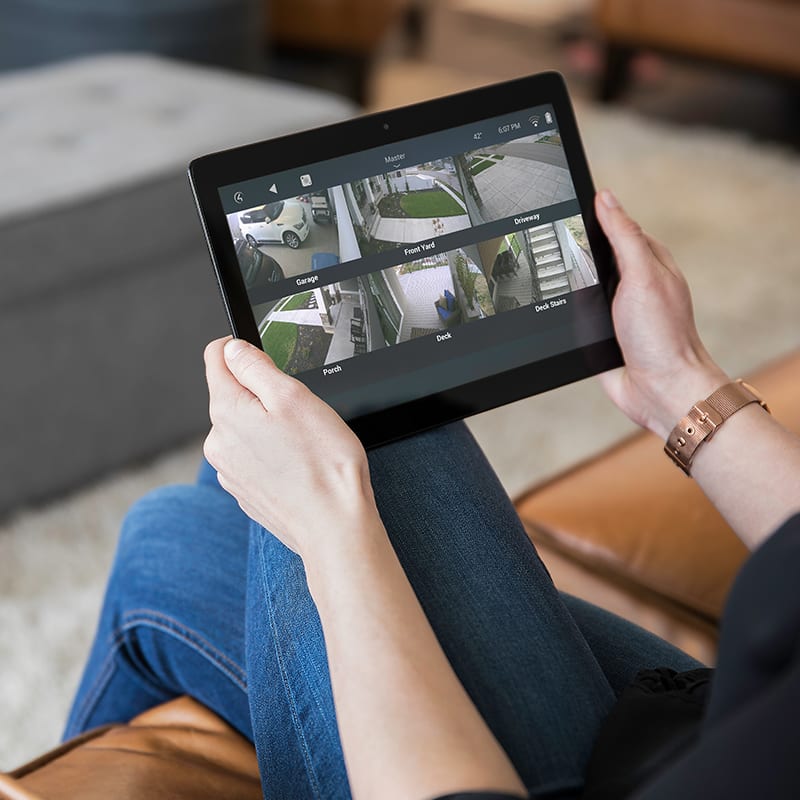 Stay alert to the
world around you
Switch between cameras, lock the doors, or check on any room in the home from your app or the on-screen interface. Motion sensors can let you know if there is activity where there shouldn't be.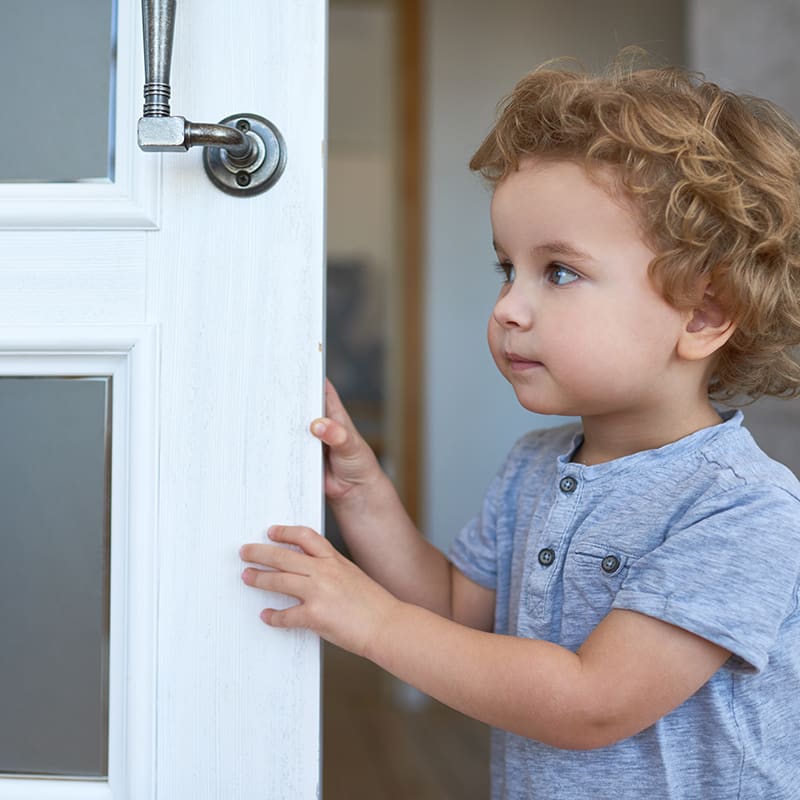 Keep an eye
on the kids
When a child's bedroom door opens, the movie can mute or pause to alert you. Curious eyes stay sheltered from content they shouldn't view, and you can relax without worrying about evening explorers.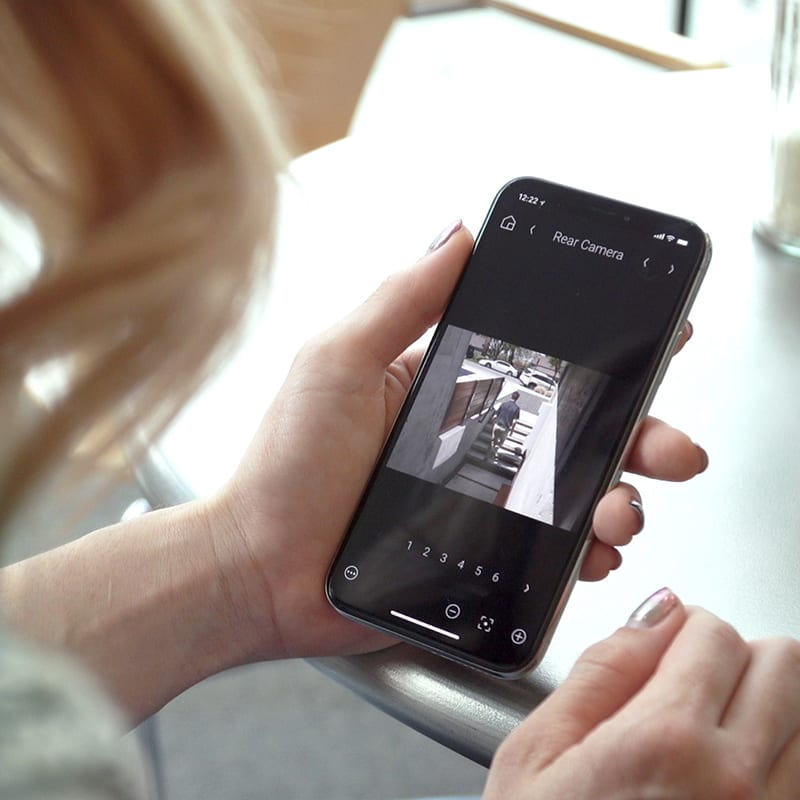 Never miss
a delivery
With a simple tap of your "Deliveries" button, the foyer light turns on, the door unlocks, and your package is placed safely inside. The door secures itself once again—and you watched the whole thing on your phone from your theater.
4SIGHT
ENHANCING YOUR CONTROL
Want to take your Control4 experience to the next level? With a 4Sight subscription, you can use the Control4 App to access and control your system from anywhere in the world (with an internet connection). 4Sight also enables features like Intercom Anywhere, voice control, and When>>Then Scene Personalization.
Control4 Customers can now subscribe themselves and manage their subscription from the Control4 App.
Learn More
REALIZE THE FULL POTENTIAL
OF YOUR CONTROL4 SYSTEM
A 4Sight subscription enables additional features and cloud services that will allow you to get the most out of your Control4 system. Features like:
Remote System Access
Push Notifications
Intercom Anywhere

Voice Control
Scene Personalization
NEW TO CONTROL4?
You don't know what you're missing. That's why you must #C4Yourself! Visit a Control4 Showroom today to experience the comfort, convenience, peace of mind, and enjoyment a truly intelligent home delivers.
#C4Yourself
A PRO IS THE WAY TO GO
Much like electricity, plumbing, and heating and cooling, a complete smart home is not a DIY project. With individual "smart" products that are added to your home, the more complexity you will introduce because they simply don't talk or listen to one another. In order to get a seamless, fully integrated smart home system, you'll want to hire an experienced and well-trained installer. Control4 Smart Home professionals give you confidence that your system is expertly designed, functions on a robust network, and features personalized experiences in tune with how you live.
Learn More
ALREADY A CUSTOMER?
Log into your account to renew 4Sight, connect to voice control, get hands-on with When >> Then Automation, manage your profile, or find your dealer's contact information.
Sign In
Get Started
Sign up below to receive more information.
We take your privacy seriously and we promise we won't spam you; please see our privacy policy for details. By submitting your information, you are confirming that you are 18 years of age or older.