Techorating Trends | Start in a Showroom
By
Danielle Karr
| Posted June 8, 2020
It is estimated that there will be over 12 billion smart devices in homes around the world by the end of 2020. While technology is exciting, many homeowners also feel overwhelmed by the new technology choices available to them. Until recently, technology has generally been seen as a gadget to add into the home after design is complete; however, home technology has evolved, and homeowners now have more options than ever before. Motorized cabinetry allows those with physical limitations to reach objects from above, kitchen countertop surfaces feature built-in mobile device charging capabilities, app-connected residential sous vide ovens are becoming more and more popular with home cooks, mirrors double as TVs, and TVs double as beautiful artwork. And, while some of the emerging technology is still a little gadget-y—like a smart salt shaker—the big question many homeowners are asking today regarding whole-home technology is:

WHERE DO I START?
The answer: start in a showroom.
It's best to begin where you can experience the technology for yourself. Many smart home professionals have beautiful showrooms filled with live technology demonstrations. For example, a Control4 Certified Showroom can demonstrate everything from setting custom scenes to connecting favorite devices into one easy-to-use system. If you bring your ideas to a professional early on for a project, they can work with you to create a smart home that is comprehensive, reliable, and customized to your wants and needs.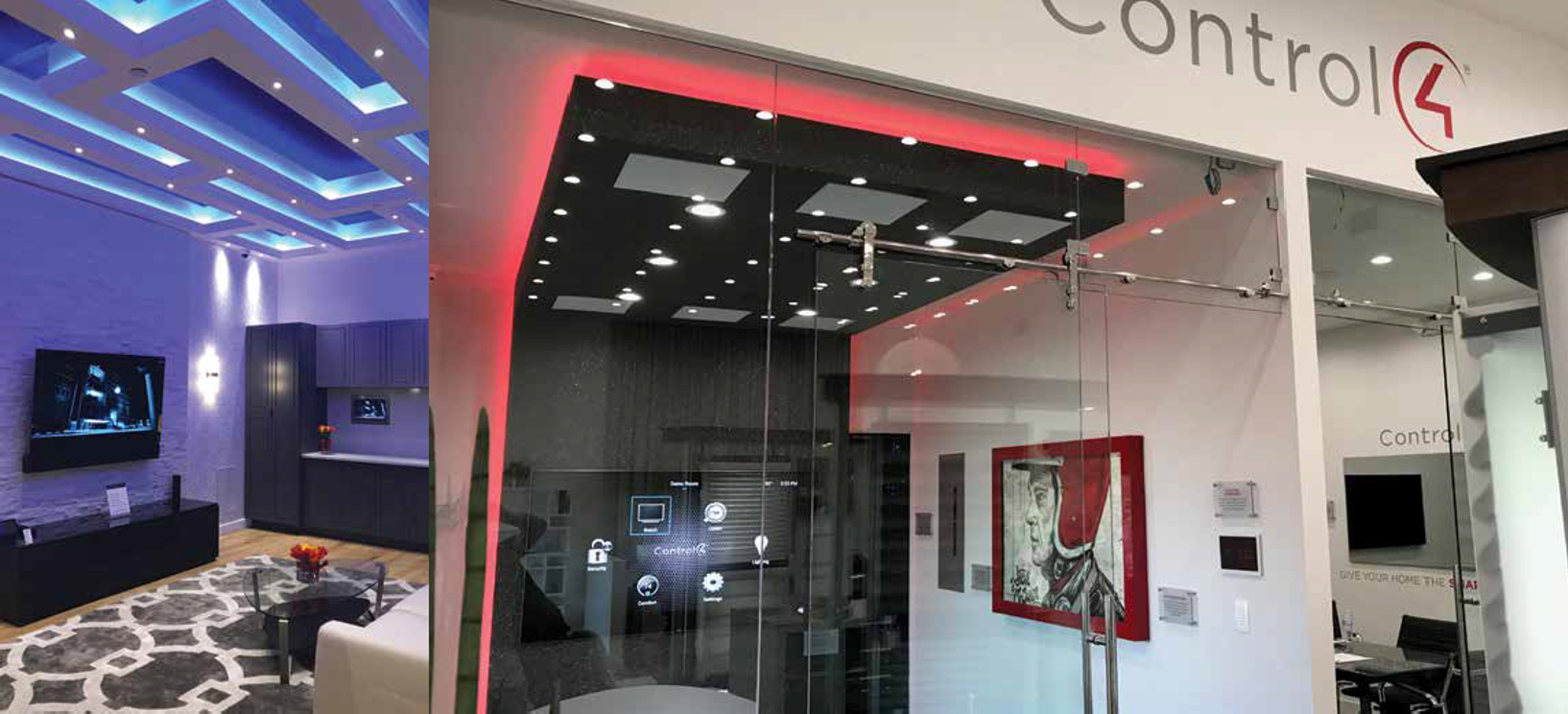 EXPERIENCE A SMART HOME OS
One of the first things a great showroom will demonstrate is the need for a smart home operating system to pull all the technology in your home together. A smart home operating system (OS) expertly connects virtually all technology in the home. It can unify hundreds of connected devices through a single platform for quick and easy control of all home tech. A smart home OS supports and controls products across all categories of electronics, appliances, and systems in the home.

For example, the Control4 Smart Home OS 3 integrates with thousands of different technology devices and services in the home, including:
• Connected appliances
• HVAC control
• Electric blinds & shades
• Smart lighting
• Security cameras & systems
• Video doorbell & smart locks
• Universal remotes
• Multi-room music and video
• Home theater and audio control
• Sprinkler systems and pool controls

Smart home OS design is particularly important when you want to have multiple ways to access the technology in your home. Once the technology is installed and the core programming is finished, your Smart Home Professional will teach you how to manage and personalize your smart home OS to ensure you know how to access and control devices, adjust presets, and create automated scenes.

A certified showroom is the perfect place to experience for yourself the magic of a smart home and continue learning about new options and upgrades as they become available.

We take your privacy seriously and we promise we won't spam you; please see our privacy policy for details. By submitting your information, you are confirming that you are 18 years of age or older.
Thank you
Category
PERSONALIZED SMART HOME