TURNING YOUR HOME INTO YOUR CASTLE
April 27, 2020
"My home is my castle." This phrase from medieval England has renewed significance given recent global events. Our homes are now doing double and triple duty as schools, remote offices, entertainment centers, and more.
With this in mind, there has never been a better time to make sure your home's network capabilities are up to speed. The last thing you want to experience during an urgent business call or online meeting is the "spinning wheel of death" as multiple devices in your household compete for bandwidth. If your family members are streaming videos or attending online classes at the same time that you're attempting to work, things can get messy without a reliable system in place. Fortification is key!
While home automation technology has never been more robust — or accessible in terms of price — when you begin to research what is currently on the market, it quickly becomes apparent that not all products and services are created equal. The
Control4 Smart Home OS
offers a uniquely comprehensive, user-friendly package which provides homeowners with complete, effortless control over everything from home entertainment to lighting, to heating and cooling, to security.
Your certified Smart Home Pro will help you turn your home into the castle you deserve —
personalized, helpful, secure, and private
. To that end, there are a lot of advantages to having a Control4 Smart Home OS in place. For one thing, it allows you to simplify your setup at home by consolidating all of your technological devices into one interface. Control4 systems are compatible with several well-established brands, including Google, Amazon, Roku, Sony, Samsung, and other top brands.
The Control4 Smart Home OS is an open platform that will interface with over
14,000 different third-party products
, including smart door locks, doorbell cameras, TVs, speaker systems, smart kitchen appliances, HVAC and thermostats, floor heating, garage doors, and more. Control4 systems are also highly intuitive, in that they provide simple and secure options for controlling the system, such as voice control, in-wall or tabletop touchscreens, universal smart remotes, in-wall keypads, and a dedicated app.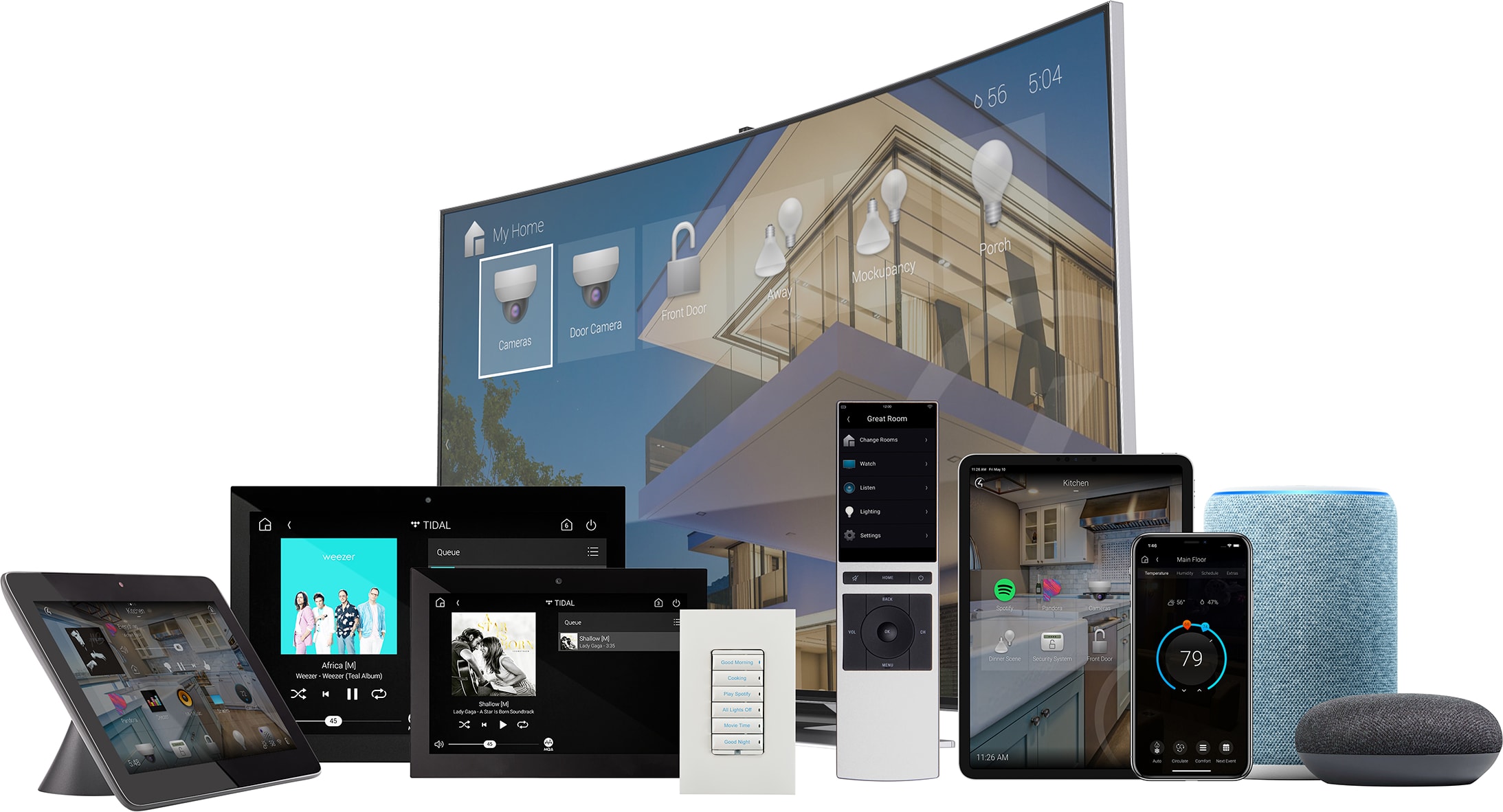 The Control4 Smart Home system is also personalized and modified precisely to your needs. The system has fantastic applications for home entertainment; it can ensure that all speakers throughout your household have been calibrated for the specific conditions of the room they are in, whether it's a surround-sound system in your home movie theater or a simple Bluetooth speaker setup you keep by the swimming pool. There are even Control4 compatible speakers which are built specifically for outdoor use and are aesthetically pleasing in that they blend seamlessly into the environment, and are easily obscured by shrubbery.
Another great feature is a multi-room smart video system that connects all of your TVs and allows you to simultaneously transmit video and music to different rooms. It also facilitates easy access to your preferred streaming stations, playlists, etc., and you can also have the TV turn itself to a specific channel at a particular time of day. And, to create a perfect ambiance in any room, Control4 allows you to set up lighting for unique conditions of each room, and turn lights off in other places if they were accidentally left on by a child or spacey spouse.
Control4 Smart Home systems also empower customers by providing them control over their home while they're out and about. Notice that a door was accidentally left unlocked? Locking it is as simple as pushing a button on your phone! Customers also receive customized notifications, like doorbell alerts and security updates. Control4 also works with the most trusted security brands, so you know that you're in good hands. You're also given considerable control over privacy settings, and Control4 is transparent about their use of your data, and they respect privacy laws and always advocate for your protection.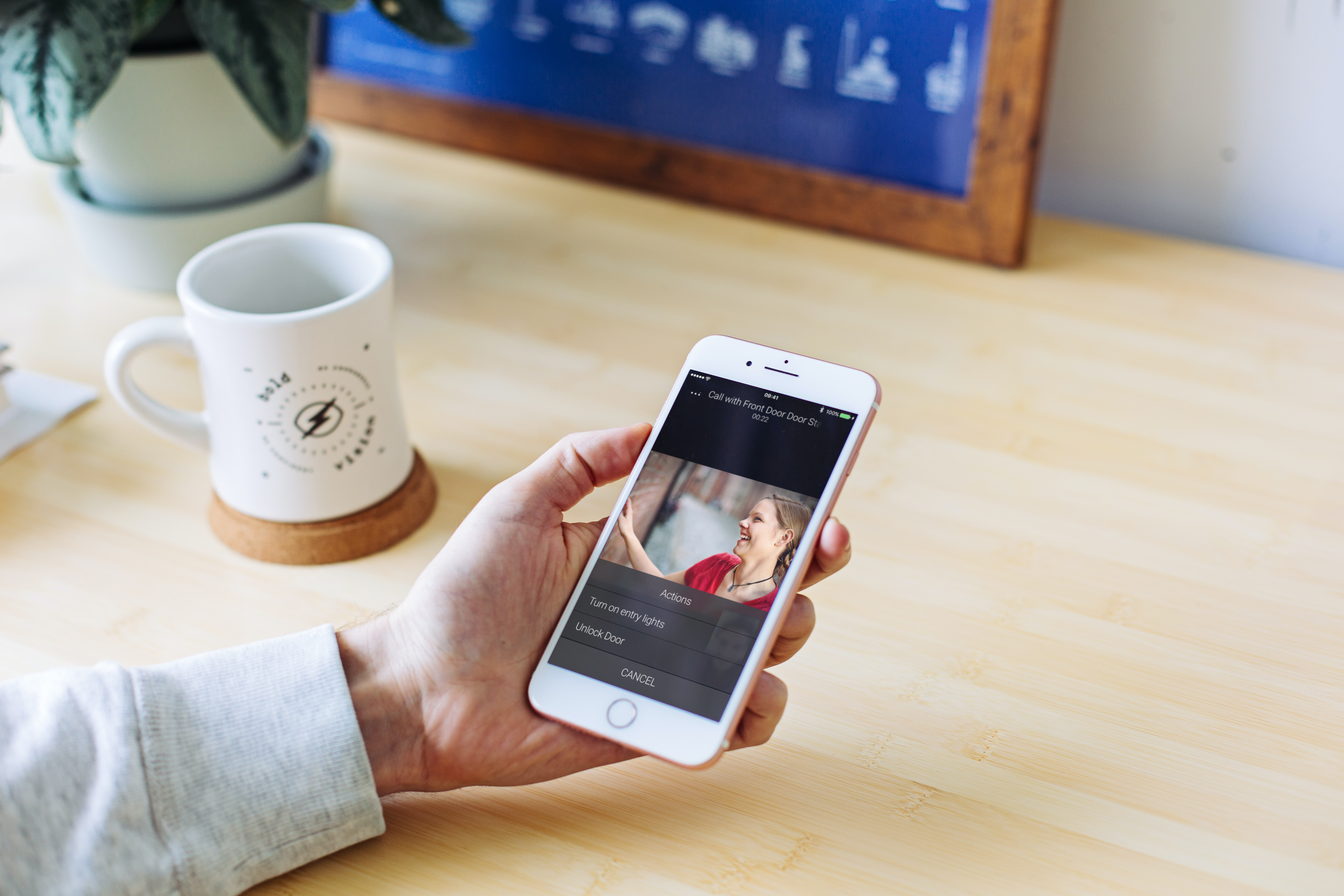 Could you construct something piecemeal? Perhaps, but just because you can doesn't mean that you should. The DIY road quickly leads to heartbreak. Without a secure Wi-Fi network foundation in place and certified pros to consult, you might soon run into problems. You will want to hire Smart Home Professionals, who are certified experts handling the design, installation, and management of customized electronics and the systems which power them. These professionals have the necessary training, tools, and practical knowledge to implement your smart home system so that it runs reliably.
There are many advantages to using professional-grade networks and having a professional to consult as needed. They can provide the foundation for the high-performance network that your home needs. Smart Home Pros can also provide oversight to ensure that your networks continue to operate efficiently. Modifications and augmentations to devices can be made as needed to further tailor your system to your needs. When it comes to issues that commonly arise and perplex and/or frustrate the average homeowner, Smart Home Pros have the expertise and resources to identify and fix these kinds of problems quickly, so your business and home life doesn't have to stagnate while you try to troubleshoot on your own.
Reinforce your castle with the latest technology, and you'll be ready for whatever comes your way. Flawless connectivity is the future of at-home comfort and ease; a strong virtual connection makes it possible for everyone in the family to work and play worry-free. Create the exceptional domicile you deserve today!
---
We take your privacy seriously and we promise we won't spam you; please see our privacy policy for details. By submitting your information, you are confirming that you are 18 years of age or older.
Thank you
Category
PERSONALIZED SMART HOME