Get Smart in 2019: Environmental and Energy Conservation using Smart Home Tech
March 22, 2019
This article was contributed by Sam Radbil from ABODO apartment listings.
Energy conservation used to be a matter of sealing window and door leaks, adding insulation, turning down the thermostat and putting on a sweater. While all of those ideas will help, using
smart home
devices can save homeowners quite a bit of money when it comes to energy bills.
---
Did you know the typical U.S. family spends at least $2,200 per year on energy bills and nearly half of that pays for heating and cooling?
---
The Way We Were
Thermostats used to be little round things with a mercury bulb in them. There was also a tightly wound spring that would expand and contract as the room temperature changed. When the temperature reached a certain point, the spring would expand or contract enough to cause the mercury bulb to move, shifting the mercury blob inside and causing it to either connect or disconnect the electrical circuit that turned the furnace or AC on and off. Everything was done manually, so if you forgot to turn the heat down in your cold
Milwaukee apartment
before you went to bed, you would have to wake up and turn it down by hand.


The First Programmables
Things took a big step forward with programmable thermostats. They were electronic, and you could set temperature ranges over certain time periods and save real energy dollars by automatically having your thermostat adjust the temperature according to your presets. The problem was that you almost needed to be an experienced tech support professional to figure out how to program these things, and many people just gave up and only used the manual functions available.


Today's Innovative Smart Thermostats
The good news is that the new
smart thermostats
are easily programmable and can be personalized to your lifestyle. You can even adjust temperatures remotely from the airport, the beach, or even while you are in your car this way you aren't wasting energy while your home is empty, but it can be ready and comfortable by the time you get home. When integrated as part of a smart home system, smart thermostats can also alert you to issues like heating failures, cooling lapses, or
indoor pollutants
and even initiate actions that can mitigate the issue. For example, is a smart thermostat registers high temperatures or a dangerous pollutant it could trigger a safety program that cracks open motorized windows to let cool air in or let pollutants out. It could also be programmed to lower automated window shades to block direct sunlight. This brings us to our next suggestion.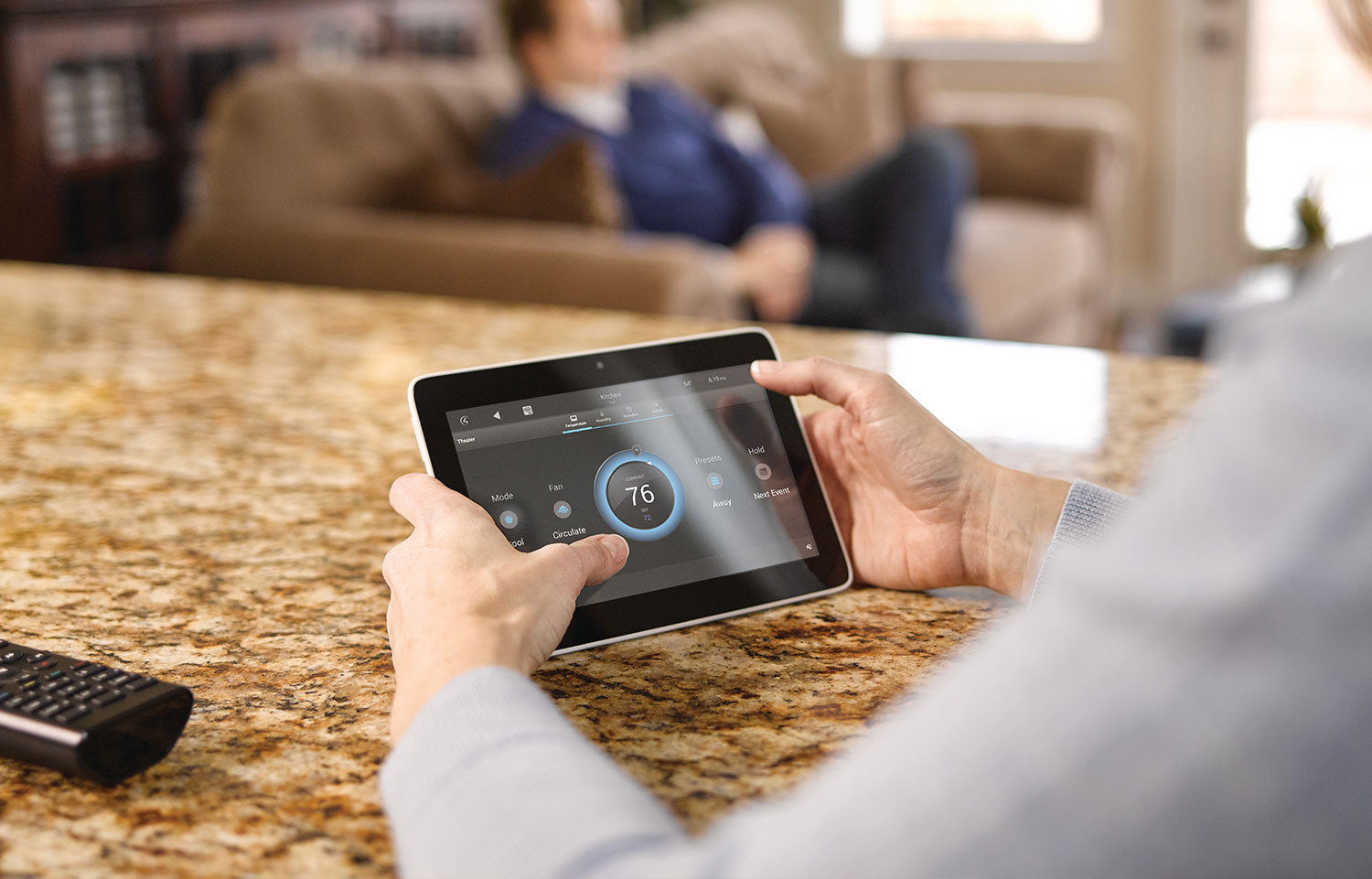 Automated Window Treatments
If you have ever moved into a home or apartment that did not have shades, curtains or drapes you quickly figure out that life without them is problematic when it comes to privacy, comfort, and health. A trip to the home supply store will primitively solve the issues, but traditional blinds and shades have to be manually adjusted and often get tangled.
Smart, or motorized, window shades
are more convenient, can help with energy conservation, and keep your home furnishings safe from sun bleaching. Smart window shades can be raised or lowered with the touch of a button, with a voice command, or be programmed to as part of scenes that react to the time of day, temperature, or part of your daily routine. And don't think that you are limited in fabric or color choices, because smart window shades and blinds come in a variety of styles to incorporate your specific decorating desires.


Avoid Disaster and Waste with Leak Detection
Most people discover a leak when they either slip on a kitchen puddle in the middle of the night, or when their spouse called starts yelling about water falling down from the ceiling because the toilet kept running, overflowed, and dumped hundreds of gallons of water into walls and onto floors. But there are better ways to detect leaks and prevent disaster.
Smart leak detection sensors
can let you know immediately if something is amiss. When these detectors are paired with an app, you can not only be aware of what is occurring, you can either manually shut off the water supply, or check your app to make sure that the system has done its job and has turned off the guilty water supply. Preventing a leak with smart leak sensors can save you time, money, and the hassle of invoking your homeowner's insurance policy to attempt to cover any damage that has occurred.


Intelligent Lighting Solutions to Cut Your Electric Bill
LED already extremely efficient, but when paired with
smart lighting controls
and dimmers homeowners can really maximize energy savings. Dimming the lights by 50 percent uses 50 percent less electricity, but imagine being able to automate and remotely control all the lights in your home. When connected to a smart home system, lights can be programmed to turn on, off, or dim automatically based on the time of day, occupancy, whether the shades are opened and closed, or even depending on the activity. Homeowners could touch a Vacation Mode button or give a Good Night voice command and have all the lights simultaneously dim or turn off, every bulb or room could even be programmed differently so that one command can turn on the porch and perimeter lights, dim the hallway lights, and turn-off lights in the living room and kitchen. In a truly smart home, like a
Control4 Smart Home
, that same command or button could also control door locks, window shades, thermostats, and security systems.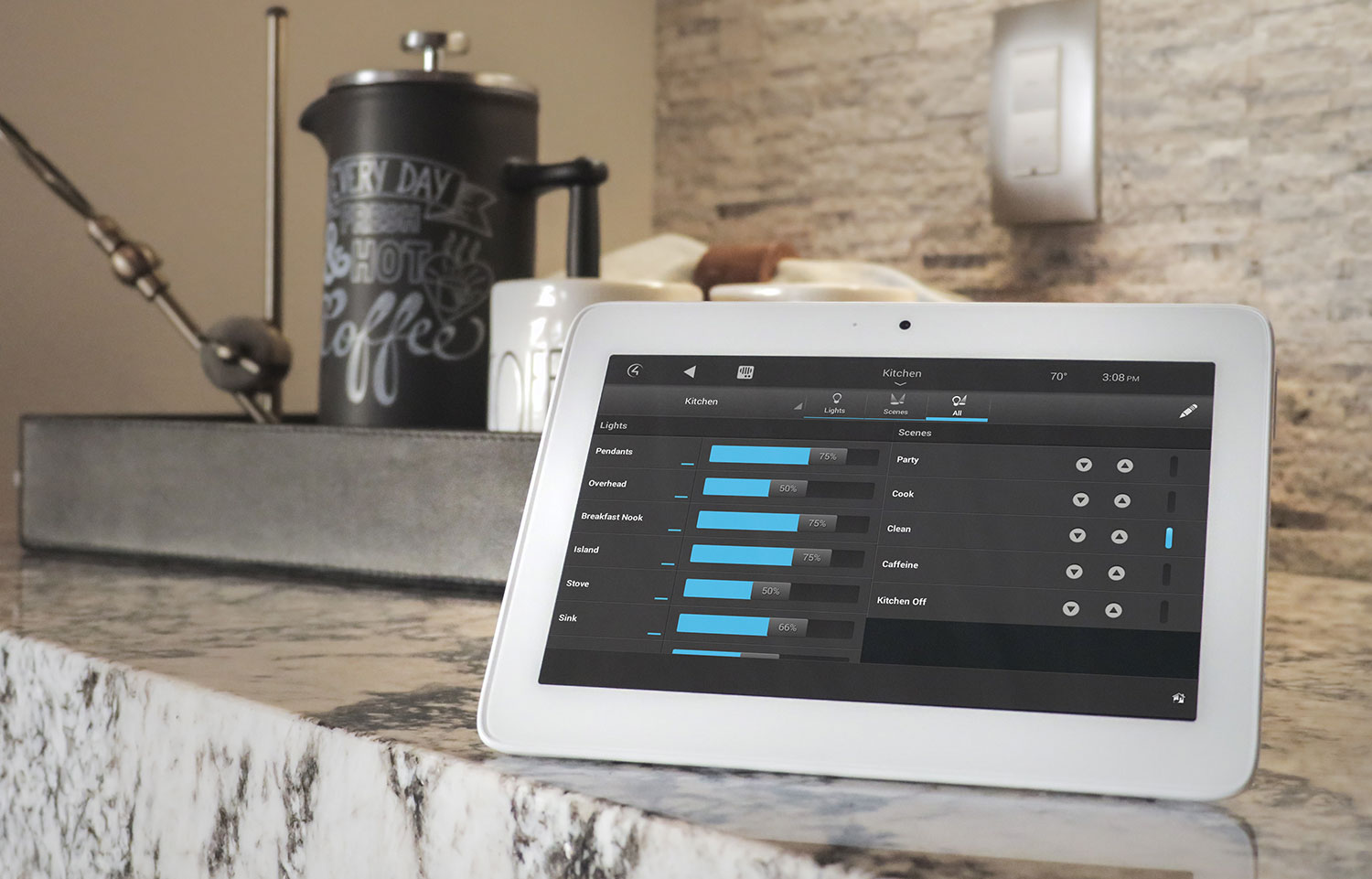 A Comprehensive Solution for Peace of Mind
The best part about these solutions is that they can be orchestrated to work in harmony with
other smart home solutions
in ways that make them even more effective while offering you greater convenience, control, and peace of mind. Smart technology solutions for your home are no longer luxuries. They are practical, can be customized to your needs, and even adapted over time to evolve with your lifestyle. Want smart home solutions that can be designed for energy conservation as well and your comfort and peace of mind? Contact
Control4
for a consultation or to be directed to a
showroom
near you.

Get more information.
We take your privacy seriously and we promise we won't spam you; please see our privacy policy for details. By submitting your information, you are confirming that you are 18 years of age or older.
Thank you
Category
COMFORT & CONVENIENCE