SMART HOMES… TO GO
April 30, 2018
LOCATION
: Healdsburg, California // DEALER: Irontown Homes
Modular homes get modernized with automation.
Modular homes—prebuilt homes that are fabricated off-site and then delivered to the home site—have been an attractive alternative to building on-site for decades. But the pre-fab world has a bit of a stigma… when people think of modular homes, they often think of ugly trailer homes—low-quality design and poor aesthetics. But that's changing, and it's companies like Irontown Homes that are driving the change. They're making modern, hip, eco-friendly modular homes, and, to sweeten the deal, they're making these modular homes smart, too.
Walk into a contemporary creation from Irontown Homes and you realize immediately, these are not your grandfather's modular homes. Flat roofs, big windows, clean lines. Gone are the tacky materials, replaced with contemporary flourishes like barn wood and granite countertops. "We've learned over the years what the trends are, and where they're going," notes Kam Valgardson, Irontown Homes vice president. These homes are gorgeous—and they're green, too. The models feature renewable bamboo flooring, eco-baths, formaldehyde-free fiberglass insulation, eco-conscious sealants and coating, and fluorescent lighting throughout the home.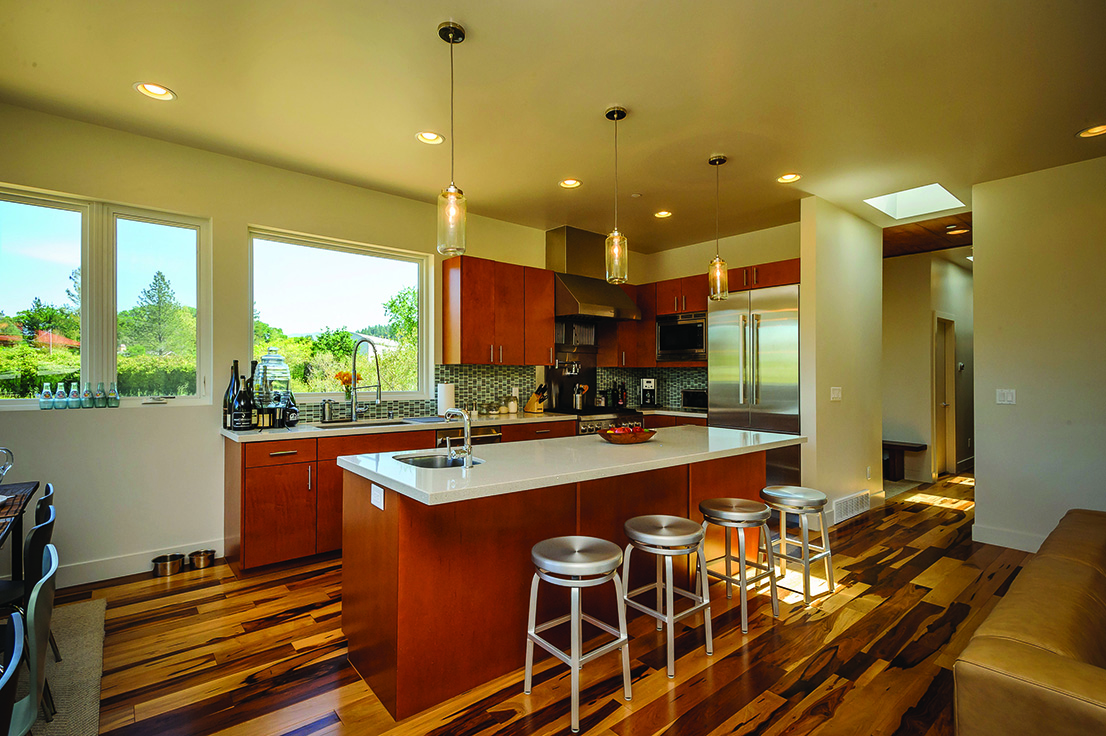 Gone are the days, it seems, of the "shoe box" modular home. Companies like Irontown Homes use designers and architects to truly customize a homebuyer's plan. "As long as it can be broken down into pieces and moved down the road, we can put it together," promises Kam.
Kam's father Richard started the company in 1984, after having worked moving homes with his dad after World War II. Richard realized there was plenty of room for improvement in the construction of those early modular homes, so he started building them himself. After building more than 1,500 homes in 10 years, Richard changed the company focus, from quantity to quality. They started working on custom builds, incorporating higher-quality products into their projects. That enticed a new audience of customers—younger, hipper homebuyers—to consider going modular. "If you're going to build a custom home it's going to take you a year and a half, two years," Kam says. "We can do it in about half the time and at a lower budget, usually 20 to 30 percent less."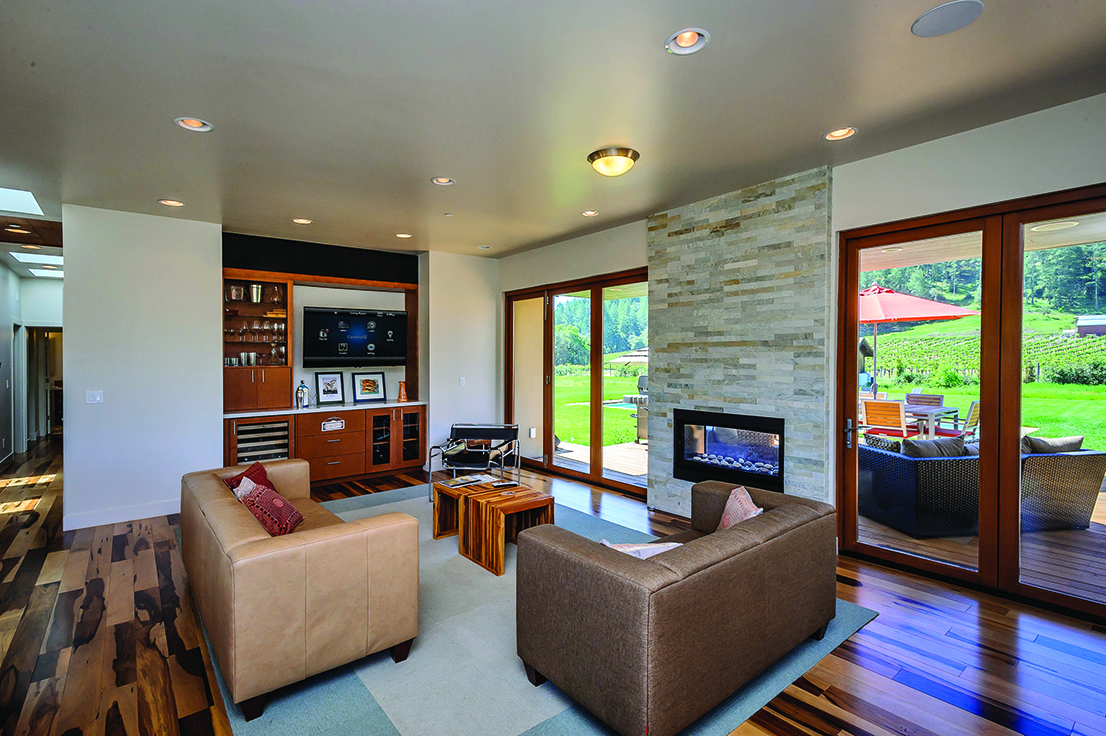 Today, Irontown Homes builds modular homes in a 60 thousand square-foot facility in Spanish Fork, Utah. The facility is two stories tall, so they can build two-story sections of homes there before shipping them out to the home sites. "Irontown fills that niche of modular high-end custom construction," Kam remarks. Modernizing the modulars has certainly paid off for Irontown…and now, they're adding another tantalizing feature to their pre-fabs—automation.
Some Irontown Homes feature Control4 systems—security cameras, rolling shades, home theater, multiple audio zones inside and outside the home. Like all smart homes, owners don't have to walk around turning everything on and off: They can control everything from a touch panel, or their phone. Control4 switches and hardware match the contemporary style of these modern modulars. And, like traditionally-built homes, automation assists with various aspects of home life—energy use, lighting, heating and air conditioning. If it's got a switch, Control4 can probably control it.
It may seem odd to think of automating a modular home, especially if it's on the smaller side. What's the point of automating a 500 square-foot studio, for instance? Kam has an answer. "If your goal is to have a space that is easy to control and comfortable to be in, it doesn't matter how big it is, it can be 10,000, 2,000, or 500 square feet." Also, many modular homes are guest homes, and automation makes remote monitoring easy. "If the owner's in the main home and he doesn't want to go out in his pajamas to check the guest home, he's just going to pop on his phone and turn things off, and he's saving energy."
Modular homes and modern automation? Sounds like a match made in home-building heaven. "In order to be on the cutting-edge, you need partners that are on the cutting-edge, and Control4 is definitely ahead of the curve," says Kam. "It's very easy to control, and we feel it's a big part of our business going forward."
TO SEE MORE SMART HOME STORIES IN SALT LAKE CITY CLICK HERE
SMART HOME STORIES