Housing Market is on the Rise
September 25, 2012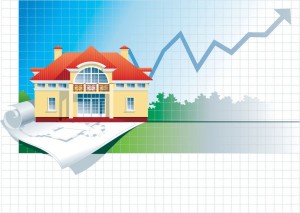 It's safe to say the housing industry is officially on the mend—it is slowly becoming a seller's market once again. According to the Census Bureau, the increase comes for both existing and new starts: existing home sales up 7.8% from last year and new starts up a whopping 29.1%!
As a new home buyer, and also an existing homeowner, I've been following the trends for the past few months and I'm happy about this for four reasons (well, the four off the top of my head anyway):
1) First and foremost, for the obvious reasons of job revitalization and overall economic revival. According to this article from CNN Money, "home building provides about three hires for every home built in a year." Based on the annual rate rise of 750,000 new builds, that equates to 2.25 million new jobs. That's great news!
2) With interest rates at a continual low—and looking to go even lower—people will continue to buy, despite of the increase in housing prices.
3) The hubs and I got lucky and locked in our offer just in time—just before what seems to be a spike in selling costs over the last two-or-so months for comparable homes in our area. Ok, if this sounds selfish, please redirect your attention to #1 once again. ;)
4) We've been holding on to (and renting out) a condo for quite some time because we would have been far under water if we had tried to sell. Soon, we may be able to at least break even. Hopefully.
So the housing market is on a positive slope. But what does that mean in the land of home automation? Well, it continues to appear progressive as well. With today's technology, some consider home automation when they're building a new home but others still don't know it's an option. I think that as the housing market rises, more people will start to consider home automation when building new homes.
An estimate by
Parks Associates
, an international market research and analysis company, states that "60 percent of homes across the nation will have some type of networked energy management system by 2022." If this proves true, in just about 10 years, over half of homeowners in the United States will realize that home automation is not only a luxury, but—if done correctly—their initial investment can pay itself off over time through energy savings.
Even though retrofits prove the most challenging to integrators, they still account for the largest percentage of installations in comparison to new builds. However, as people are becoming more commonly acquainted with home automation, interest continues to rise at a rapid pace. Therefore, more and more builders are offering home automation as an add-on to a pre-development package. It seems that smart home exhibits and home product shopping destinations are also popping up all over the country. Have you read about
MainStreet America
?
Furthermore, it seems there is no limit to where technology will take us. For example, thanks to a new voice control product,
VoicePod
, I'll actually be able to
tell
my house what to do for me—how cool is that? I'm consistently astounded by the new products I hear about in the CE industry. With all of these new innovations, it only allows for home automation to build upon itself, leading me to believe that—even just a basic system—will become standard in every home in the future.