Summer Lovin' - Movie Night
September 26, 2012
As the temperatures cool and the days get shorter, it's time to say good-bye to a few of our favorite summer pastimes.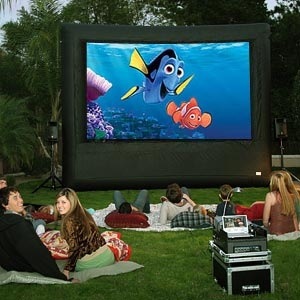 Movie night in the backyard is one of the things I miss the most when the snow is flying. Movie night at my house is like the Perfect Storm…3 key things come together to create an epic event. Except my perfect storm happens every Friday night.
I've had the components for my movie "Nor'easter Storm" for quite some time. My "low pressure" is the movies. I have quite a library that I've amassed over the years…literally hundreds of movies. Maybe thousands. As soon as it's dark, we fire up the movie. Because of the diverse group of people that we have come each week, the taste in movies is constantly changing. Thanks to Control4, we can browse my entire movie collection right on the screen, let the group choose, and get the movie started. It takes longer to get a consensus than it does to start the movie!
My "high pressure" is my collection of concession equipment. It's embarrassing to admit, but I own an industrial grade cotton candy machine, popcorn machine, and snow cone machine. Show up at my house for movie night, and in under 5 minutes you could be munching on 9 different flavors of cotton candy, 17 flavors of snow cones, and all the popcorn you can stomach. And it doesn't cost an arm and a leg.
The "hurricane" that turns my movies and my concessions into the Perfect Movie Night is Control4. I had always contemplated having an "outdoor movie night", but it seemed like such a hassle. I didn't want to have to pull a ton of equipment out of my house to set it up outside, and I didn't want to have to buy duplicate hardware either. Control4 to the rescue.
Here's what I did: For about $500, I was able to have a 10' x 18' wide outdoor movie screen made. It sets up in my backyard in about 20 minutes. I've also seen some inflatable screens that blow up in a matter of minutes. I set up a small card table to put my projector and receiver on, and set a couple of speakers on the ground behind the screen. The Control4 system allows me to entertain in the backyard with everything that I have in my home, controlling it all from my touch screen or my iPad – if I can find it.
That's it. I'm done. We are ready for the Perfect Movie Night.
My neighbors start coming over about 2:00 in the afternoon to "claim the good spots". So in the early afternoon, I use my Control4 system to stream my Rhapsody playlist over the speakers and we have kids and neighbors just hanging out and relaxing. Once it starts to get dark, we bring out the machines, and start pumping out cotton candy, snow cones, and popcorn and let the festivities begin.
So for the next five or six months we'll be doing movie nights inside, like normal people, while counting the days till our outdoor movie theater is back in business.