The 'Great 8' Fall/Winter Smart Vacation Rentals
September 22, 2015
You may have caught our first feature on vacation rentals, where we cover our "Top 10" favorite summer 'smart' spots. Now that the leaves are changing and the weather is getting cooler, we thought we'd share our "Great 8" favorite fall and winter destinations that are outfitted with home automation.

Whether you're looking to visit Park City for the Sundance Film Festival, or hit the ski slopes in Whistler, Telluride or Deer Valley, each of these vacation homes are buzzing with Control4 smart home technology to make your stay even more comfortable, convenient and entertaining when you get in from the cold.

WHISTLER WONDERLAND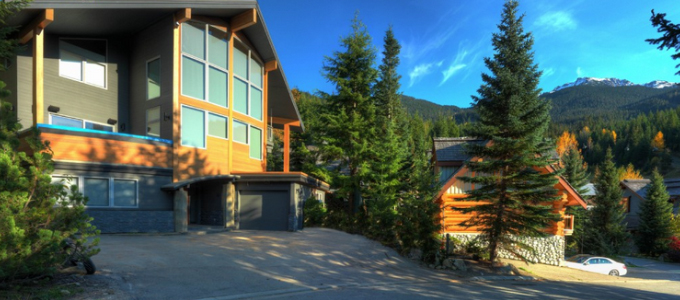 (click image for additional photos & rental information)
Whistler, British Columbia, Canada // Sleeps: 9, Bedrooms: 5, Bathrooms: 5
Over two million people visit Whistler annually, largely due to the incredible winter skiing and snowboarding it offers. And this home is situated conveniently on Whistler Mountain to provide ski-in and ski-out access to the slopes. Inside, an ideal mix of class and comfort awaits—from a media room, bar and private hot tub, to full control of lighting, music, A/V, climate and security, right at your fingertips. So grab a glass, as this place is a perfect spot to un-wine-d.

THE LODGE OF LUXURY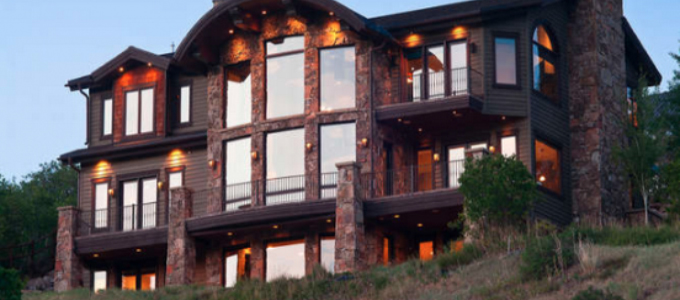 (click image for additional photos & rental information)
Park City, Utah // Sleeps: 10, Bedrooms: 5, Bathrooms: 6
No expense was spared at "Abode in the Clouds." As if being in beautiful Park City itself isn't enough, this incredible home goes the extra mile, providing guests with a custom three-level home theater with leather powered recliners, a home gym with steam room and dry sauna, pool table, wine cellar, Control4 whole-home A/V system, a 3-car heated garage and heated decks. And that's not all…this rustic retreat is packed with amenities that will delight even the most discerning guests.

SMART & STUNNING


(click image for additional photos & rental information)
Park City, Utah // Sleeps: 14, Bedrooms: 5, Bathrooms: 7
This is another Park City home, but we just couldn't pass it up. Located next to The Canyons, the largest ski resort in Utah, this exquisite house could sleep an army (well, an army of 14 anyway). With quick access to the best snow on Earth at every turn, and a great location during the Sundance Film Festival, it is a prime Park City spot. But that is, of course, you ever want to leave. Once you see the theater (complete with a starlit ceiling), you may never make it out the door.

SOPHISTICATED SERENITY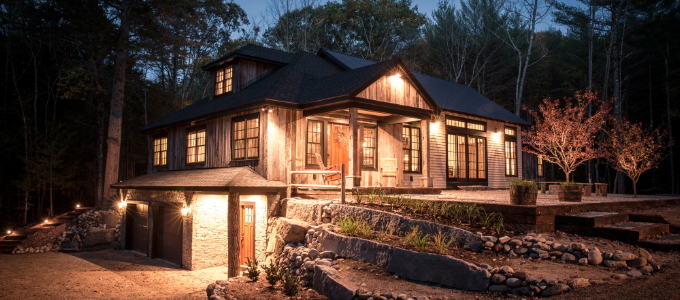 (click image for additional photos & rental information)
East Madison, New Hampshire // Sleeps: 10, Bedrooms: 4, Bathrooms: 2.5
Horseleg Hill Lodge is a one-of-a-kind property that skillfully mixes old charm with a modern flair, giving visitors a comfortable and luxurious stay. When they aren't taking advantage of the powder at King Pine Ski Resort (which, by the way, has ski-in/ski-out nordic trails right at the front door), guests can couch down in front of a 150" screen in the theater room, play some air hockey, or grab a drink from the bar and relax in front of the wood-burning fireplace. And to ice the cake, a Control4 audio system gives guests the ability to stream music to any (or all) rooms throughout the entire house.
MODEST MOUNTAIN MARVEL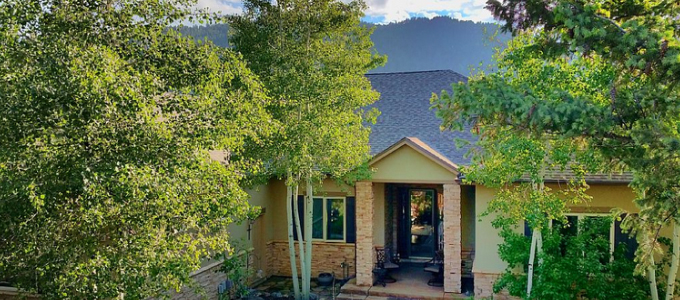 (click image for additional photos & rental information)
Morrison (near Denver), Colorado // Sleeps: 6, Bedrooms: 2, Bathrooms: 2
The town of Morrison, Colorado, is home to the Red Rocks Amphitheatre, where musical performances have been held for more than 100 years, and a significant archaeological dinosaur site known as LoDaisKa. It's also very close to Denver, which boasts world-class skiing, hiking and mountain biking. And this affordable rental home has everything you could need, on top of an unsurpassed view of the mountainside.

LAVISH AT LE PRAZ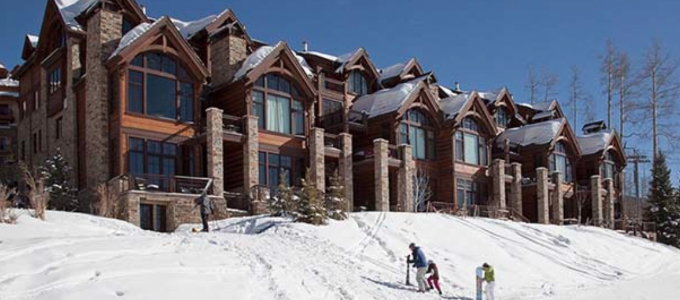 (click image for additional photos & rental information)
Telluride, Colorado // Sleeps: 14, Bedrooms: 5, Bathrooms: 6
Still in the state of Colorado, but much farther from Denver, Telluride is surrounded by lush, forested mountains and features the popular Bridal Veil Falls. Whether it's ice climbing, snowboarding or skiing, you can find plenty of fun to be had in the winter. Among ski-in and ski-out access to the slopes, the Le Praz townhome provides five-star lodging with space enough to sleep 14, a movie theater with over 100 movies at your fingertips, a wet bar, VIP suite and luxurious finishes for the perfect retreat. And it's just as "smart" as it is sophisticated!

SPACIOUS IN SUNCADIA


(click image for additional photos & rental information)
Suncadia, Washington // Sleeps: 18-22, Bedrooms: 5, Bathrooms: 4.5
The Grand Fir Lodge not only has the smarts, it has the size as well. Perfect for a family reunion or a multi-friends/family getaway, this $2 million luxury rental accommodates anywhere from 18-22 people. The swim and fitness center provides access to an indoor pool and water slides, expansive summer outdoor pool, sauna and steam room. Fully-outfitted with Control4 home automation, guests are able to flood the house with music or easily fire up a movie, all at the press of a button. And the owner is able to use Control4 to monitor the temperature and change it remotely—from 80 miles away.

COZY & COMFORTABLE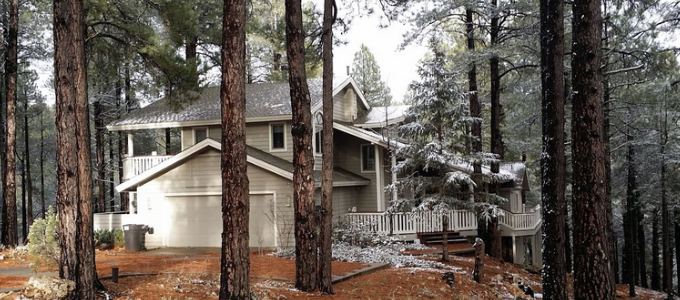 (click image for additional photos & rental information)
Flagstaff, Arizona // Sleeps: 6, Bedrooms: 2, Bathrooms: 2
When you first hear "Arizona," a winter destination might not immediately come to mind. But with an annual snowfall on average of 100 inches, Flagstaff welcomes thousands of visitors during the colder months for snowshoeing, sledding, snowbiking, skiing and more. And during the months of November through January, families can enjoy sleigh rides, holiday tours, and winter festivals. This clean, cozy and affordable smart home rental overlooks the best hole on the Pine Canyon Golf Course and is surrounded by beautiful mountain landscape. And with amenities like a pool table, ping-pong, parks and ponds, it's the perfect family destination to rejuvenate and reconnect.

Plan ahead for spring and summer: Top 10 Spring/Summer 'Smart' Vacation Homes for Rent

If you want to experience the world of home automation before investing in it for your own home, a smart rental just might be the way to go. Or feel free to reach out to a local Control4 Dealer for a showroom demonstration. They'd be happy to show you what a smart home can do for your life.

PERSONALIZED SMART HOME