CEDIA 2013 Award Recognition
October 3, 2013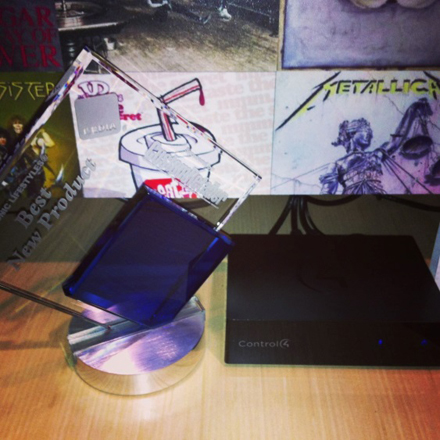 The Wireless Music Bridge is awarded 2013 Best New Product by CEDIA.
I had the awesome opportunity to experience the CEDIA Expo first-hand this year. Just as a quick background, CEDIA (Custom Electronics Design and Installation Association) is the leading tradeshow in the residential electronic systems industry, serving home technology professionals in all areas of focus. I've been to many tradeshows in my day but this one was certainly the most extravagant I've experienced thus far (perhaps one day I'll get to compare it to CES—the Consumer Electronics Show—which I've heard is quite the show as well).
I'd have to say there were many highlights in my trip to Denver, but the recognition that Control4 received from industry professionals and publications certainly topped the list for me. From product managers to the warehouse team, marketing folk to engineers, each one of us at Control4 is passionate about the gear we create, and we all feel a great deal of gratitude when we receive acknowledgement for the products and solutions that we truly believe enhance the lives of our customers.
So I want to extend our appreciation to CEDIA, CE Pro, Residential Systems and Technology Integrator for presenting us with the following prestigious
awards
for a few of the flagship products Control4 has introduced this year — the
Wireless Music Bridge
and our new
Wireless Lighting
products.

2013 CEDIA Best New Product Winner: Wireless Music Bridge
What an amazing award to win during our 10
th
year anniversary as a company and our 10
th
year at CEDIA. CEDIA's Electronic Lifestyles® Awards recognizes the top projects, products, and individuals in the residential electronic systems industry and honors innovation, creativity, and technical skill, and helps illustrate the many ways technology enhances the home.

2013 CE Pro BEST Winner: Wireless Lighting
At Control4, we are big fans of CE Pro. We were elated to be recognized by such a respected trade publication that lives and breathes consumer electronics. The CE Pro BEST Awards are chosen by an industry panel made up of respected industry leaders and the editors of CE Pro and focus on innovation, functionality, competitive advantages and benefits to the installer.

2013 Resi Award Winner: Control4 Wireless Lighting
Residential Systems boasts a team of expert editors and contributors who are incredibly well-versed in custom integration and automation. And we are honored that they have selected Control4 as a winner of the 10th Annual Resi Awards in Residential Systems magazine, which honors the most innovative residential electronics product industrial designs.

2013 Technology Integrator EXCiTE Award Winner: Control4 Wireless Music Bridge and Control4 Wireless Lighting
You can imagine our excitement when we were presented not one, but TWO Technology Integrator EXC!TE awards. Each year, Technology Integrator chooses the winners from a series of nominations based on innovative, high-performing and solutions-oriented products that increase installer productivity and client satisfaction. We are incredibly appreciative of this honor.
Category
COMPANY