Control4 Press Releases and news coverage following June 2021 can be found at the Snap One Press Room.
Press Release
The press releases contained in this archive section are provided for historical purposes only. The information contained in each press release is accurate only as of the date each press release was originally issued. Control4 disavows any obligation to update the information contained in such press releases after the date of their issuance. Click here to return to last 6 months
Control4 Releases Intercom Anywhere
Offering a new peace-of-mind solution, Intercom Anywhere lets homeowners talk with anyone at the front door and activate a home automation scene with the touch of a button from anywhere in the world.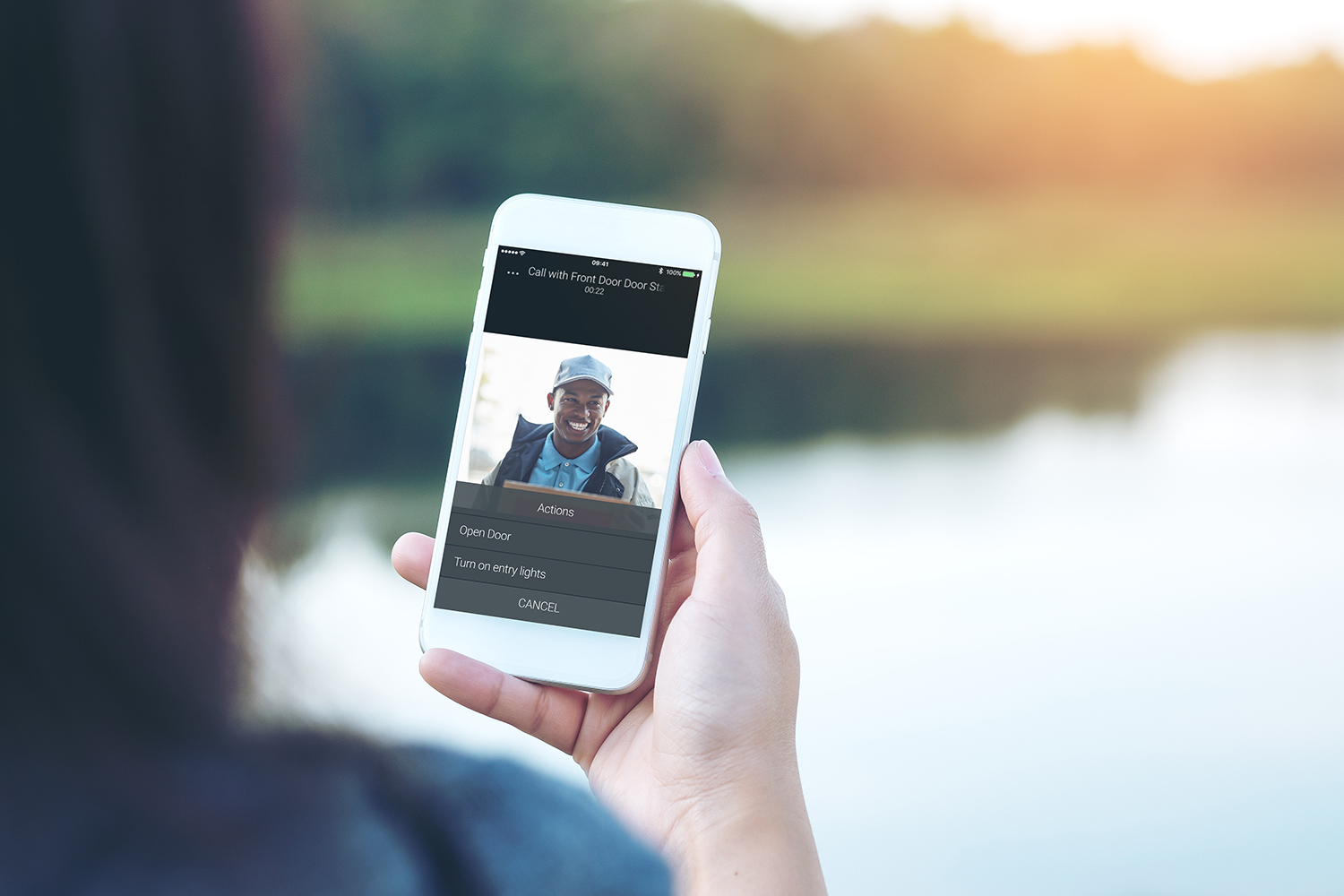 Salt Lake City, UT – July 31, 2018 – Control4 Corporation (NASDAQ: CTRL), a leading global provider of smart home solutions, announces the availability of the new Control4 Intercom Anywhere, including a new app for iOS and Android mobile devices. With Intercom Anywhere, Control4 homeowners can receive video intercom calls from a Control4 Door Station, enabling them to see and communicate with visitors at the front door or gate, whether they're home or away. In addition, homeowners will see who's at the door prior to answering the call, and can simultaneously activate a home scene such as turning on lights, opening the gate, or unlocking the door or garage in response to who has arrived. Homeowners can also quickly activate alerts such as sounding an alarm, locking all doors, or turning on all interior and exterior lighting for additional safety measures.

"Intercom Anywhere adds compelling everyday utility and capability to Control4 smart homes — elevating the "smart doorbell" through a comprehensive in-the-home/away-from-the-home peace-of-mind solution that unifies access control, video surveillance, security, and interactive communication," said Control4 Chairman and CEO Martin Plaehn.

Peace-of-Mind with Control4 Intercom Anywhere
Control4's Intercom Anywhere places homeowners in control with an app that's designed to launch and connect quickly. By providing video previews from the Control4 Door Station, like caller-id for the front door, homeowners can simply ignore unwanted calls, answer calls from a welcomed guest, or accept a delivery even when they're miles away.

Modern video doorbell products allow the use of mobile phones to see and talk to visitors at the door, but only Control4 Intercom Anywhere supports additional customizable programming. For example, while in an Intercom Anywhere call, the user can turn on lights, unlock the door, open the gate or garage, disarm or trigger the alarm, or any other action uniquely enabled by the Control4 automation system.

Control4 Intercom Anywhere also provides new ways to communicate among family members. Family members can make calls from Control4 Touch Screens within the home to a family member's mobile phone or vice versa. The babysitter or child not answering the landline phone at the house? Use Intercom Anywhere to dial directly to any or all Control4 Touch Screens for a video-call to get connected, fast. Want to call the family to dinner? One tap and you can broadcast the call to dinner throughout the house.

Control4 offers a complete audio/video intercom system with sleek video door stations and dedicated interactive video touch screens with premium audio and video quality. Whether at home or away, homeowners can now receive incoming audio and video intercom calls on their mobile devices or call from their mobile phones to Control4 Touch Screens installed throughout the home.

The Intercom Anywhere app can be downloaded today from the Apple store or the Google Play store. To activate and use Intercom Anywhere, a home must have Control4 installed, running the latest Control4 OS (v 2.10.3), and also have an active 4Sight subscription ($100 USD Annual MSRP).

For more information on Control4 Intercom Anywhere, visit www.control4.com/o/intercom-anywhere
For more information about Control4 4Sight, visit www.control4.com/o/4sight-services

About Control4
Control4 [NASDAQ: CTRL] is a leading global provider of automation and networking systems for homes and businesses, offering personalized control of lighting, music, video, comfort, security, communications, and more into a unified smart home system that enhances the daily lives of its consumers. Control4 unlocks the potential of connected devices, making networks more robust, entertainment systems easier to use, homes more comfortable and energy efficient, and provides families more peace of mind. Today, every home and business needs automation horsepower and a high-performance network to manage the increasing number of connected devices. The Control4 platform interoperates with over 12,000 third-party consumer electronics products, ensuring an ever-expanding ecosystem of devices will work together. Control4 is now available in 100 countries. Leveraging a professional distribution channel that includes over 5,600 custom integrators, retailers, and distributors authorized to sell the full-line of Control4 products, Pakedge branded networking solutions and Triad Speakers, Control4 is delivering intelligent solutions for consumers, major consumer electronics companies, hotels, and businesses around the world.


Control4 Press Contact
Kimberly Lancaster, Caster Communications
O: 401-792-7080
control4@castercomm.com

# # #
Copyright ©2018, Control4 Corporation. All rights reserved. Control4, Pakedge, Triad and, the Control4 logo are registered trademarks or trademarks of Control4 Corporation in the United States and/or other countries. All other names and brands may be claimed as the property of their respective owners. All specifications subject to change without notice.
Source: Control4