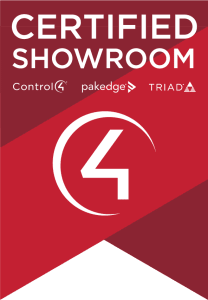 Experience the Magic of Intercom Anywhere
In A Control4 Showroom
Whether you're home or away, with Intercom Anywhere you can monitor and communicate with any room of your smart home. Greet guests and allow them to enter even if you are running late, check in on your kids even if they aren't answering their phones, observe and communicate with anyone who approaches your front door—with Intercom Anywhere you have peace of mind in the palm of your hand.
Visit a Showroom Near You
See. Talk. Do.
When your mobile device is part of the intercom experience, you'll always know who's at the door. From wherever you are—from the backyard to the backlands—quickly tap a custom button within the app, such as "Delivery", to disarm the alarm, turn on the light, and unlock the door. Once that important package is placed safely inside, another tap secures the house once again.
CONTROL AT HOME
When someone rings the doorbell on your Control4 Door Station, you'll see and hear who is calling before you decide to answer, or not. Crisp, clear video will display on touch screens throughout the house. You can choose to accept and communicate, or simply press ignore to send them packing.
ALWAYS KEEPING YOU CONNECTED
More than just a connection to the front door, Intercom Anywhere lets the family stay connected across the globe. Babysitter not answering? With auto-answer enabled on your Control4 Touch Screens, you can dial into and be instantly video-connected to any room from your mobile device. Misplaced your phone? Control4 keeps you connected! Simply call a family member's cell phone right from a touch screen on the wall or sitting on the kitchen counter.
HOUSE CALLS
Time for dinner? Call them all to the table at once. Quickly broadcast a message from one touch screen to all the rest, or from one room to another. Beautiful in-wall and tabletop touch screens provide instant communication, high-quality audio, high-definition video, and elegant control of your home.
Hands-On Personalization
After your dealer installs the smart home of your dreams, we'll give you the tools to personalize and fine-tune it to meet your ever-evolving lifestyle.
Experience the Possibilities
Smart Lighting, Brilliant Possibilities
Control a single light or every light—with a tap of a button. Add elegance, ambiance, and energy efficiency to your home.
Light the Way
Superior Sound Brings Your Home to Life
Your favorite music in premium, high-resolution quality, delivered standard with your Control4 Smart Home.
Listen Up
Learn More About Control4 Smart Homes
Want to know more about Intercom Anywhere and Control4 Smart Homes? We'll send you more information so you can discover the wonderful world of possibility and peace of mind with Control4.