We Made The Cut!
February 11, 2013
For most of us, the kitchen is the focal entertaining spot in the home. But it is also the place where multi-tasking is essential, and that's not always easy. From preparing, cooking and serving food, pouring drinks, keeping up the friendly chat, all the while making guests feel at home, it can be quite challenging. Anything that provides a bit more efficiency in the kitchen is a huge relief to a host. So what happens when you mix a home-wide automation system with the world-class kitchen appliances of Sub-Zero and Wolf, the food preservation and preparation specialists? You get a perfect blend of technology and art that delights gadget geeks and foodies alike. You can imagine our excitement to see this powerful combination of world-class appliances and automation make the top list of
30 Most Innovative Products
in Better Homes & Gardens Kitchen + Bath Ideas (
Issue: January/February
). Want to know how a smart kitchen can make life easier for you? Check out the
Eat. Control. Love.
article in the 2nd issue of our very own magazine, Home Smart Home. Download it here:
Home Smart Home
, and tell us in the comments what kinds of things you'd like your kitchen to do for you!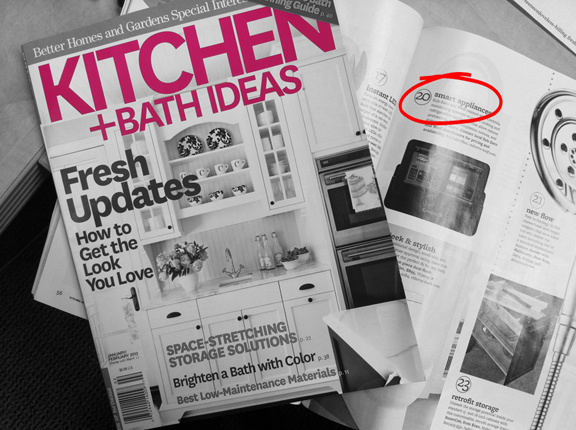 ​