Mobile Computing Drives Thanksgiving Weekend Retail
November 28, 2012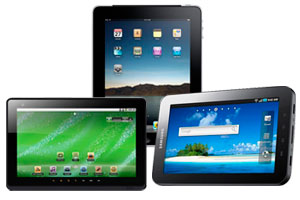 It was a record-setting weekend. In addition to a record box-office bonanza for Hollywood (led by
Twilight
,
Skyfall
and
Lincoln
), many have hailed this past Thanksgiving weekend as a welcome relief for worried retailers. According to the National Retail Federation, register receipts from Thanksgiving Day through Sunday totaled an estimated $59.1 billion, which was up from $52.4 billion in 2011. The total spending per shopper was up as well, rising 6 percent to $423.
Missing in these numbers is the fact that in-store purchases actually declined. Yes—the amount spent in bricks-and-mortar stores during the most important weekend in retail actually went down by 2 percent. But this was offset by a double-digit increase in online sales. According to some reports, almost 41 percent of consumers' total weekend spending happened online. In other words, Cyber Monday seems to be staging a hostile takeover of Black Friday.
The results for Cyber Monday showed another dramatic change. Online sales were a full 30 percent up over last year's retail take. According to IBM Digital Analytics Benchmark, 18 percent of holiday shoppers searched for deals using their mobile devices on Monday (up from 12 percent last year). And 13 percent of shoppers used their tablets or mobile phones to make purchases. This is almost double last year's percentage of purchases from mobile devices.
According to IBM, "The iPad generated more traffic than any other tablet or smart phone, reaching nearly 10 percent of online shopping. This was followed by iPhone at 8.7 percent and Android 5.5 percent. The iPad dominated tablet traffic at 88.3 percent followed by the Barnes and Noble Nook at 3.1 percent, Amazon Kindle at 2.4 percent and the Samsung Galaxy at 1.8 percent."
But it's not just shopping behavior that called out the importance of mobile computing. It was also the shopping itself. One report released during the Cyber Monday frenzy listed the top products that shoppers were searching for:
Kindle Fire


Uggs


iPad


iPod Touch


iPad Mini


Legos


Amazon Kindle


Wii U


Kindle Fire HD
According to this list, six of the top nine search terms were for tablets. (No comment on the continued popularity of the aptly-named Uggs—that does
not
compute.) Amazon.com, which has maintained its primacy as the top online retailer, has said that its ten top-selling products include Kindles, Kindle accessories and digital content. Part of this is undoubtedly due to deep discounting, but it's still a trend that can't be ignored. In fact, the rise of tablet computers has led one senior researcher for the Consumer Electronics Association to suggest that the tablet may eventually move in status from second screen to primary screen.
So why is this important for smart homes? It seems obvious that any home automation system needs to include—by default—full control through tablets and mobile phones (including both Apple's iOS and Google's Android platform). It also suggests that, with tablets becoming increasingly ubiquitous, both dealers and manufacturers need to continue to focus on coming up with smart solutions that link people's mobile devices with their homes.