​Introducing: a Lofty New Look for Smart Lighting
August 3, 2021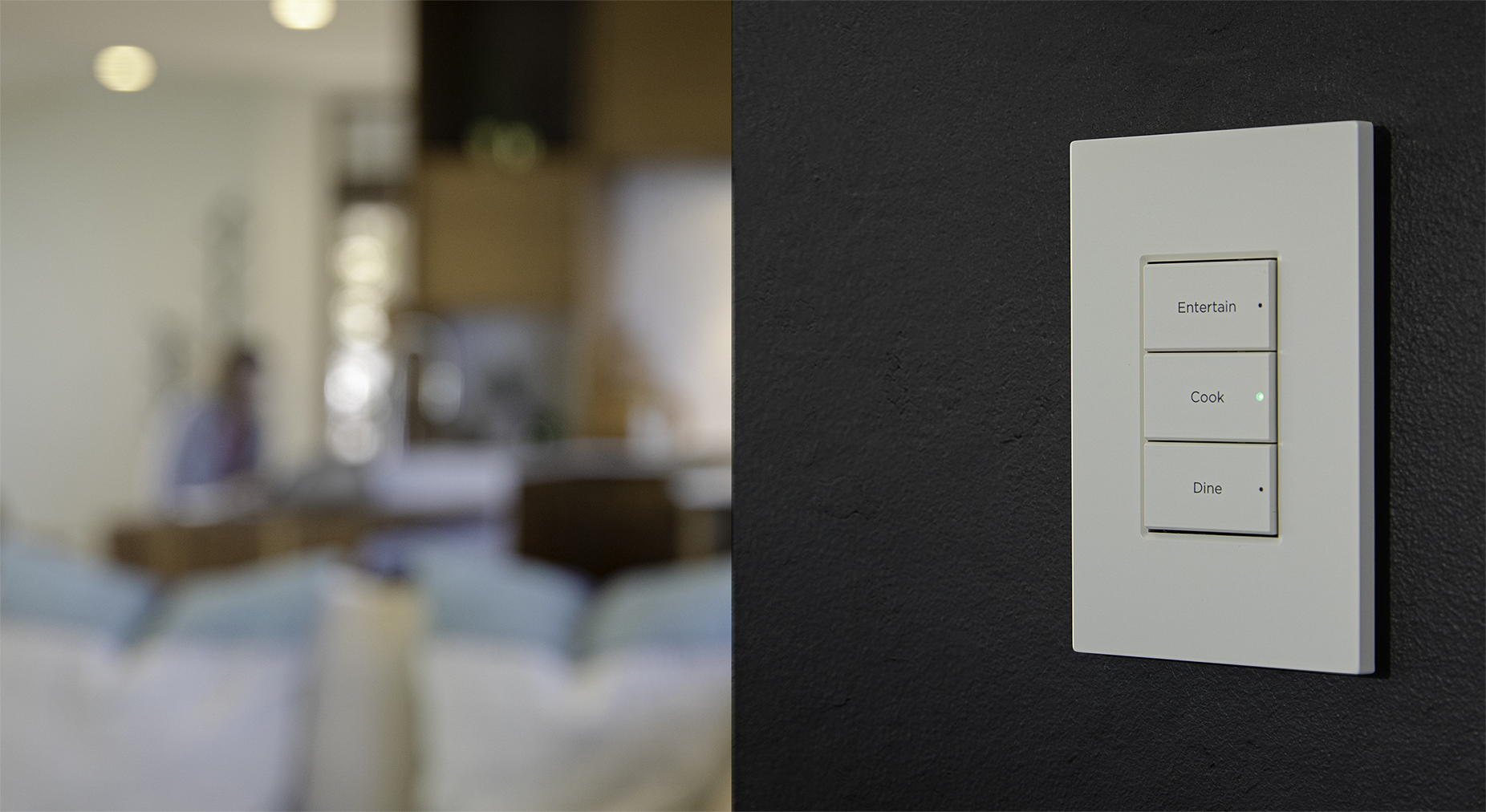 Coming soon
is Control4's new Contemporary Lighting—designed to elevate lighting control and aesthetics with a beautiful design that suits the smart home of today. Contemporary Lighting gives homeowners a new, modern, and sophisticated design that they'll love in every room of the home.
Elegant backlit engraving provides at-a-glance feedback to show if a door is unlocked, the garage door is ajar, or if lights are on in other areas of the house. Premium buttons simplify interaction, and with the choice of ten exclusive finishes, there are plenty of options that will beautifully complement any style and décor.
Control4's Smart Lighting goes far beyond beautiful switches and dimmable bulbs. Never come home to a dark house again and make your home look lived in—even when you are away—with lights that automatically turn on and off when they should. It provides energy efficiency, added safety and security, and the ability to control several smart products in your home at once with just the touch of a button.
Activate your "scenes" with a simple tap:
1. Start the music!
Why pull out your phone and open an app when a keypad can start your favorite playlist in any room? Even better, a quick double-tap on the same button can start the music playing all over your house!
2. Choose different playlists
Different moods call for different music. With some creative programming, you can switch between playlists with a colored light indicating what you've selected.
3. Calls uninterrupted
Working from home these days? Simply tap a button that pauses the TV or music in your home office when a call comes in. It sure beats fumbling with any other device when you only have moments to catch that call!
4. Garage door status check
Never again leave bed to check if you've closed the garage. A light on your keypad can illuminate green when the garage is closed and red when it's ajar. At a glance, you'll know the door's status—and you can even close it with a simple button tap.
5. Engage vacation mode
There's a lot to remember when leaving for vacation, so let your "Vacation" button do the work. It can set the temperature appropriately, arm the alarm, and turn off all the lights as you walk out the door. When you return home, double tap the same button to return the home to normal operation.
6. Change volume and channel
Rotary volume controls are so 20
th
century, but a keypad is sleek and modern and can easily adjust your audio system's volume. Or it can just as easily be used to change the channels on the tube!
7. Adjust the temp
Fussing with a thermostat can be tricky—especially if it is remotely located. Label a couple of buttons on a keypad "Too Hot" and "Too Cold" and guests and family can easily adjust the temperature to the perfect setting!
8. Start a timer
There are many times when a timer comes in handy, and whether you're cooking or putting someone in "time out," a keypad button can start a timer while you stay with the task at hand. Easily set pre-determined timers of, say, 1, 5, or 10 minutes based on button presses with changing LED lights indicating the length.
9. Goodnight, house
No longer be forced to roam your house at night turning things off like some character out of a Greek tragedy. With a single button press, you can instantly turn off all the lights, lock all the doors, shut off all TVs and music, set the alarm, lower window shades, adjust the HVAC, and start rain sounds playing in your bedroom. That's one powerful button, Hercules!
Interested in learning more about Control4? Fill out the form below for more information!
We take your privacy seriously and we promise we won't spam you; please see our privacy policy for details. By submitting your information, you are confirming that you are 18 years of age or older.
Thank you
Category
LIGHTING CONTROL