The Jewel of Waikiki
August 25, 2020
Waikiki Beach on the Hawaiian island of Oahu has long been a magnet for the rich and famous. A favorite surfing spot of the Hawaiian royal family in the 1800s, by the end of the century it was attracting celebrities of the day, including Treasure Island author Robert Louis Stevenson, before blossoming into a tourist paradise in the 20th century.
Now the island has a new treasure to attract any stars and seekers of exclusivity with enough cash to spare: Espacio, a nine-story boutique hotel featuring the latest smart technology, where guests can ride a breathtaking wave of luxury in one of the world's most sublime settings.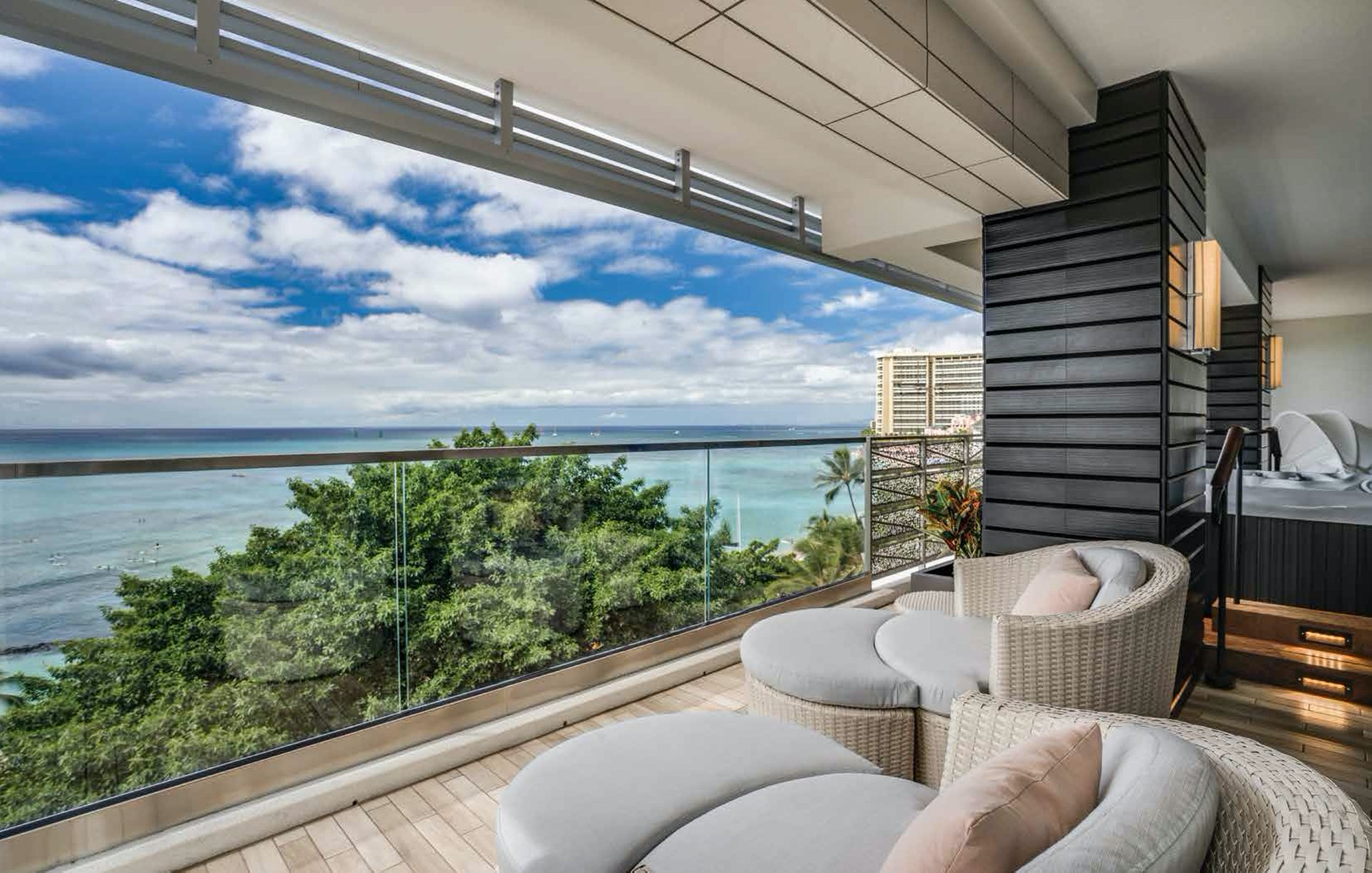 What was once the 73-room Waikiki Beachside Hotel has been transformed into just nine ultra-luxury suites–one per floor–each boasting an impressive 2,250 square feet. All suites have three en suite bedrooms, a gourmet kitchen stocked with fine foods, a large living room with desk area, and a huge outdoor lanai with private jacuzzi. As guests come and go at their leisure, butlers are on hand to set up unique experiences for them, such as private art viewings or exclusive film screenings.
There is also a shared rooftop deck with a stunning, color-changing infinity edge pool, a fully stocked outdoor kitchen, and extraordinary views over the whole of the Waikiki strip, including a bird's-eye view of some of the finest surfing you're likely to see.
Espacio's owners, Kowa Waikiki LLC, chose chandeliers custom-crafted in Morocco, hand-knotted carpets shipped in from China, and marble for the bathrooms and tabletops specially produced in Italy. Each suite is also packed with top-of the-range amenities and appliances from high-end brands such as Dyson, Wolf, and Panasonic.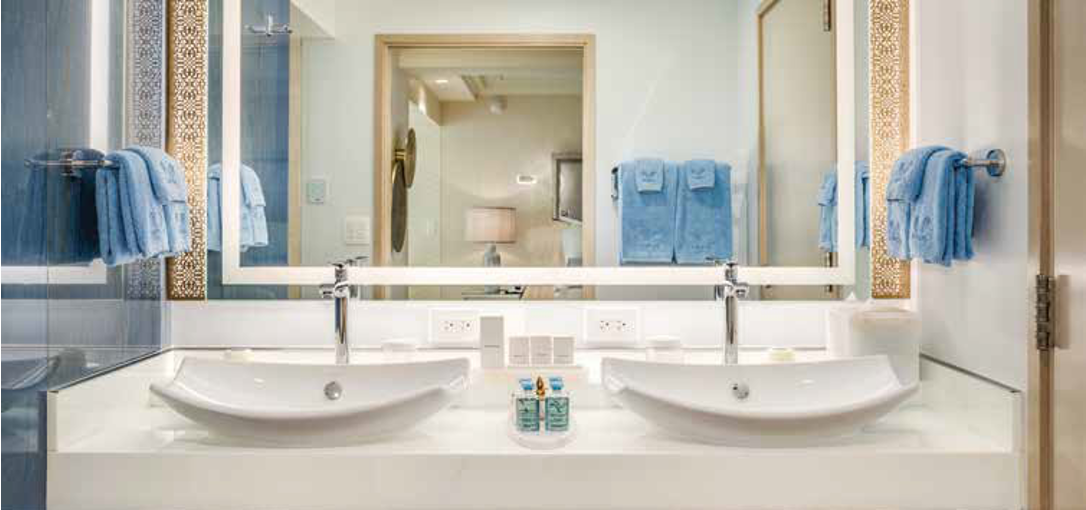 Every suite has its own private elevator and the hotel's high-flying guests can count on privacy and tranquility. "Celebrities that come here won't be bothered by other guests, photographers, or autograph hunters," says Espacio's general manager, Brent Kitsu. "There is only one way in and one way out, so if someone doesn't have a key, they cannot enter the property. That's part of the exclusivity, privacy, and safety you'll find here. And since we only have nine suites, if a guest were to lose a key, we'd recognize them and replace it immediately."
Smart tech is key both to guests' luxury experience and ensuring hotel staff are able to deliver an unparalleled level of service. Control4 Smart Home Professional Sean Toland, of Engineered Lifestyles, oversaw the technology side of the two-year project–from liaising with architects on the challenging installation of cabling at the start, all the way to helping the hotel perfect the guest experience with custom lighting levels and song choices once the refit was complete.
"It was such a joy to use the Control4 product line to create Hawaii's first fully automated, five-star, ultra-luxury hotel," says Sean. "Control4 allows the hospitality experience to be tailored to what both the hotel and its guests desire."
Guests have full control over streaming music, lighting, blinds, thermostats, and other functions, and can manage everything from easy-to-use, intuitive keypads to touchscreens and iPads. "The experience really is a step above," says Brent. "The Japanese owners are well-versed in technology and luxury and have created something Hawaii has never seen."
Sean adds: "Guests young and old can comfortably use the system without assistance or confusion. There are three lighting control panels on each floor. Guests have full control over the living room audio experience, with Triad One audio in the bathrooms. The system is also fully integrated with the Sound Machine commercial music service, which allows them to select or create playlists."
The system is integrated with the hotel's guest experience management platform, Intelity, which lets guests use their iPads to do things like book spa appointments, set dining reservations, and schedule tours. "The Control4 technology talks to Intelity and creates profiles that are assigned to each of our guests so that the next time they visit, music, lighting, and temperature preferences are already set for their stay," says Brent.
Control4's ease of integration with other systems and services made it the ideal choice for the level of customization the hotel was seeking. "The fact it supports so many diverse hospitality and residential applications meant there wasn't a single technology problem that we weren't able to solve through the use of Control4 or one of its partners," says Sean.
---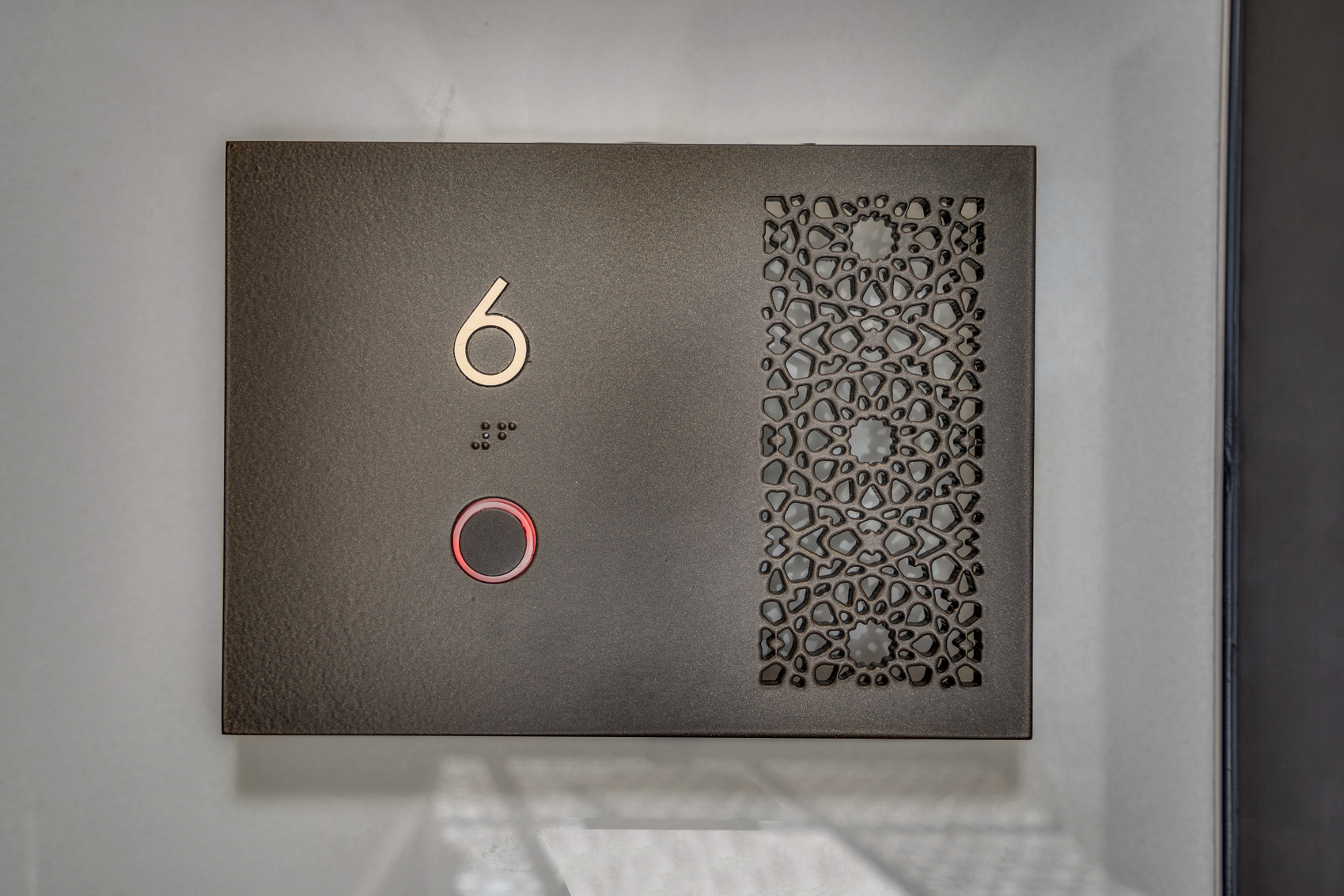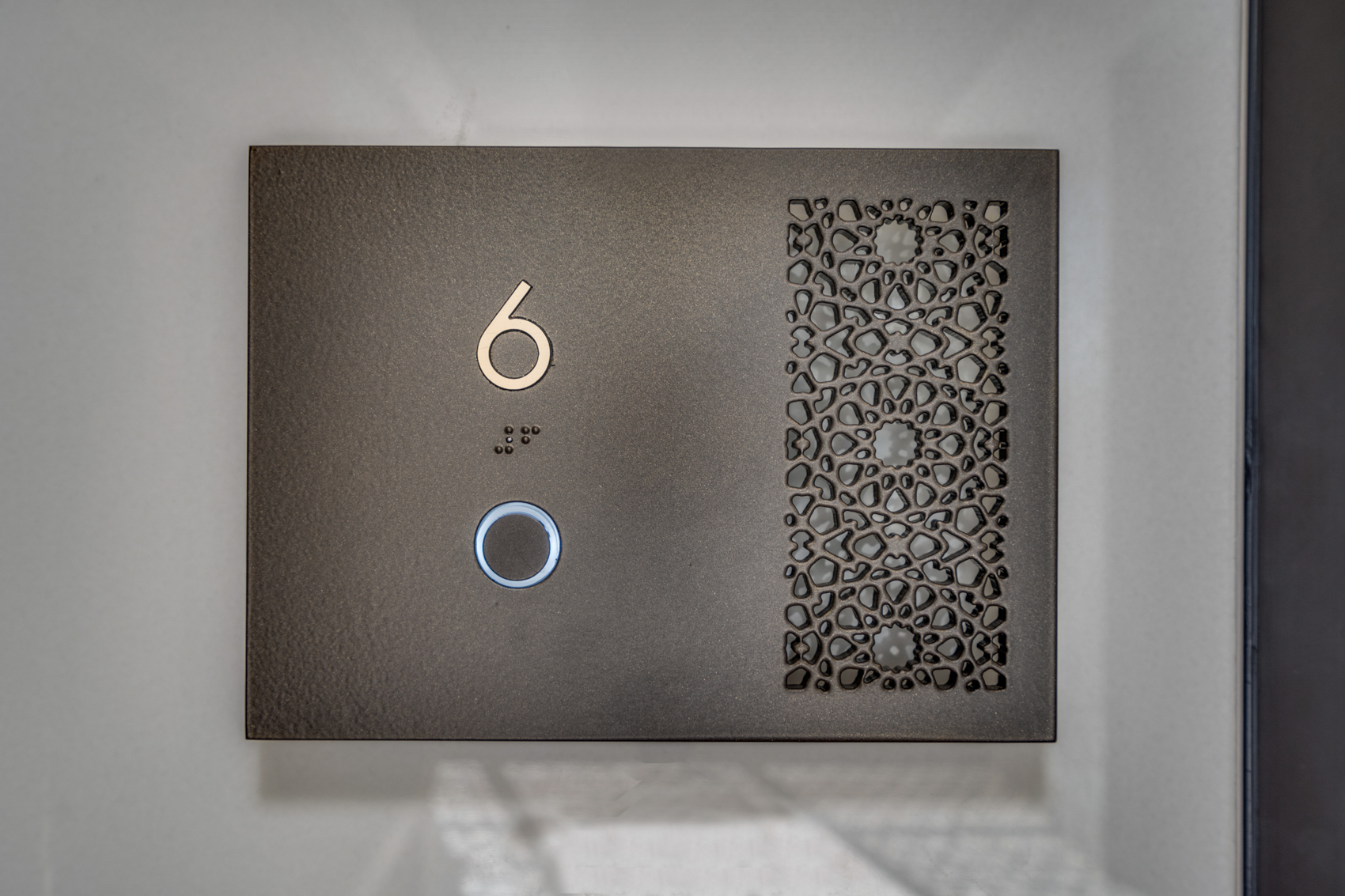 A privacy button inside the front door changes the light on the doorbell outside to red, indicating that the guests don't want to be disturbed. It also sends an alert to staff so they know a guest wants no interruptions, without them even having to step foot on the floor.
---
The many ways the technology allows the hotel to optimize its service levels lifts Espacio to new heights of excellence. The hotel's facilities manager, Lesley Ann Inayoshi, explains, "On various keypads in the suite, our team has hidden commands that will allow us to activate certain scenes. For instance, from the keypad in the pantry we can triple-press to activate the 'Turndown' scene. This sets the lights to a relaxing level throughout, turns on the sconces over each of the beds, sets the temperature to 75º, and begins playing soft music in the living room and bedrooms. The Control4 technology allows our team behind the scenes to be more efficient. As we speak, we are working on setting up an 'All Off ' setting that puts the suite into an energy-saving mode."
Indeed, Sean Toland says sustainability is a key feature of the implementation. "There's a great deal of intelligence going on in the rooms. We've set the system up to be very green–shutting lights down when there's no motion in rooms, presetting light levels based on the time of day, and setting thermostats based on the time of year."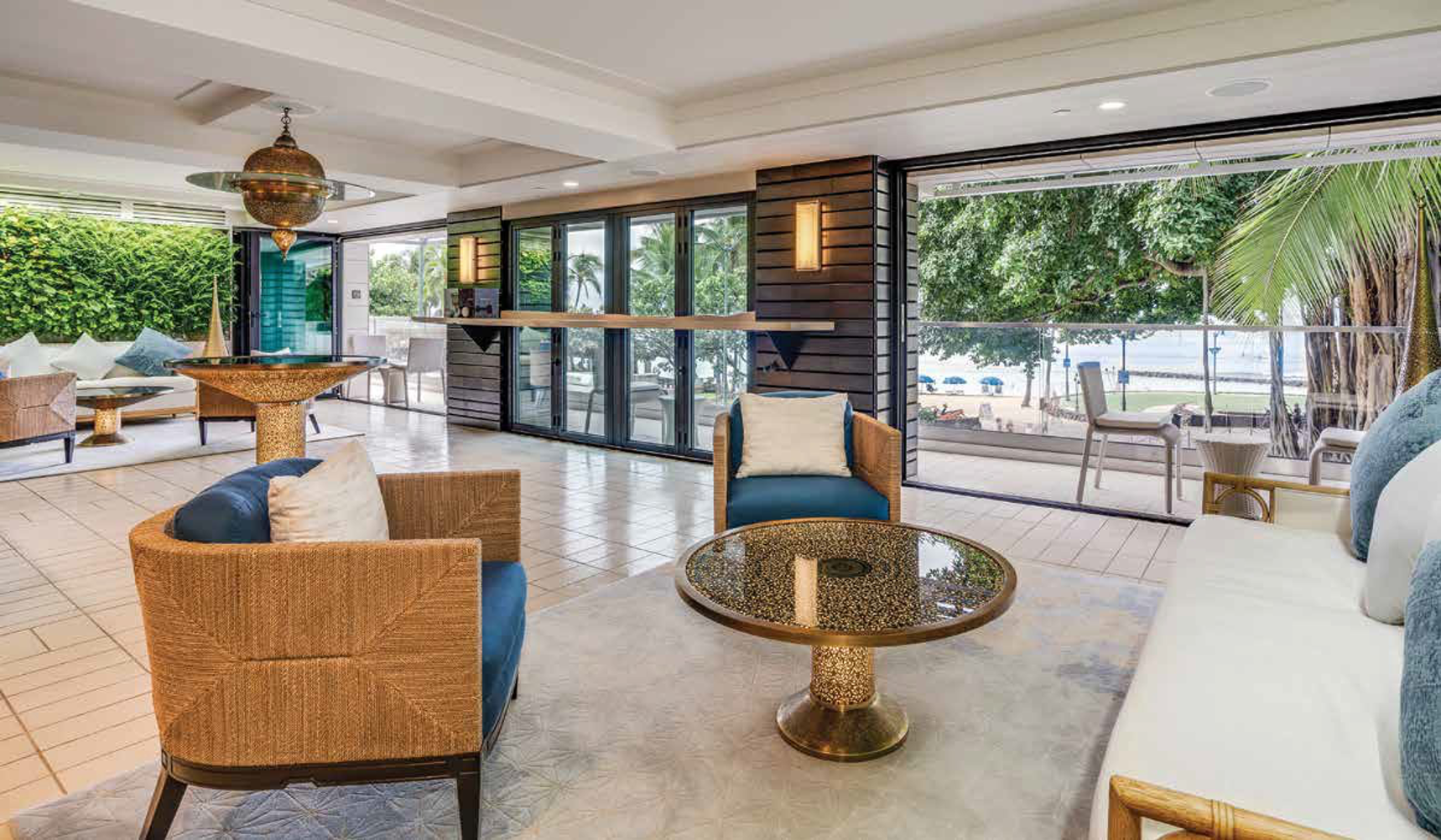 As well as saving energy and maintenance costs, the system also saves time. Brent Kitsu says, "Our luxury service standard means we insist all our guests' needs are met within five minutes maximum. Thanks to the technology and the way the suites are set up, we can typically respond in less than three minutes. Guests can even send us requests via the Intelity app. We've given our staff mobile devices so they see and respond to these requests instantly, without them having to be passed via the front desk," says Brent.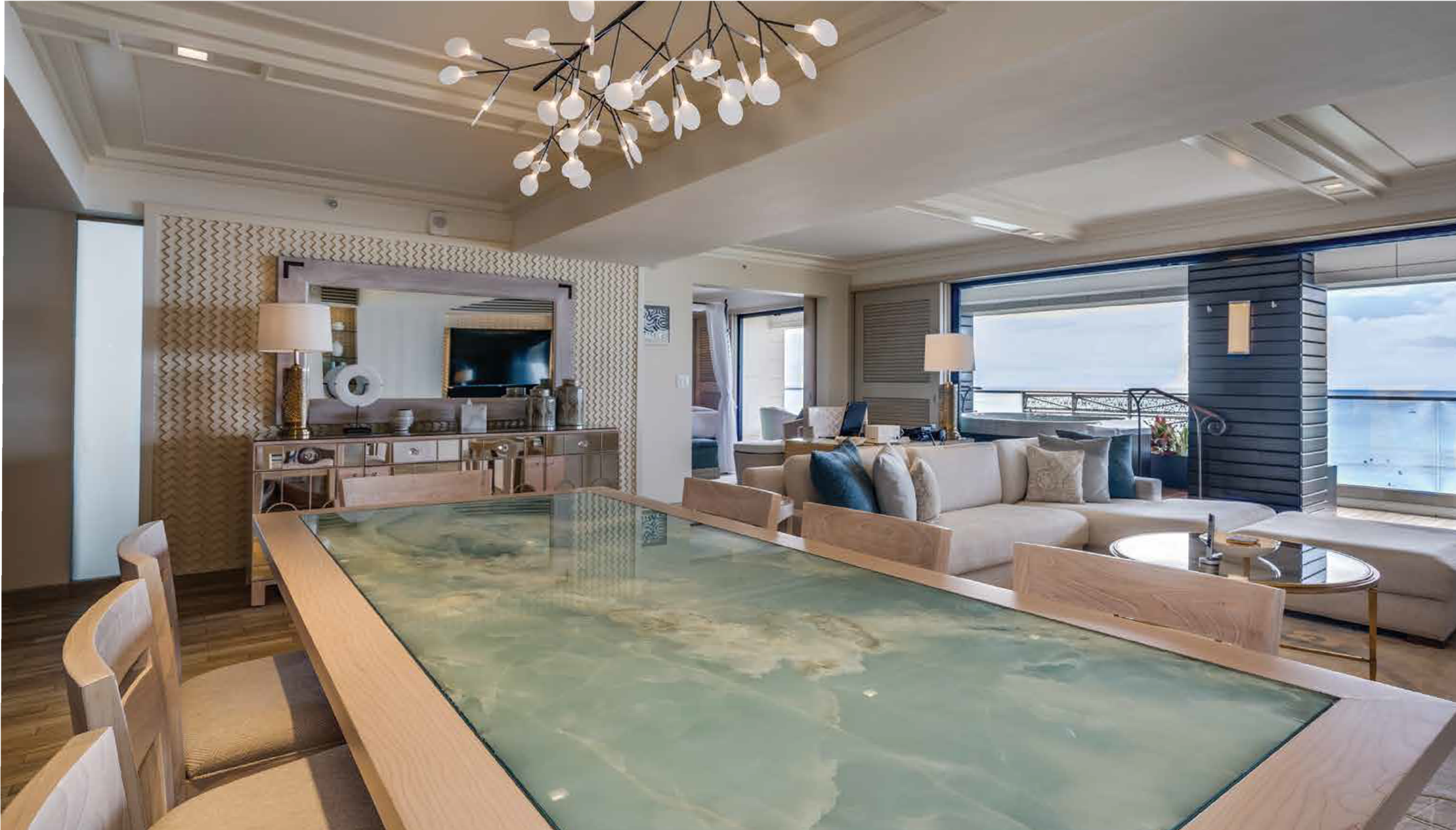 But the team is always driving to make things better for its demanding guests, and work is already under way to extend the ultra-luxury service levels even further. "Before long, guests will be able to order room service when they're out—shopping or visiting the North Shore, say—so they have dinner or wine waiting for them the moment they arrive back at their suite," says Brent.
And although the hotel had only been open for a month when
Smart Home
visited, it was already attracting star attention. Brent says: "We've had the privilege of hosting some celebrities already, such as actress and reality TV star Jenny Garth, and they've all felt the 'WOW' factor. Nothing compares to it. When you see it, experience it, smell it...it truly captivates
all of your senses."
YOUR HOME CAN FEEL LIKE A LUXURY HOTEL
WITH CONTROL4 AUTOMATION

LEAVE YOUR INFO BELOW TO GET STARTED!
We take your privacy seriously and we promise we won't spam you; please see our privacy policy for details. By submitting your information, you are confirming that you are 18 years of age or older.
Thank you
HOME SMART HOME