Living the High Life
September 30, 2019
Soaring above the Mumbai skyline in the leafy residential neighborhood of Parel, Planet Godrej is a striking symbol of the city's emergence as a major commercial hub in the twenty-first century. Completed in 2008, this 600-foot-high, 51-story monument to modernity was at the time India's tallest building. In fact, Planet Godrej comprises five separate residential skyscrapers built to look like one continuous, curved structure. Along with its lattice-like exterior, it looks not unlike a gigantic designer wireless speaker (the sort you might see on a tastefully uplit plinth in a high-end audio store), ready to rock the entire city.
Indeed, this is a building that's ready to rock in more ways than one. Its five towers aren't just aesthetically-pleasing, the structure is also highly resistant to earthquakes. And if you were able to fly to the very top of one of the towers, you might well find a fun-loving, early-40s financier with his family and friends, rocking out on his terrace as YouTube videos are projected onto the wall and bass pumps out at a level that would make you believe the whole building actually
was
a speaker.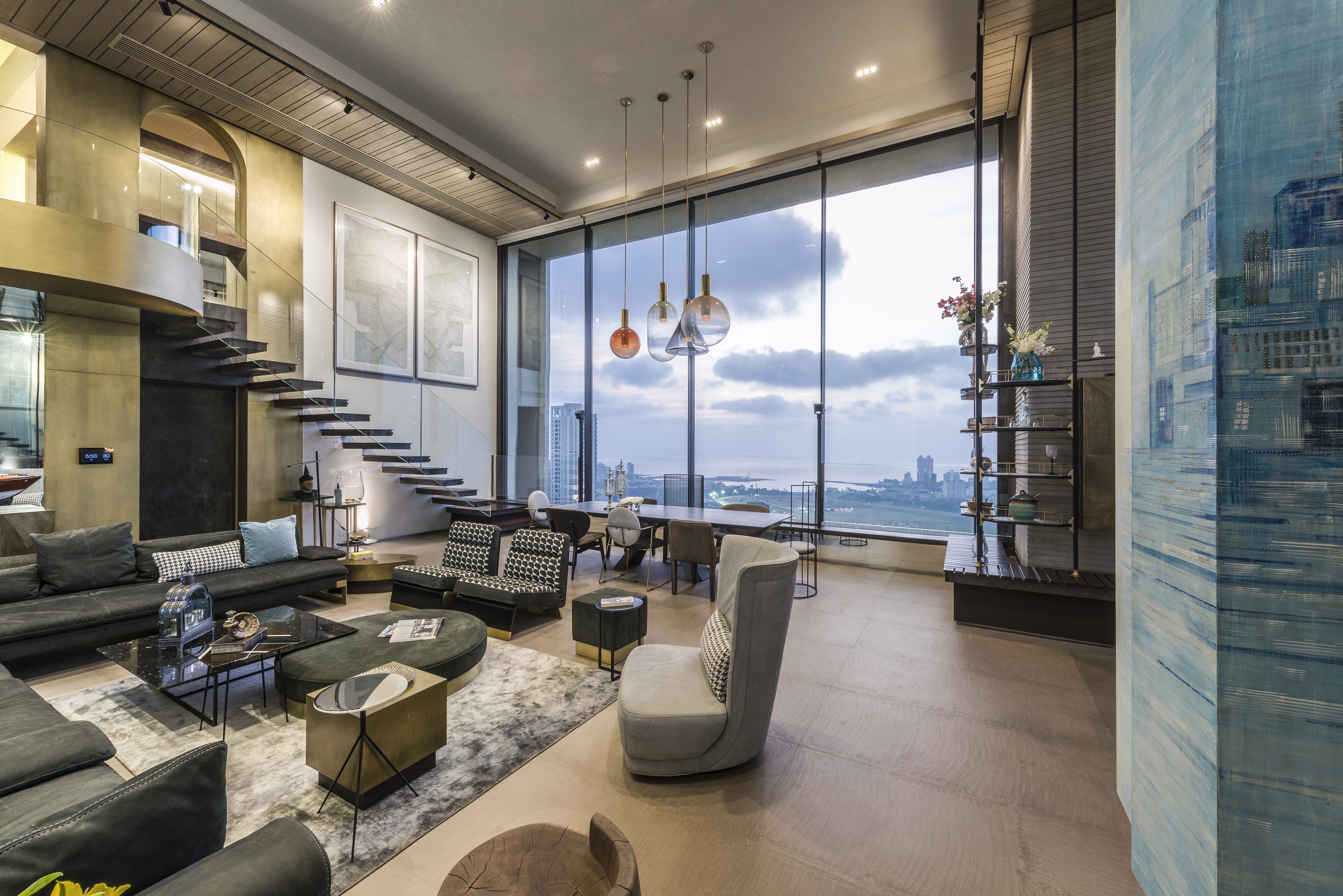 Although we can't name the owner of this fully refurbished, 4,500-square-foot duplex penthouse apartment, suffice to say he's the CEO of one of India's most successful financial firms. Let's call him "Mr. B." Our story begins in early 2017, when he decided to create a luxury family home close to his Mumbai offices.
Having purchased the prestigious penthouse—which the family had been renting and living in for three years—Mr B commissioned award-winning Mumbai architect and interior designer Siddharth Garimella to refit the two-story apartment from scratch and turn it into a contemporary dream smart home—something suitable for his busy, music-loving family of four and their live-in staff—which would double up as party home with real pizazz.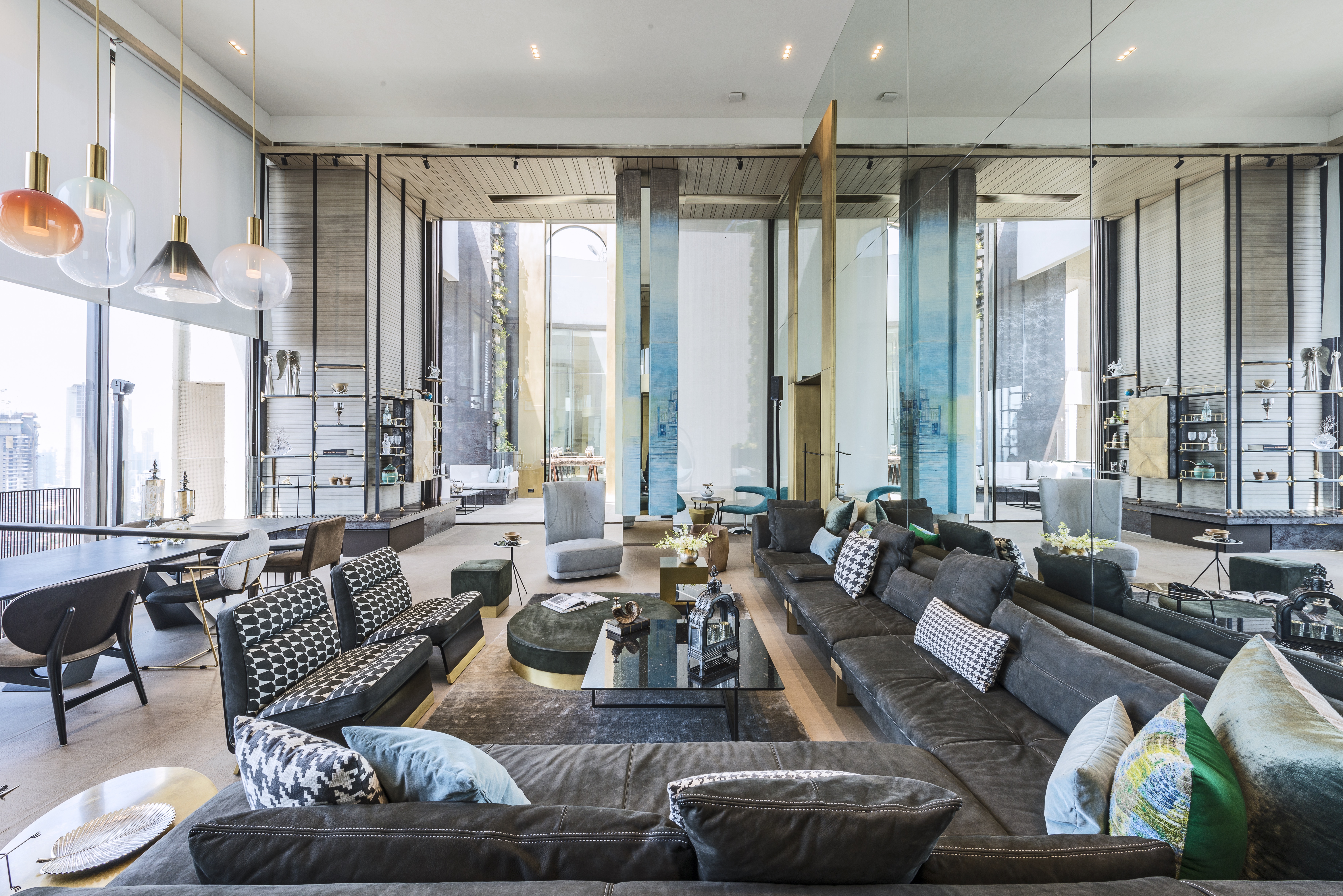 Clearly, this was going to need state-of-the-art technical wizardry as well as top-spec design, so Mr. B brought in Mumbai-based Control4 Dealer Cossack Audio, AV system integration specialists, to work alongside the designer. Cossack's Zohir Ramodiya takes up the tale. "The mandate from the client was for complete home integration where aesthetic design was the key. He was clear that he wanted his living room and extended terrace to double up as an entertainment area with the feel of a nightclub," says Ramodiya.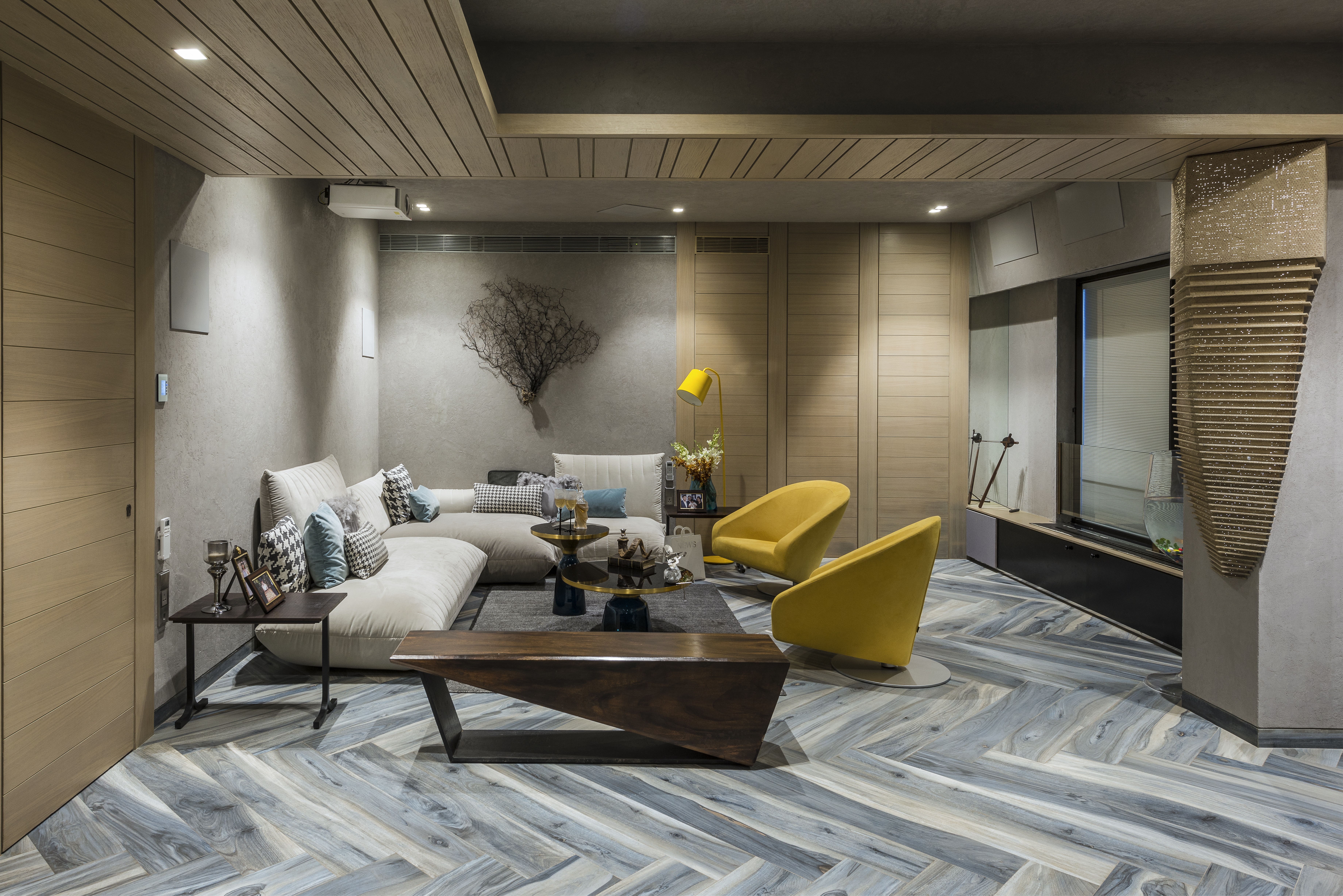 But although the couple wanted a slew of smart features, including smart lighting, pro-grade audio, and the ability to stream music to every room in the house, Mrs. B was clear that the system should be both unobtrusive and extremely easy to use. While her husband is very tech savvy, she was warier of new technology, having been saddled with a baffling array of controls for their previous home's smart system, which simply sat unused as a result. "She was very clear she did not want a complex system that would be a problem for her to operate," says Ramodiya.
As frequent travelers, the couple also wanted to be able to monitor their home and keep an eye on their staff and two children (10 and 12) while they were away.
---
HERE. THERE. CONTROL FROM ANYWHERE.
CHECKING IN ON YOUR HOME HAS NEVER BEEN EASIER.
---
By April 2018, Sky Villa was complete—and to call it "spectacular" is an understatement. The hub of the home is the huge open-plan living room, more reminiscent of a communal lounge in a contemporary luxury hotel or VIP club. Its soaring ceilings, white walls, and wooden floors provide the perfect canvas for its tasteful mix of designer furniture, fixtures, and fittings in earthy tones with sparing splashes of pattern and color—most noticeably sky blues to echo the breathtaking views streaming in through the huge picture window by the dining area and the sliding glass doors leading to the terrace.
The apartment's unrivalled vantage point affords breathtaking views of the Mumbai skyline and the Arabian Sea beyond. And the couple's playful nature is reflected in delightful touches such as the irregular blown-glass pendant light shades—of which look like a collection of giant perfume bottles—hanging from the ceiling above the dining table, and the mix of quirky designer chairs.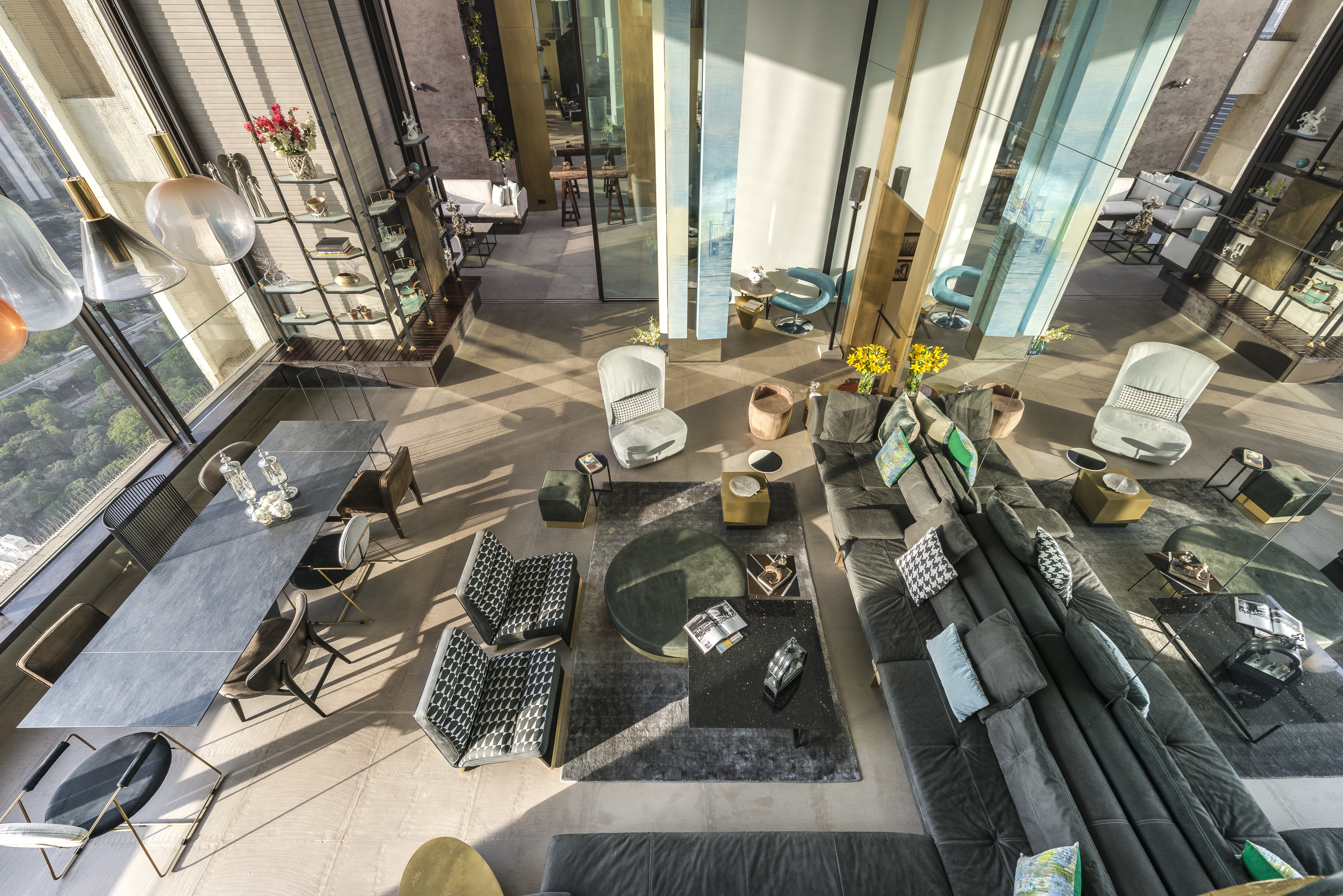 The terrace completes this pièce de résistance. Soft-lit lanterns and pot plants offset the contemporary design of the space and mark the boundary between inside and out. But the real magic happens when, at the flick of a switch, both living room and terrace can effectively be transformed into a nightclub, with pre-set lighting scenes and shudderingly high-quality audio synchronized with giant pop videos projected onto the terrace wall.
Ramodiya says: "We have managed to deliver a sound system that can rival most club systems in terms of sound pressure levels and sound quality. The speakers blend into the design elements in the room, and the subwoofers were hidden behind acoustically transparent panels. For the outdoor projection system, we installed the projector in a weatherproof enclosure, hidden behind a wall panel. This means the family can access the system even during the monsoon months."
As a social space, the couple didn't want any screens in the in the main internal living area.
And, as conscientious parents, neither did they want any in the children's bedrooms. Instead, they commissioned a dedicated media room where they can relax and watch videos or movies inside, or the children can play on their game console. "Here, we were able to install a stealth Dolby Atmos system without intruding into the living space. We used Triad Gold Monitor speakers and Bronze Subwoofers, painted to match the interior. The 5.1.2 configuration with a 2.35:1 projector and screen combination creates an incredible, immersive surround sound experience," says Ramodiya.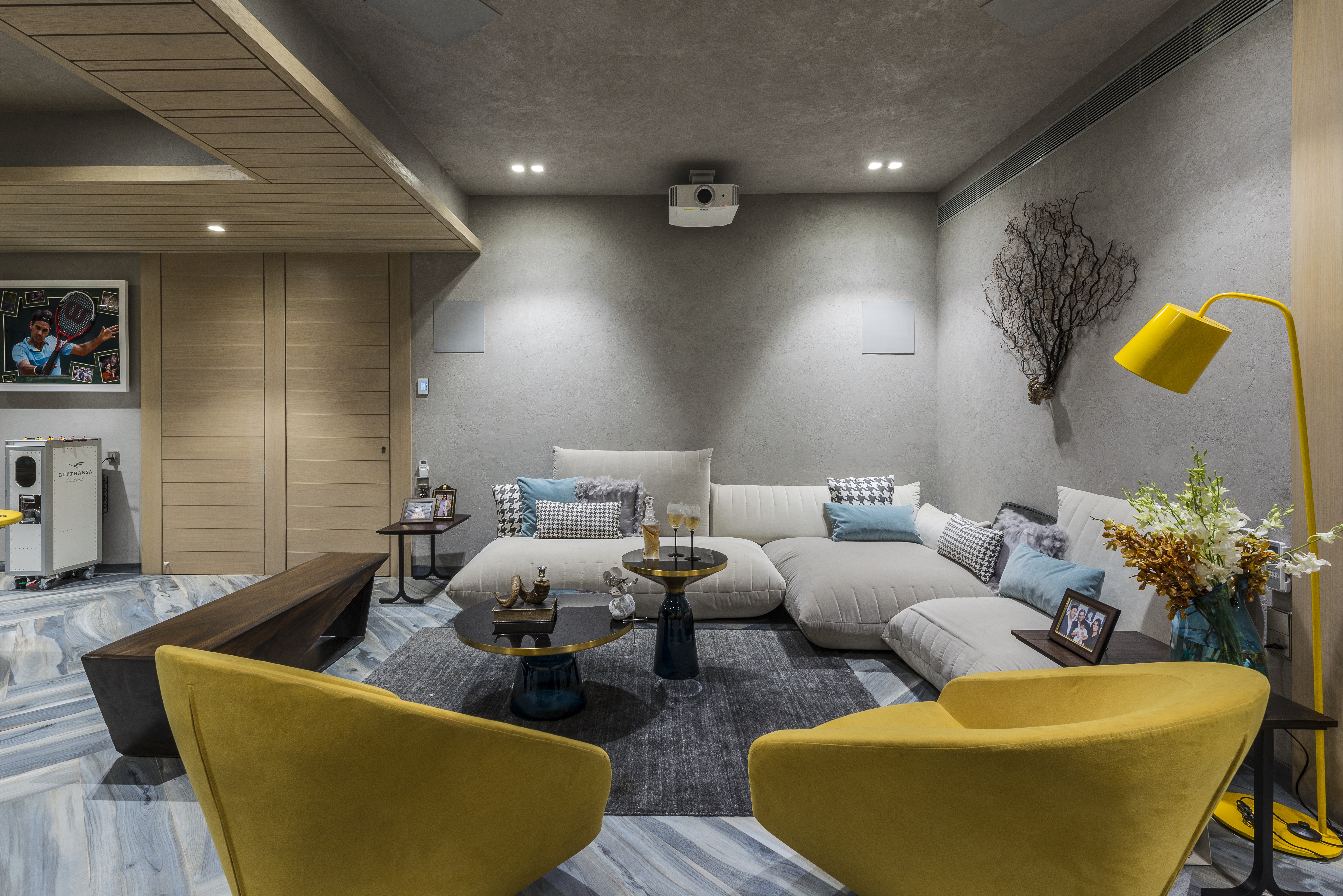 And there are more smart features than you can shake a stick at. Remote access to the system from their smartphones allows the couple to monitor the children when they are travelling and also keep track of what they are using in the home. There is also a smart camera in the kitchen that allows them to see what their staff are up to. And Mrs. B has loved the ease with which they can program their own lighting scenes for different moods, times, and activities.
The audio, though, is the undoubted star. This is a family that loves to rock. Top-end audio can be streamed in any room, yet speakers are completely unobtrusive having been fully integrated into the design. Ramodiya says: "Everything can be controlled from their phones, on-screen, or by voice. They can stream different sounds and videos in different rooms or synchronize all the speakers and screens if they want—such as when have a professional DJ in to perform a set at one of their parties."
---
HOW YOU LISTEN TO YOUR MUSIC MATTERS.
CLICK HERE TO EXPERIENCE THE TRIAD DIFFERENCE.
---
Delivering a system with the power necessary to meet all these requirements, yet with the simplicity and unobtrusiveness to meet the client's demands, was only possible thanks to Control4's smart home automation technology and superfast Pakedge networking. Ramodiya says: "Control4 has allowed us to create a system that blends pro and consumer AV in a single system with a simple user interface. The architect was especially pleased with having all the equipment housed in a central closet, with nothing to clutter the living space."
As for ease of use, Mrs. B is more than happy. She says: "All through the build I was concerned as to how I would manage a home that was automated to this degree. After completion, I am happy to say that this system is easier to use than my previous system that I had completely stopped using due to the sheer complexity. Because of Control4 and Cossack, I feel I have been included in the tech-savvy team."
YOUR HOME, ONLY SMARTER.
DROP YOUR INFO BELOW TO GET STARTED TODAY.
We take your privacy seriously and we promise we won't spam you; please see our privacy policy for details. By submitting your information, you are confirming that you are 18 years of age or older.
Thank you
SMART HOME STORIES