A Beautiful Bend in the River
September 26, 2019
In the southeastern corner of Queensland on the Sunshine Coast, the mouth of the Mooloolah River meanders through the waterfront town of Minyama—a maze of canals and harbors—before meeting the Pacific Ocean. And should you happen to be boating through the town, you might notice an exclusive island of luxury waterfront properties. If so, hang on to the handrail, because one of those properties is likely to knock you off your feet.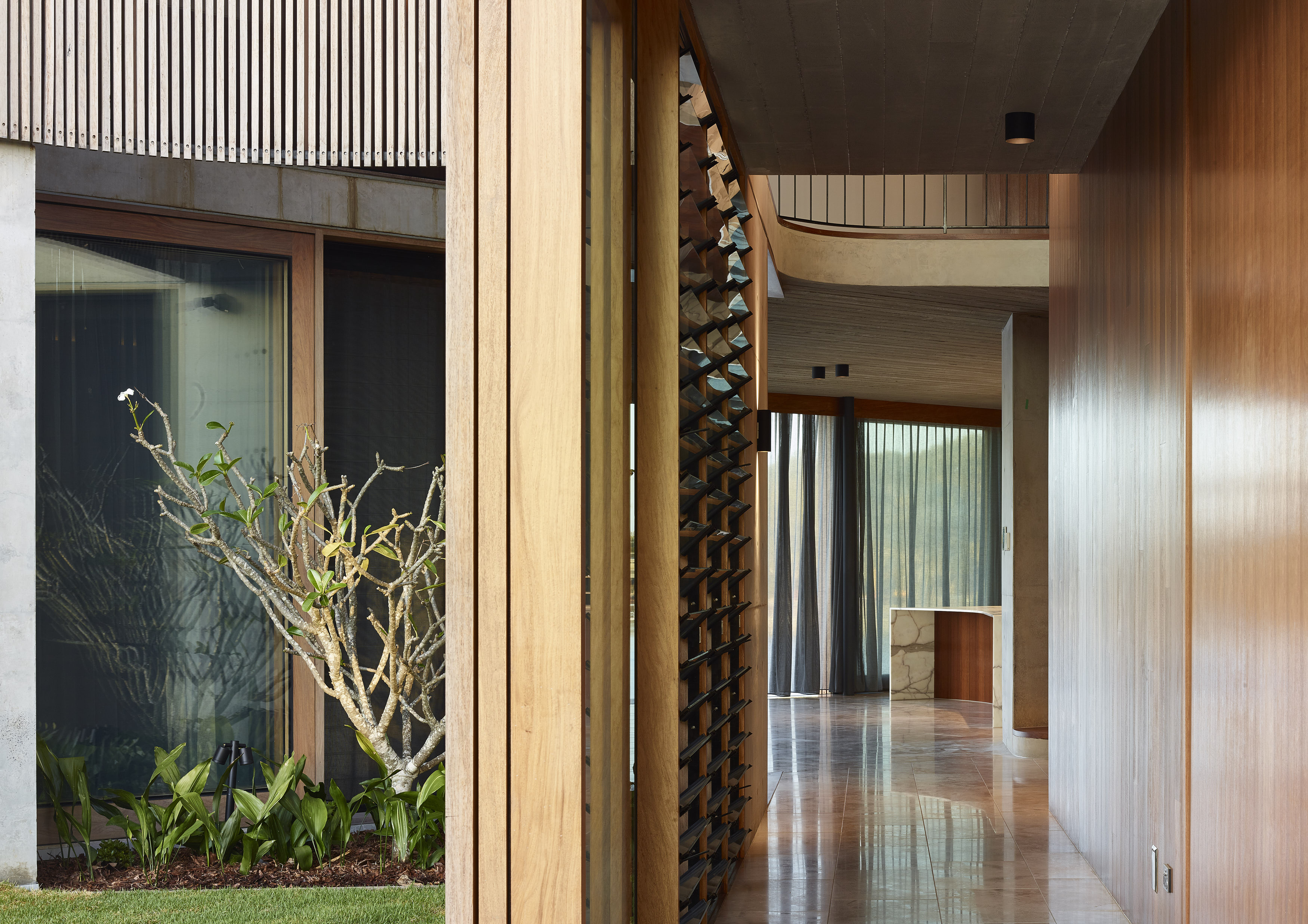 The V House was named after the shape formed by the two outstretched wings that enfold its landscaped courtyard. Here, an iron staircase spirals up to the second-story veranda and living space, comprising a master and two guest bedrooms (all ensuite), office, media space, and snooker room. Downstairs there's a lounge, dining room, family room, gallery, kitchen, scullery, cellar, maid's quarters with ensuite, powder room and laundry, plus another guest bedroom and bathroom. There's also a double garage with driveway.
From the river, the two stories of the waterside wing resemble a low, wide, two-tier, oblong display cabinet, vast glass doors connecting the waterfront to the courtyard beyond. With all the doors and drapes open, the ground floor of this wing almost disappears, looking more like a see-through support for the second story, with its large picture windows overlooking the river and timber screening on the courtyard side. Inside, the sharp right-angled exterior gives way to softer edges of curved concrete and timber paneling.
The house's globe-trotting owners wanted to create a showpiece holiday home—a stylish, sustainable, subtropical paradise where they could eventually settle permanently. At the end of 2013, they engaged award-winning architect Shaun Lockyer, who shared their love of Brazilian modernist architecture—characterized by its linear simplicity, use of raw materials like concrete, timber, iron and stone, and strong ties between inside and out. The timber also has a more local connection: many Sunshine Coast towns began as ports for the timber industry in the nineteenth century, when much of the region had magnificent forests.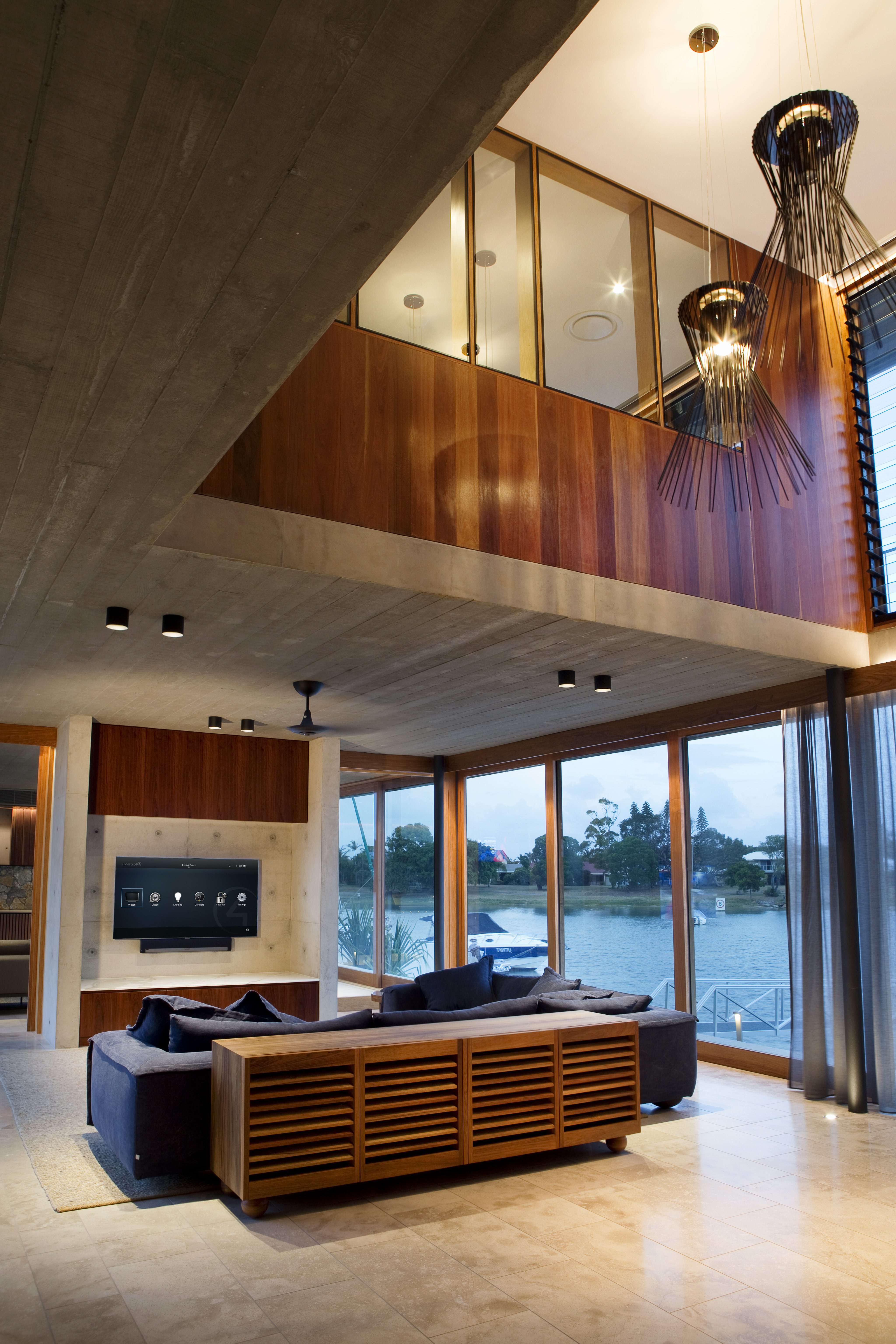 After two years, the plan was completed and signed off, and in 2016, the two-year build began. But as well as demanding aesthetic perfection, the clients also wanted state-of-the-art smart automation and security. Enter Queensland's only Control4 Diamond Dealer Electronic Living; a company that has earned an enviable reputation on a global stage for building many of today's modern smart homes in the area. The company's founder and managing director Damian Cavanagh says: "We were introduced into the project during the early stages of design to bring our vast technical knowledge and engineering expertise to provide the latest in electrical, lighting, and smart home technology to this stunning modern masterpiece. We worked in close collaboration with Shaun Lockyer Architects and the builders, CGH Constructions, two companies leading the industry with forward-thinking in modern building design and deep understanding of the benefits of smart home adoption."
The project spanned over two years, with the Electronic Living team involved in every facet of the build, handling initial design concepts, cabling, and product selection through to installation and programming—remaining true at all times to the client's brief to create a discreet, reliable, high-quality system that would also be very simple to use.
---
---
For a house where aesthetics and design were so key, this was no mean feat. As architect Shaun Lockyer explained to
Smart Home Magazine
: "The house being an off-form concrete shell offered little or no forgiveness for error. To that end, it was critical that adequate time was given to the design and planning process."
Electronic Living had to come up with a detailed plan for conduits and cables and ensure it was executed with precision. Cavanagh says: "Our team had to be on site for every concrete pour to ensure everything was in place, as there would never be a second chance to install later. We also concealed much of the home's technology in a dedicated communications store, hideaway TVs within joinery, and concealed certain items such as many of the homes audio zones in the off-form concrete ceilings using custom-made enclosures."
By February 2018, the house was complete. And as well as its smart looks, the hidden high-tech gadgetry makes this house smart in many other ways, too. Audio and video can be streamed to multiple rooms independently or together, powered by a custom-configured Control4 smart home platform. There is extensive CCTV surveillance and security systems throughout. "These can be viewed, monitored, and controlled via touch screens throughout the home as well as on any of the family members' smart devices," says Cavanagh. "As the owners are often in other parts of the world, this is a feature they've found particularly useful. Family members are notified on their smart devices if any security breach occurs, and the security monitoring company is also immediately advised."
Lighting, air conditioning, heating, and blinds throughout the house—as well as exterior lighting such as the pool, pool terrace, courtyard, and perimeter—can all be controlled via Control4 Touch Screens or smartphones and tablets. "The user can even select from a range of customized scenes—for example, "Home" turns on the pathway lights from the garage to the kitchen and bedroom, while "Good Night" progressively turns off all of the lights in the house and closes all of the blinds," says Cavanagh.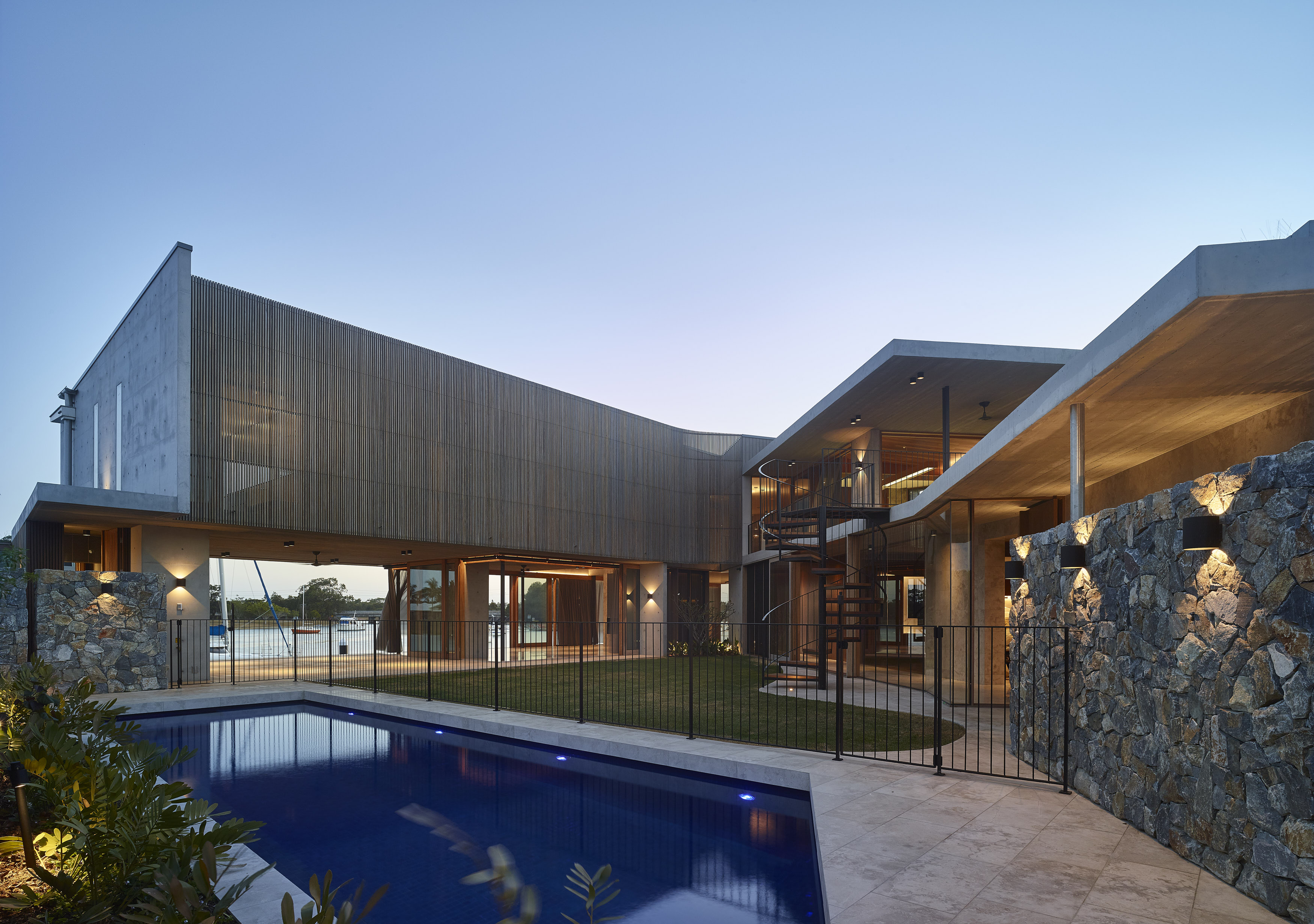 There's also a smart intercom with digital locking system. Thanks to Control4's Intercom Anywhere technology, the owners can monitor and communicate with any room of their home—even when they're not there. They can greet guests and let them in remotely using their smartphone-controlled smart lock or see anyone approaching the property from all perimeters.
The team also ensured there was plenty of capacity to keep the home up to date with the latest smart features should they—or any future owner—choose to do so. "For example, although the owners weren't initially interested in voice control, that's becoming a very popular addition to our smart homes and could easily be added in the future if they changed their minds. It can be very empowering to utter a command like "Alexa, turn on Dinner Party," which then cues up your Spotify party playlist, turns on lights in specific areas, closes the blinds, and sets your air conditioning to your preferred temperature," says Cavanagh. "And you could dim the lights, raise the volume of the music, and kick-start the gas fireplace without lifting a finger, much less leaving the room."
In keeping with the ideals of Brazilian modernism, the home also scores high on sustainability. Lockyer says: "The timber rain screen offers shade, protection, and security. Deep eaves, excellent cross-flow ventilation, thermal mass, and natural lighting make for a very sustainable long-term proposition. Solar power with battery storage, low-e glazing (which saves energy by preventing the escape of heat), LED lighting, and sustainable hardwoods complete our approach."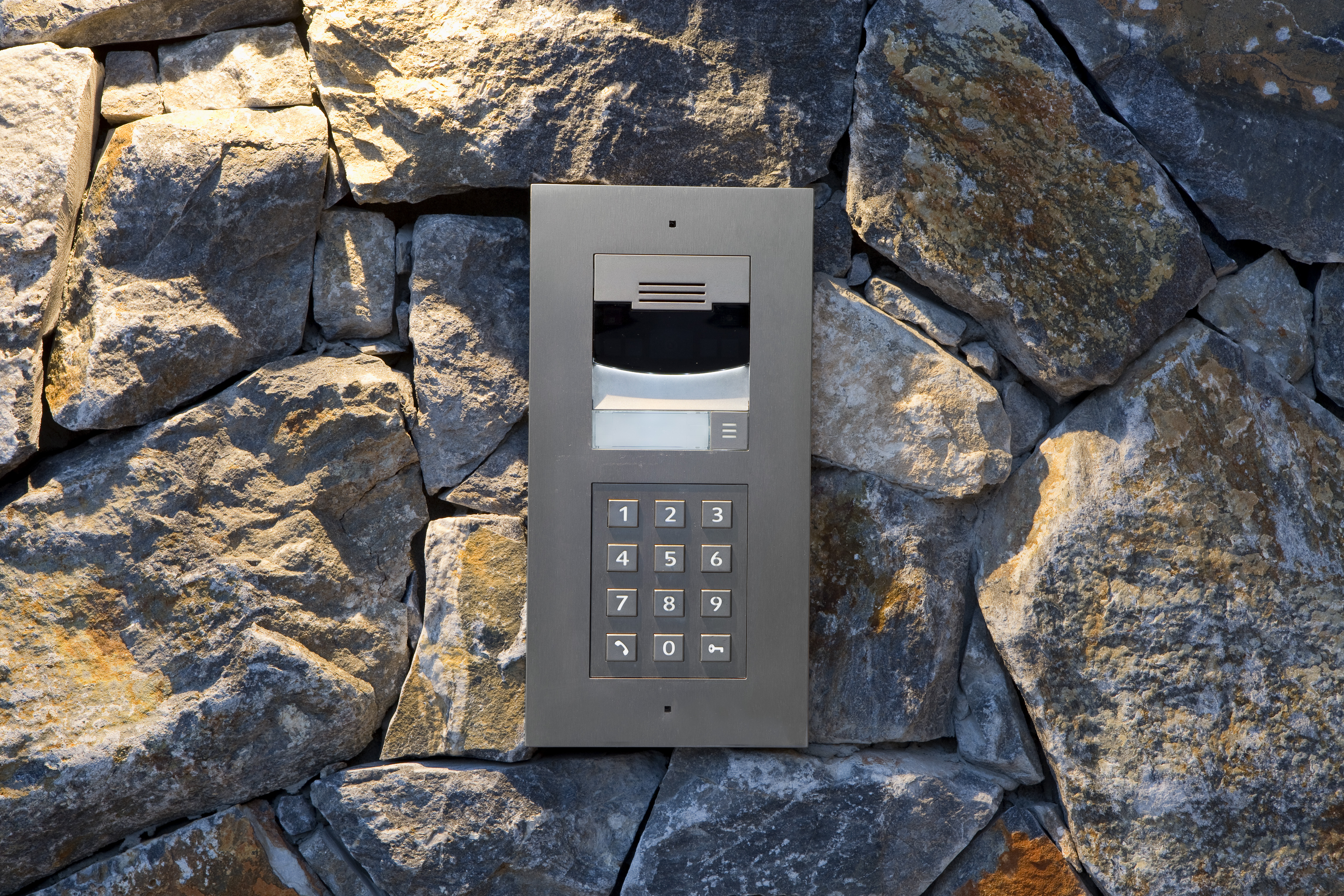 The house has won multiple awards for both its design and smart technology. But Lockyer believes it would never have come together without the exceptional professionalism of all those contributing to the realization of this truly spectacular home.
That, the architect says, made all the difference: "Thanks to the considerable effort of everyone involved, the project was surprisingly painless and enjoyable to deliver from beginning to end. The V House represents one of our best examples of successful collaboration with design and services integration. Electronic Living's involvement, from the concept stage through to completion, allowed us to achieve the most seamless and reliable automated outcome for our clients. The results speak for themselves, with the house enjoying unparalleled functionality, energy efficiency, and faultless technology integration—all perfectly executed and simply delivered."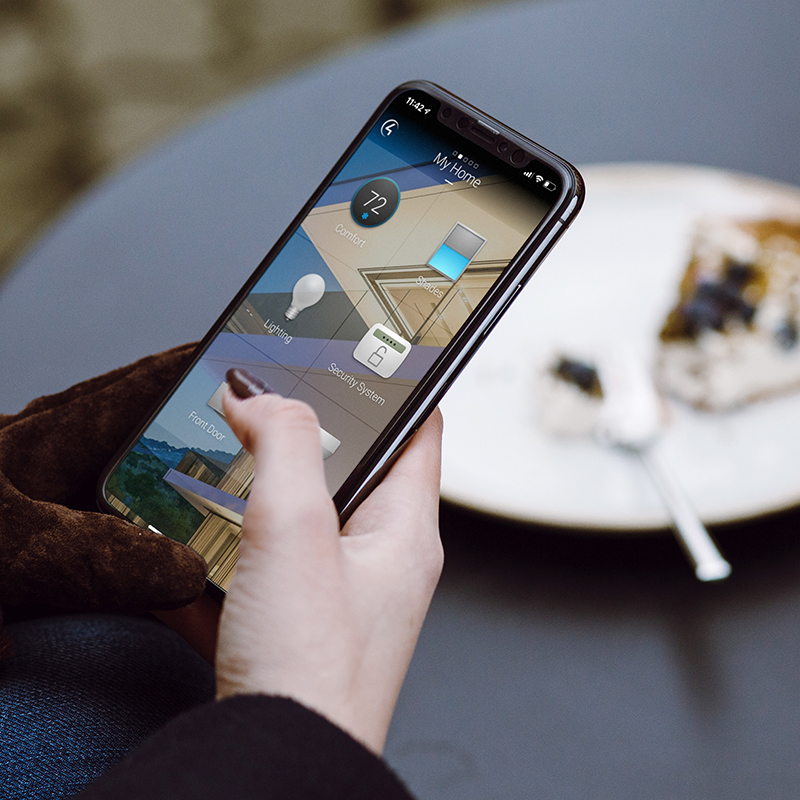 MAKE THE SMART HOME OF YOUR DREAMS...
A REALITY.



Drop your information below to get in contact with a smart home pro today.
We take your privacy seriously and we promise we won't spam you; please see our privacy policy for details. By submitting your information, you are confirming that you are 18 years of age or older.
Thank you
SMART HOME STORIES