Knowledge is Power: Jim Patten on Smart Home Education Courses
By
Danielle Karr
| Posted November 6, 2018
At Control4, we believe that customer experience is paramount. We also know that educating partners and developing industry relationships is key to achieving the ultimate customer experience, especially when it comes to the professionals who are directly involved in designing a customer's dream home. Jim Patten, one of our most veteran regional sales managers, has made it his mission to empower industry professionals with both the technical knowledge and networking needed to succeed in the smart home arena. As an early proponent for continuing education unit (CEU) courses on the subject of home automation, we decided to ask Jim how he approaches CEU courses for design industry professionals, what these professionals should know about smart home technology, how he discovered his own passion for automation, and what he sees as an important next step for the technology and design industries.
How did you get to where you are today in your career?
I have always liked consumer electronics and audio video products. Before home automation really existed, I began my career in the industry as a specialty electronics retailer. When the custom installation segment of the industry began to emerge, I was naturally drawn to that part of the business. When we began hiding speakers in walls and ceilings, consolidating remote controls with universal remotes, and customizing touchscreen devices, I was fortunate to discover I had a talent for making these things work and my career grew from there. I eventually moved from the dealer side of the business to the manufacturer/supply side of the industry and the practical experience and skill sets I had acquired as a dealer/integrator combined with my management and business background gave me some unique advantages in the field as the industry grew. My penchant for, and expertise in, the control and automation space was responsible for me landing at Control4 several years ago. Having a long history in areas like lighting control, multiroom audio and video, climate control, automation, and more has allowed me to have a unique perspective within the industry that helps in the day to day support of the dealers and clients in the field.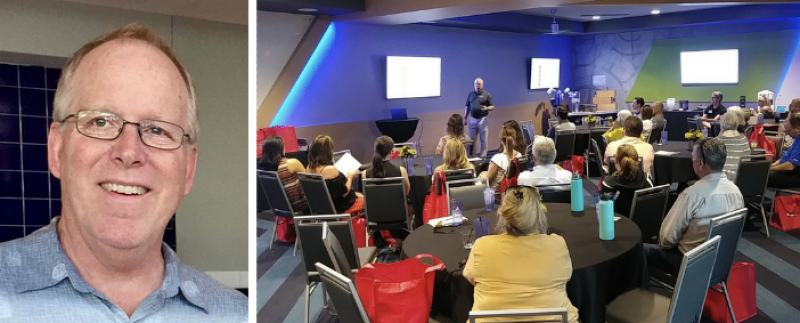 What sparked your interest in teaching CEU classes?
In the early days of custom installation, it became very apparent to me that I knew little about what the designers did and they knew even less about what we were doing on the technology side. This created a lot of issues on the project level. When CEDIA started their Registered Outreach Instructor CEU program several years ago (now the COI program), I advocated for Control4's participation in this program and was lucky that management saw the value and allowed a good number of us to go through the training and certification process. Continuing education is required in many of the industries we work with, and technology is one area where information is very needed. I think we have a tremendous opportunity to help bridge this knowledge gap and help deliver better projects for homeowners. If any designers want a CEU course taught, they can just
reach out to us
and schedule a course on home automation in their area.
How can a designer or industry professional get involved in home automation?
Well, a great place to start is by taking one of our CEU classes, but I would also suggest that they visit a
smart home integrator
near them who will have the ability to show them the technology applications and concepts that our industry can provide. Designers can then develop a long-term working relationship with that smart-home expert to help provide them with the resources they need to merge technology into their projects and deliver a better solution to their clients by working hand in hand to achieve the goals of their clients. The knowledge designers need to delight their clients is out there, they just need a reliable partner to help make sure they have the resources and support that they need.
What would you love for industry professionals to know about home automation?
There is a lot of misinformation, misconceptions, and unknowns about technology that I'd love to have the chance to educate industry professionals about. There are also a lot of design elements specific to technology that the designers and builders have not been exposed to. Expertise in areas like infrastructure and technology planning is sorely needed—the whole wired vs. wireless debate continues and lots of mistakes are made every day because of the lack of expert consultation in these situations. Lighting control is another key area within our industry that can become better with expert involvement early on—both as a design element and also from a comfort, convenience, and safety standpoint. Knowledge is power, but you don't know what you don't know. This is why it's important for experts from various trades to come together and learn from one another.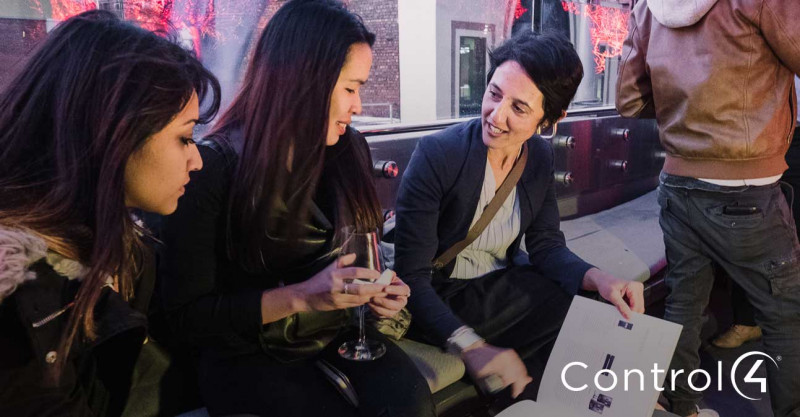 Why should design professionals bring in a smart home expert early on in the project?
A good smart home integrator can bring immeasurable value to a project when involved in the early planning stages, just as design and build professionals add their expertise to the planning of a project. If we can develop a synergy between the technology specialists and the design/build professionals, we can deliver far better projects than either side can on their own. Embracing technology in the design planning phase is good for everyone, especially the client who will live in the home when it's done. Most clients don't know what to ask for and designers are rarely technology experts, and so, without a consultation from an experienced home technology professional, they may miss out on opportunities to solve problems or improve conditions using technology. Working side by side with qualified specialists can deliver far better experiences for all involved.
Have you seen any additional benefits from your CEU courses?
I just did a CEU event in Nashville for the local NKBA and ASID chapters that was put together by Erin Hurst, the president of the TN NKBA chapter. She saw a presentation that I did last year and recognized the need for this type of information and guidance within her industry. She then put together an automation-centric event for her local peers to try and help bridge this technology gap. She plans to continue to do technology-focused events in her area going forward which will help strengthen the synergy between the design industry and home technology professionals. I am excited that home automation specialists are starting to be embraced more by the design/build industry and what this means going forward. This synergy will strengthen our ability to help the homeowners get the lifestyle they want from technology.
What do you love most about this industry?
Well, the root is in my love for the product in general—I have always been somewhat of a geek for electronics. The real driving force now is the challenge of what we do as an industry to keep it fresh. Every project brings its own set of challenges and, with the constant evolution of technology, these challenges become different every day. The constant balancing of client needs, project limitations, and design demands, combined with the expanding capabilities of the products and systems, makes this an ever-changing industry.
_______________________________________________________
WANT TO LEARN MORE ABOUT HOW CONTROL4 FACILITATES BEAUTIFUL SMART HOME DESIGN?
CLICK HERE
.
BUILDING & DESIGN