An Integrated Vision: Joe Whitaker on Leading the CEDIA Design Tour
By
Danielle Karr
| Posted October 30, 2018
An active member of the CEDIA and the smart tech community, Joe Whitaker is one of the brightest minds in the home technology business. His in-depth knowledge paired with his friendly, upbeat personality makes Joe a smart home force to be reckoned with. Recently, he was one of the two hosts for the inaugural Design Connection Tour at the 2018 CEDIA Expo, a tour that brought top interior designers to the CEDIA show floor to connect them with smart home experts and brands in the technology industry. He led the second day of the tour and wowed designers with ideas on how to take their projects to the next level with home automation. Whitaker's integration company,
The Thoughtful Home
, located in both the St. Louis and Dallas areas, provides smart home solutions that encompass the client's needs, budget, and time in a way that sets him apart in the industry. With over 20 years of experience in custom systems integration and the design industry, he also writes for CE Pro, Electronic House, and TecHome Builder and is a frequent guest on
The AV Life
podcast.
We sat down with Joe to ask him about how he became a top integrator, what his experience was like leading the Control4 CEDIA Design Connection Tour, and his overall thoughts on smart home technology.
How did you get started in the technology field?
About 20 years ago, I got a call from a buddy who had been an integrator awhile. He said to me, 'Hey, you're good at network-based technology and need someone like you to get my company going. Would you be interested in coming on and helping?' In one year it went from three employees to 13 employees, and that's when I realized that if I could help with starting a company, then I could start my own. And so I did. I looked at where I saw flaws in the technology or in the sales process, and I built my business around solving those. I then came into contact with Control4 and was impressed with how they were focusing on the living environment—it wasn't just a one-trick pony. It could do almost everything. I was ahead of the curve in those early days, not a lot of people were looking at technology as solutions like I was, and I could see the potential in using Control4 product. I could see then that it was the future. Now that I've been in business for a few decades, I am pleased to say that I am still excited and confident about the future of professionally integrated smart home technology.
When you were invited to lead the Design Connection Tour, what were your thoughts?
When the PR firm
White Good
called me and said they wanted to do the tour, I was excited for the opportunity to give the designers a glimpse into my life when it comes to choosing and integrating products. I wanted to show them new brands as well as the bigger brands and how they can all incorporate together, from smart toilets to TVs in mirrors to connected ovens and fridges. Every single one of the brands I picked worked with Control4—even before I knew Control4 was sponsoring the Design Tour—because I wanted to provide designers with the comprehensive technology experience I use in all my projects. Control4 allows so many things to work together in one comprehensive system, so it just seemed natural to present that complete home automation experience. I was so happy when I learned Control4 was the main sponsor because there were so many unique announcements from Control4 this year alone, like Intercom Anywhere, the Certified Showroom program, and more. That particular sponsorship worked really well with the idea of an innovative tour.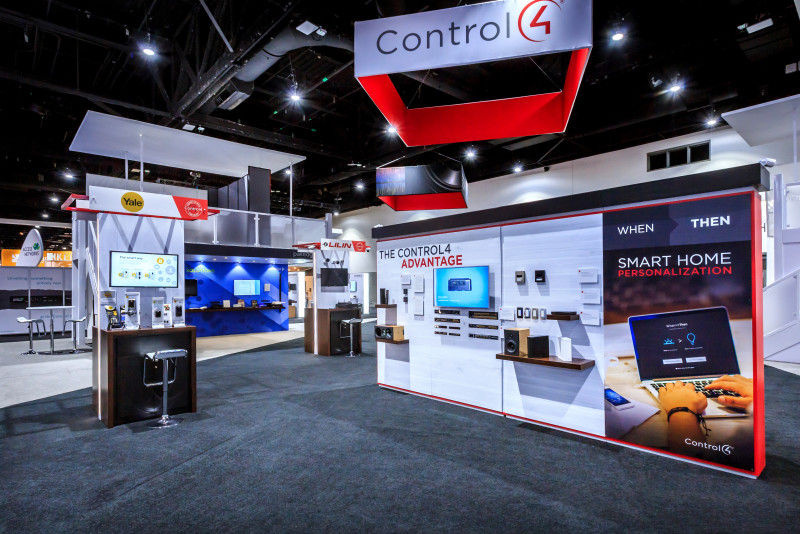 What questions surprised you most on the Design Tour?
I was very surprised when the designers were asking me about network security and hacking. It was a really great opportunity to get technical with them in a way I hadn't expected. Some of the other great questions were about how to best incorporate speakers into designs and how to get more education on home automation. I shared with them how important it is to find a trained, certified
smart home technology professional
, and to make sure the expert has the same level of certification that designers pride themselves on. Designers need to have a partner that can play on their level while providing industry-specific expertise.
In your opinion, what is the future of home automation?
The future is all about connecting customers with technology early on in the process. Interior designers and architects are a great way to accomplish this because they can bring us into a project early on and allow us to showcase what we can do with home automation in a way that the clients can truly experience. Showrooms, demo spaces, and more allow us to show and not just tell clients about all the possibilities that come with a truly smart home. Interior designers and architects are involved before the plans are even designed, but currently a lot of smart home experts aren't brought into that design phase, and that's a huge miss. We, on the technology side, are really involved with every other contractor on the job site. If you bring us in early, we can discuss where things need to go and what needs to come together to create a truly seamless experience. We are not the design experts, but we have a lot of insight into how the technology can improve the design, architecture, and overall experience of a home. We as a society are starting to integrate more and more with technology, including water monitoring, having smart toilets, buying kitchen devices that need to be on secure networks, etc., and smart home experts are the designers' key to providing technology solutions in a way clients will love.

_______________________________________________________
WANT TO LEARN MORE ABOUT HOW CONTROL4 FACILITATES BEAUTIFUL SMART HOME DESIGN?
CLICK HERE
.
Interested in living the smart life in a Control4 Smart Home?
Fill out the form below and we'll send you more information.
We take your privacy seriously and we promise we won't spam you; please see our privacy policy for details. By submitting your information, you are confirming that you are 18 years of age or older.
Thank you
Category
BUILDING & DESIGN