Party On
September 26, 2018
Photography: Courtesy of Dustin Halleck Photography // Control4 Dealer: Residential Networks // Location: Chicago, Illinois
A Chicago socialite's spectacular 1917 row house has been transformed with the help of smart technology. But its contemporary elegance and sophistication retain echoes of its colorful celebrity history.
On a leafy avenue bordering Lincoln Park on the shores of Lake Michigan sits an elegant brick-and-limestone house which can be counted among Chicago's most historically significant residences. Modeled on the townhouses of Georgian London, 2704 North Lakeview Avenue is the star of a small row built more than 100 years ago by celebrated architect David Adler for his close friend, the wealthy socialite and artist Abram Poole Jr.
Poole mixed with the bohemian in-crowd of the day – writers, poets, actors, artists and intellectuals. His wife, Mercedes de Acosta, was renowned for her love affairs with some of early Hollywood's most famous leading ladies, including Isadora Duncan, Eva Le Gallienne, Greta Garbo, and Marlene Dietrich—many conducted during her 13-year marriage. (Poole was apparently comfortable with his wife's eclectic passions
[1]
, but they eventually grew apart and divorced amicably in 1935.)
While we don't have the guest lists for Poole's parties, it's fairly certain that more than a few famous names have enjoyed the hospitality of this spectacular house and its famous, fun-loving residents. Despite its modest sidewalk footprint, the grand double front door with its neoclassical columns and fan-motif transom gives a strong hint of the splendor within. This becomes apparent as soon as you step into the marble-clad entrance hall.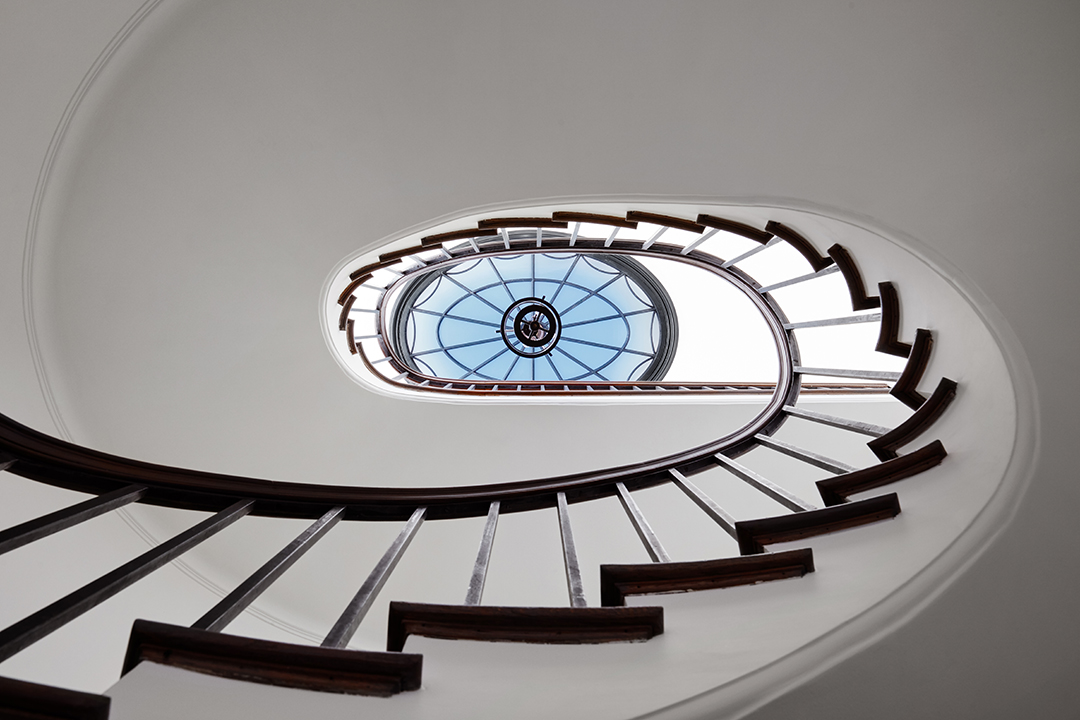 A grand oval staircase winds over three floors as the house stretches back to reveal six bedrooms, four full and three half bathrooms, several living and dining rooms, two kitchens, a theater, gym, study, breakfast room, walk-in closet, laundry room, garage, and terrace. The pièce de résistance is the breathtaking central gallery. Natural light streams in through Adler's soaring frosted glass ceiling, illuminating the paneled walls where one of Poole's original paintings hangs above the gleaming-white molded fireplace.
High-spec black-and-white fittings and finishes exude an elegance and sophistication that is simultaneously contemporary and classic. And while retaining many original features, the house now brims with state-of-the-art technology, including smart heating, lighting, security, and entertainment. In short, it is today what it was originally designed to be—Chicago's ultimate party house, worthy of any wealthy socialite looking to live in luxury and host the best bashes in the city.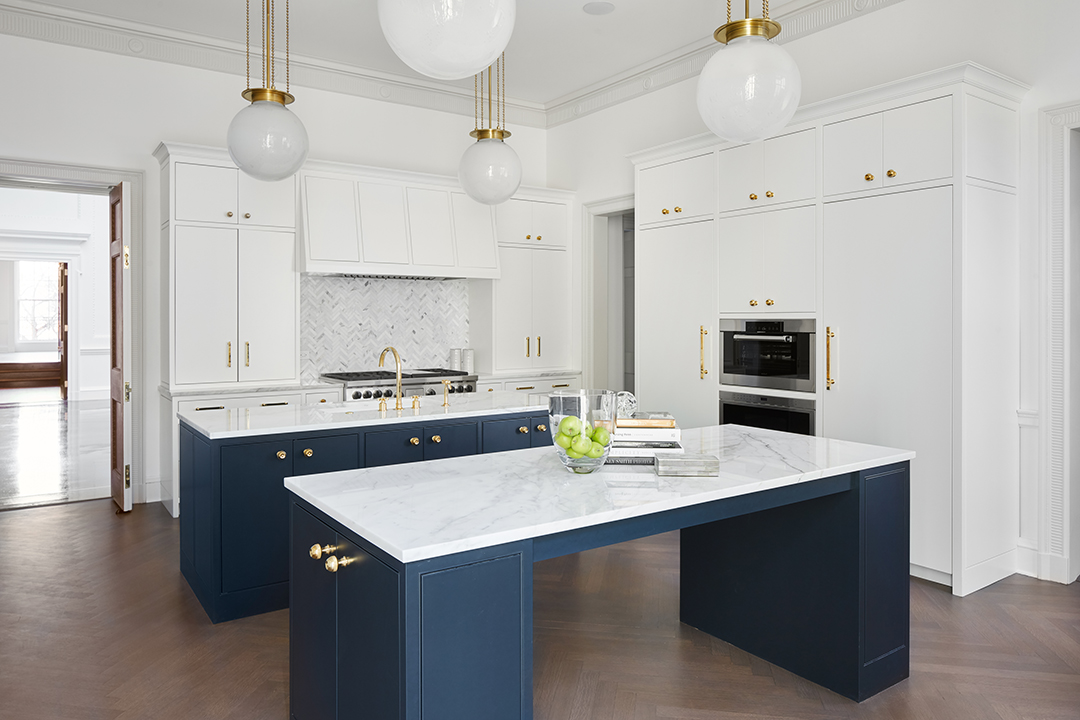 Less than two years ago, it was a different story. The previous owners, Floyd Abramson and his late wife, psychologist and author Jane Beber Abramson, had bought the house in the late 1960s. They moved out in 1997 once their children had grown up, but Abramson put the house up for sale only in 2016. It was snapped up late that year for $1.8 million by Steve Bouwman, an enterprising Chicago real estate developer on the lookout for his firm ReduHome's next big project—one that has proved to be Steve's biggest and boldest renovation to date.
Having stood unoccupied and untouched for more than 20 years, the house was looking decidedly dated. The décor, while not out of place for the home of a progressive 1960s psychologist, reportedly had disturbing echoes of Stanley Kubrick's "A Clockwork Orange," while the plumbing and electrical had not been touched for many decades. Yet although the house was creepy and creaky in parts, it clearly had immense potential—an unrivaled location, architectural excellence, original features, and craftsman-like construction.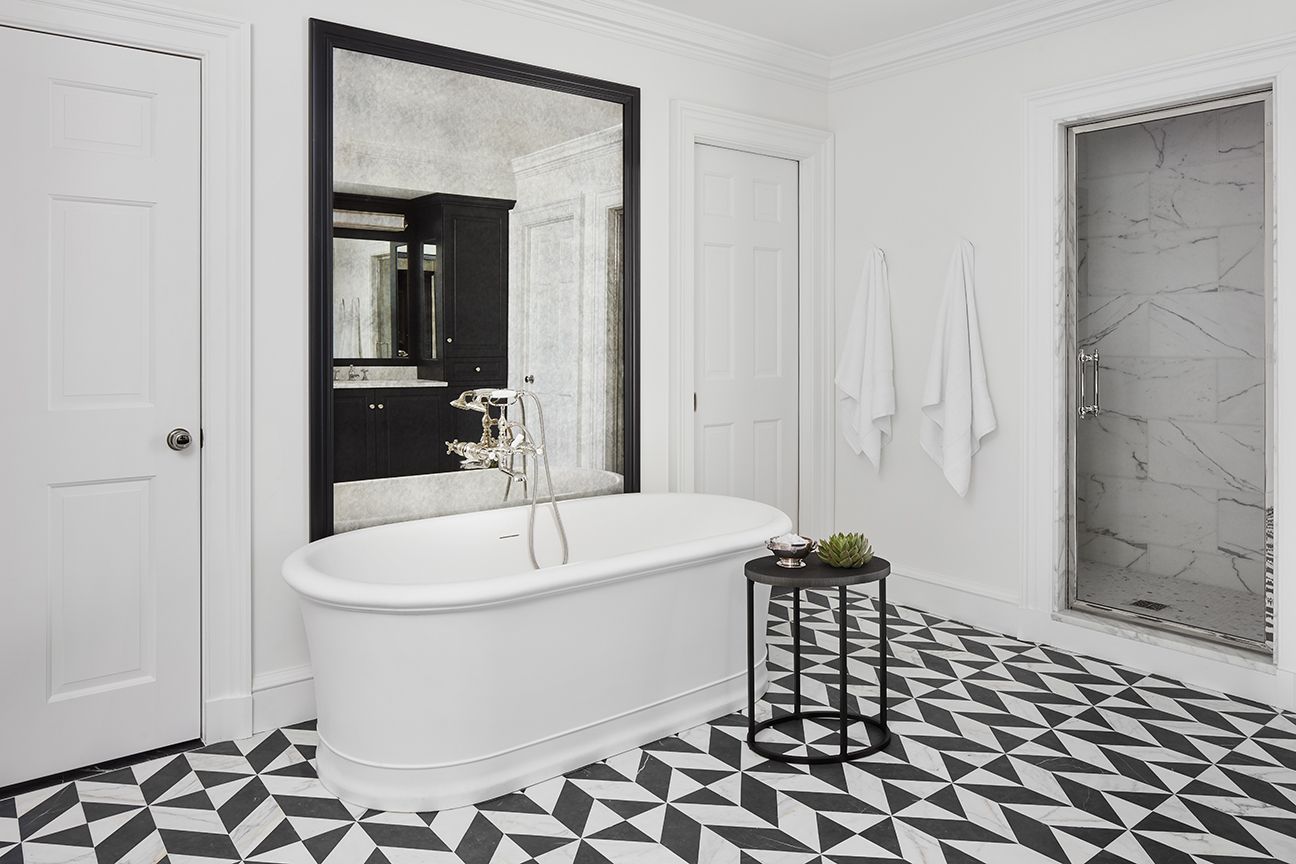 Steve diligently set about restoring it to its former glory. He knew he wanted the house to be fully automated, so he called Dan Ciupe of Control4 Dealer
Residential Networks
, his long-time, go-to guy for smart technology. Dan says: "We've been working with Steve for 15 years. Starting with small projects in the early days, every year he's been growing the size and scope of his developments, and this was his most ambitious yet."
But when he saw the extent of the work that was needed, Dan knew it was going to be an especially tough challenge. "All the plumbing, air conditioning, heating, and electrical needed to be re-done, and Steve wanted the whole place wired up for maximum automation. At the same time, he wanted to keep many of the original features, like the molded plasterwork, while making the technology as unobtrusive as possible," says Dan.
Because the house was constructed so solidly—brick, stone, and concrete with steel mesh supporting the plaster in the ceilings—wiring the place up was going to be extremely tricky. Fortunately, Dan, who is originally from Romania, had plenty of experience working on similarly solid, old houses in Europe, so he knew what was needed. "We couldn't touch certain walls or trims, so we had to channel the floors to get the ducting and wiring in. It was challenging, but we did it. We also had to break through the concrete between floors, as well negotiate the metal mesh holding up the ceiling plaster," he says.
A little over a year later and the smart transformation was complete. ReduHome had completed the external and internal restoration and decoration—including extending the floor space from 9,000 to 10,000 square feet, installing high-spec character windows, new copper plumbing, and a mix of top-spec flooring with underfloor heating. At the same time, Dan's team ensured all the technology was installed in a way that it was either invisible or subtly integrated into the design. In fact, were it not for the odd screen on the wall and a few convenient but unobtrusive control panels, you could easily feel you were back in the last century. Spend any time in the house, however, and you'd soon be dispossessed of that delusion.
As far as smart automation goes, this place is truly state of the art. Using either the wall-mounted touch screens, handheld remote controls, or an app on their smartphone or tablet, residents can use
Control4 automation
to schedule and manipulate everything from their audiovisual entertainment, to lighting scenes, heating and cooling, security cameras, and door locks—whether they're at home or away. "At the moment, the smart lock feature is in beta [testing], but soon you'll be able to open the gates and doors remotely, for example, to let in a delivery driver if you're out, while monitoring them in real time from your phone via a smart camera," says Dan. And, of course, there's high-speed WiFi accessible throughout the house.
One particularly innovative feature is the stealth acoustics. "We've installed invisible speakers behind the walls in both the main entrance hall and the gallery, so there's nothing unsightly to spoil the elegance of these showpiece rooms," says Dan. But there are speakers and screens placed unobtrusively all over the house. "In total, we have about 12 zones of audio set up, all of which can be automatically controlled. There are also a number of screens, including a Samsung screen in the kitchen and Sony TV in the theater, where there's also a surround sound system. We've also pre-wired for surround sound in the master bedroom and one of the family rooms, in case a future owner wants to add even more smart capabilities," he adds.
Indeed, Dan points out that his team did a lot of prewiring to make it easy for people to add more screens, speakers, cameras, and other smart tech as required, or as new capabilities become available.
And that should mean this house will continue to swing with party-goers well into its second century. As to who'll be throwing those parties, we don't know—but any well-heeled socialites looking to settle in the Chicago area take note: at the time of writing, the house is back on the market for anyone who has the odd $6.5 million to spare.
[1]
Recounted in Robert Schanke's book, "That Furious Lesbian – The Story of Mercedes De Acosta".



Experience the magic and #

C4

Yourself.




Visit a Control4 Certified Showroom

to sample incredible smart-home solutions.
Or simply fill out the form below to receive more information on Control4 home automation.
We take your privacy seriously and we promise we won't spam you; please see our privacy policy for details. By submitting your information, you are confirming that you are 18 years of age or older.
Thank you
Category
SMART HOME STORIES