Be an Expert Clients Trust: What Makes Designer Yvette Chaix Stand Out
By
Danielle Karr
| Posted September 28, 2018
For more information on how to create smart, beautiful, livable design with Control4, click here.
When you look at any space
Yvette Chaix
creates, you can easily see that she has a passion and talent for home design. An interior designer on the California Central Coast, she has set herself apart through her clean lines and use of high-end lighting control. From smart-home technology to accent lighting to custom finishes, everything she creates is done with intention and attention to detail. We were able to catch a few minutes with this on-the-go professional to find out how she creates such thoughtful, livable spaces as well as how she keeps her edge in a highly competitive industry.
Did you always want to be an interior designer?
I wanted to be an architect in high school—but during college I fell into a job at an interior design firm, and while working there I realized how much I enjoyed interior design. I saw how architectural design plays into interior design and realized how much I enjoyed the design process when creating home and living spaces. So, I changed gears and went to the Art Institute for Interior Design and have never looked back.
How did you get started with home automation?
It started with lighting control—I had a friend who introduced me into
lighting control
through his company and I easily saw the benefit of knowing this skill as a designer. I took a class on lighting from a professional lighting designer and it opened my eyes to how design shouldn't be hindered by lighting, but rather it should be enhanced by it. Since then, every time I start a project I immediately start revising the lighting plans and because there are so many ways to set a scene in a room. I find it vital to incorporate smart-home technology into my lighting plans. My goal is to create lighting that not only showcases the spaces I create better, but, more importantly, helps my client live in the home better.
I branched out beyond lighting a few years ago when I met Control4 dealer
Above Grade Automation
through a project. The entire smart home was automated, from lighting to window treatments to automated door controls. I could tell instantly they were experts who knew what they were doing, but most importantly they realized the value of an interior designer. Since then we've worked on several other projects together. I've learned a lot about smart home integration from these home technology professionals find it valuable in all projects I do.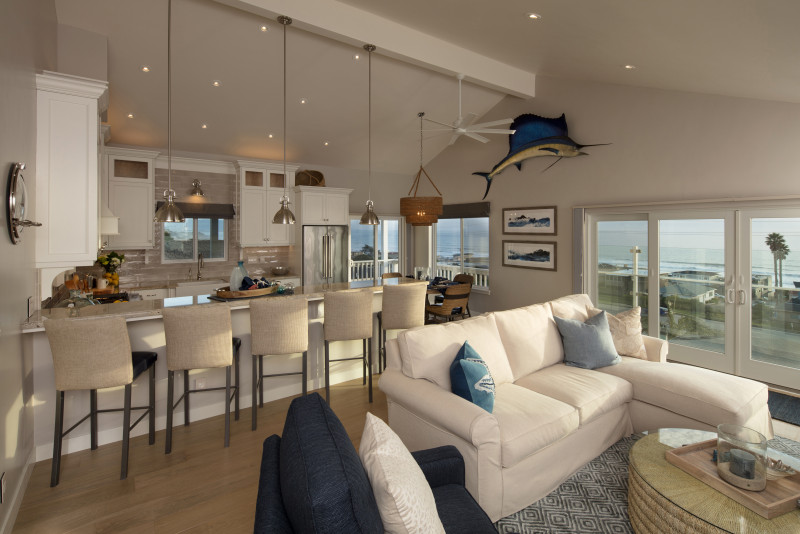 How do you stay confident in such a demanding industry?
Being confident is hard in this industry, to be honest, but I think one of the main ways I keep on top of things is by attending educational events, trade shows, and furniture markets to stay on top of all the trends and technology. I want to give my clients the best, and when I'm on top of the latest and best in design then I can confidently approach each client and know I am giving them what they want as well as the best end-result possible.
Why do you chose certain smart-home brands for your designs?
For me, it all comes down to the design control that a brand gives me. I love the
Control4 interface
and like that the screens can be more of a piece of art on the wall that not only looks beautiful but also functions well. The way you can operate Control4 touch screens in a home is also very elegant. I also like to choose brands that work together with other brands to create a cohesive system the way the Control4 brand does. That way I can have everything interacting without having multiple controls on one wall.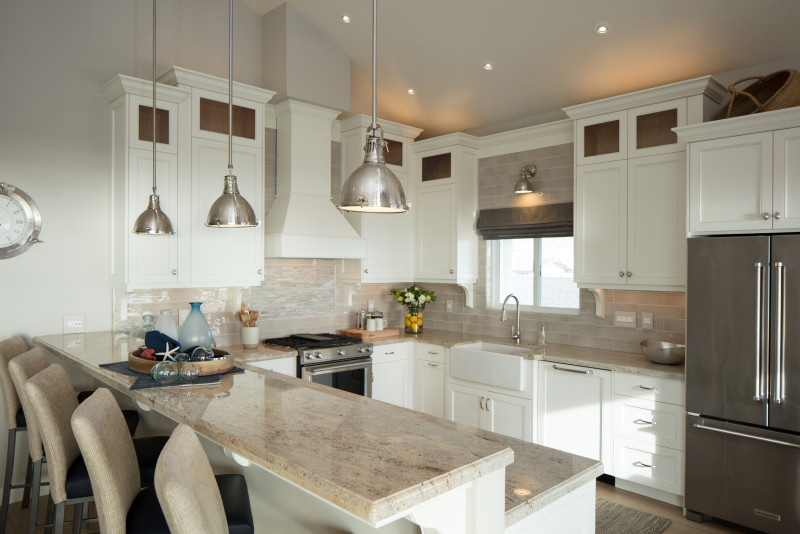 What are some of your most important styling points when creating spaces?
I always talk with my clients first to really understand what they are wanting out of their new design. I ask if there is any specific style, or lifestyle, they want to achieve. What do they want it to look like and how do they live? Then I go from there and build the space out to enhance how they live. My clients want beautiful homes, but they also want to live in them comfortably. It's my job to point out all the ways they can take that design idea and make it better. I do this with my clients through things like adjusting designs to hide outlets to create a beautiful space or educating clients on new products and new ways of doing things. It's a designer's job to educate—it's not just furnishing. It's about understanding a client's wants and needs while being an authority that they can trust.
Is there anything you do in your day-to-day to keep yourself grounded?
I recently got a puppy! My life is so chaotic and I work a lot, which I find is easy because I absolutely love what I do and love every project I work on. However, I decided that I needed something in my life that will force me to spend a little time offline focusing on and loving something else.
WANT TO LEARN MORE ABOUT HOW CONTROL4 FACILITATES BEAUTIFUL SMART-HOME DESIGN

? CLICK HERE.
Interested in living the smart life in a Control4 Smart Home?
We'll send you more information.



ARE YOU AN INTERIOR DESIGNER OR ARCHITECT THAT INCORPORATES SMART-HOME TECHNOLOGY INTO YOUR DESIGNS? WE WANT TO CONNECT WITH YOU.

We take your privacy seriously and we promise we won't spam you; please see our privacy policy for details. By submitting your information, you are confirming that you are 18 years of age or older.
Thank you
Category
BUILDING & DESIGN