Considering the User Experience in Aesthetics: How Toni Sabatino Approaches Interior Design
By
Danielle Karr
| Posted September 19, 2018
For more information on how to create smart, beautiful, livable design with Control4, click here.
Color is something that can intimidate even the most veteran designer; however, interior designer
Toni Sabatino
says that her signature approach to color comes not so much from focusing on color in the space as much as focusing on color with the people—using color to create rooms her clients feel comfortable in. This New York-born designer has become quite well known for her unique approach to color and her experience-focused interior design style. She has won several awards, including a kitchen design award from the Interior Design Society, Best Of Houzz Award for customer satisfaction and was named a Top 200 influencer in the Home Design Industry in 2017 by FIXr.com. Owner of Toni Sabatino Style, a boutique design firm serving Greater New York and beyond, and current president of the NKBA Manhattan chapter, Toni uses a mix of high and low design elements with distinctive details that won't compromise the grace and period of a home's architecture. She is a Certified Living in Place Professional (CLIPP) and a proud member of the K+BB Editorial Advisory Board, the Sustainable Furnishings Council, and the Interior Design Society.
Read on to discover how this leader in the kitchen and bath arena approaches new projects, what she is most excited about in smart-home technology, and how she stays inspired in the ever-changing design world.
How did you get started in the industry?
I have always been interested in how people live, the items they value, how they shop, what they cook, what they collect, etc. I started working with a kitchen cabinet manufacturer and then became a distributor in-house, so I got to build my portfolio of well over 1,000 kitchens in everything from floorplans and product specifications to complete delivery and installation before launching my own firm. That time in my career gave me exposure to a lot of different designs and needs, and I realized how great designs come from focusing on how the space is going to be used and by whom. I'm a bit of an anthropologist, and interior design—particularly kitchen and bath—allows me to utilize that interest and helps me to create beautiful, livable spaces that meet the needs of the people living there.
How do you approach a new project?
My style when approaching a new project isn't so much trying to force a particular look or feel, rather it is a goal to make the individual shine in the space I create for them. I don't just think about what they like aesthetically, I think about who they are and how they'll live in the space. I love to use colors that are flattering to my clients—like the space is an extension of their wardrobe. I want my clients to 'wear the space well', feel special in it, and love inviting people in. I also love to include and build off of my clients' passion pieces, whether art, antiques, a piano, or anything they really love. Starting the process from there ensures that I build a space around them that they will love, and lends to a totally different and unique project every time.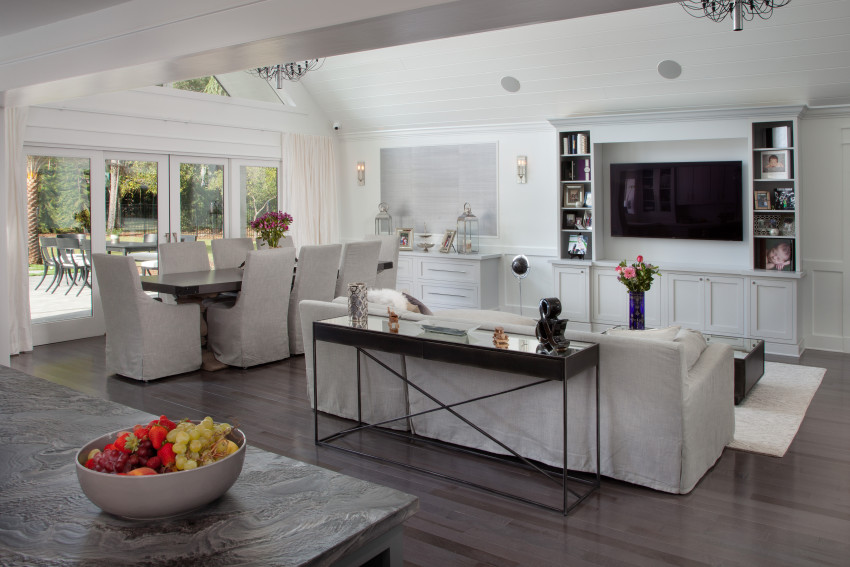 Why should designers incorporate smart-home technology in their designs?
How the homeowner lives in and engages with a space is equally as important as the aesthetic—think of it as 'user experience.' People that drive high performance cars want high performance homes. Interior designers are sociologists of sorts, we delve into how people live to make the space work best for them and technology is a natural. People communicate from their phones, do banking and business, so controlling the environment from that same device seems to be a natural. Security for peace of mind, entertainment, temperature control, lighting, and now kitchen and bath products happily integrate and seem to be the ideal for ease of living.
What smart-home feature are you most excited about currently?
I am loving the
Control4 Intercom Anywhere
feature. Whether you're home or away, Intercom Anywhere allows you to monitor and communicate with any room of your smart home or even your front door—no matter where you are in the world. You can also easily control the important automation in your home from the same Control4 app. It is the answer I have been looking for to make the home automation system as easy as banking on your cell phone.
Where should interior designers start if they want to use smart-home technology in their designs?
I think finding a local smart home expert that can give you confidence and a long-term relationship is important. Home designers need to be educated about the value a technology professional can add as part of their team and create key partnerships to produce the best results for clients. A great home automation partner removes the overwhelming task of having to always stay on top of technology; if you can work with a home automation expert, they are the one keeping up on technology and making sure you do, too. Designers should partner with someone that they can communicate well with—partnership is key. We all have the same goals of creating a life best lived in the home, so working together to develop that business relationship allows us to give our clients the best end result possible.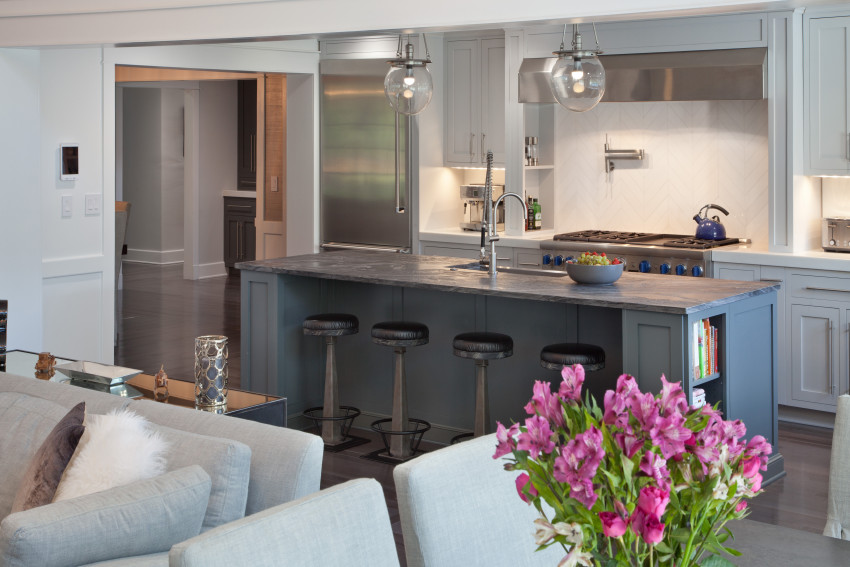 You are a leader in kitchen and bath design—how do you keep your ideas fresh?
I love trade shows! I just attended the
CEDIA Expo
for the first time last month and I really enjoyed it—I will definitely be back. I also regularly attend the International Contemporary Furniture Fair (ICFF) and the Architectural Digest Home Show, both in New York City, as well as the Kitchen and Bath Industry Show (KBIS). I also have been to design week in Milan. I think staying up on the latest in design and technology is not only a fun way to get out and think about things differently, but it provides me with new ideas and ways of doing things that I can then take back to my clients and incorporate into my designs. I think traveling to trade shows and association meetings is also a great way to get out of your head and learn about innovative design and technology. The trade shows provides me an opportunity to network at design functions outside of my normal circles in addition to my regular visits to the trade design buildings in NYC.
Interior design can be quite hectic. What do you do to keep yourself grounded?
Spending time with my family keeps me grounded. When I am with my children and grandchildren we love to be outdoors, go to the beach or park, and love family movie nights! I also really enjoy the work I do, so I don't need as much time away from the job as, say, someone who isn't as passionate about interior design. I find that it very rewarding to wake up and work in a career where I am making a positive impact on how people live.
WANT TO LEARN MORE ABOUT HOW CONTROL4 FACILITATES BEAUTIFUL SMART-HOME DESIGN

? CLICK HERE.
Interested in living the smart life in a Control4 Smart Home?
​
We'll send you more information.
We take your privacy seriously and we promise we won't spam you; please see our privacy policy for details. By submitting your information, you are confirming that you are 18 years of age or older.
Thank you
Category
BUILDING & DESIGN