Desert Dream Home
July 13, 2015

When a home's design—not technology—needs to take center stage, Control4© is the solution you can trust to orchestrate your smart home while complementing and blending into your home's aesthetic. One Arizona home, built to complement and showcase the desert landscape around it, is a spectacular example of this. Cinemagic, a home electronics installer in Scottsdale, Arizona, needed to deliver smart home that would enhance the natural and aesthetic beauty of this home. A Control4 home automation system would be a key part of this installation.

BRINGING THE OUTSIDE IN
One of the most unique features of this installation is the home theater. Using the Control4 home automation system, the owner can "bring the outside in." With the touch of a button, a fiber-optic star tile ceiling activates with 20 recognizable constellations and 2 shooting stars. Shooting stars are programmed to work when music is being played but not during movies. Along the walls, rope lighting illuminates replicas of the surrounding mountains. The Control4 system ensures that these lights dim when a movie comes on, adding to the experience of being outside in the Arizona desert night.

INCREASING QUALITY OF LIFE
The Control4 system also allows every light on the property to be used to get the maximum beauty and ambience out of every corner. Using the automation with timers and light sensors, Terry Kohler, project manager and designer on the project, designed the system to light certain portions of the house or landscape at different times based on the feel the customer wanted to achieve. For instance, if the owner presses the "entertain" button, the front gate lights up, lights illuminate the ocotillo cactus on the property, and lights guide visitors into the driveway.

The lighting throughout the house are controlled similarly, showcasing the many ways Control4 can simply and subtly enhance the beauty and functionality of a home.

In addition, alarms can be armed or disarmed via any Control4 touch screen at any house entrance. The system also ties into the eight cameras that monitor the property.

The client, Robert Walker, has expressed amazement in the difference his home automation system has made in his home. "Until a person actually has the opportunity to live, work and play in a house with truly integrated electronics, security and communications, he cannot fully appreciate how naturally these systems become a part of so much of his daily life. The enjoyment we continue to experience has truly added to our quality of life," says Walker.Thanks to Control4 technology, Walker's home is more beautiful than ever.
Interested in living the smart life in a Control4 smart home? Simply fill out the form below and we'll be in touch.
We take your privacy seriously and we promise we won't spam you; please see our privacy policy for details. By submitting your information, you are confirming that you are 18 years of age or older.
Thank you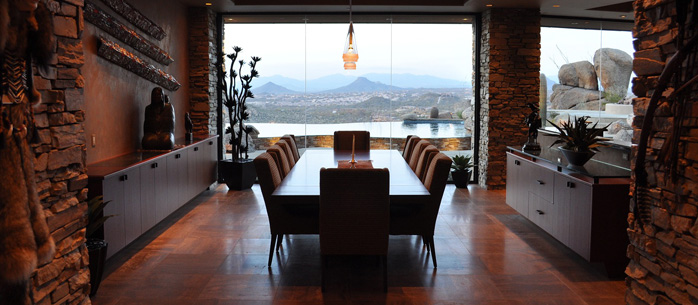 Category
PERSONALIZED SMART HOME