4K TV Resolution: Is it the New "3D" or Something More?
October 8, 2012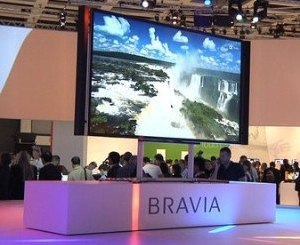 I recently read a blog post from
Electronic House
explaining that the most recent 4K resolution trend that is just being introduced to the market is more important than 3D. They even claim that, down the road, it will be more widely accepted than 3D as well. For those of you that have never heard of 4K resolution, it is basically quadruple the image quality of full HD, plus it has the capability to produce passive 3D content that you'd actually consider watching.
As the author mentioned in his article, TV makers have been trying to push 3D down our throats for the past several years now. In spite of this it has just never taken hold—mainly because of lack of 3D content and the requirement of wearing special glasses while watching TV. Most people multi-task when they watch TV and that becomes much more difficult with 3D glasses on. I have a 3D-capable TV but almost never use the 3D features for that specific reason.
So what do 4K and 3D have to do with each other? Other than both technologies starting with a number followed up by a letter, there appears to be a shift in the market of TV manufacturers moving away from 3D to promote the 4K standard. Sony and LG have both displayed their 4K TVs at CEDIA recently, and they will be hitting the market this fall.
Here in the Control4 offices we actually have one of these Sony 4K TVs and I've been able to look at the picture with my own eyes. The problem, though, is that I still can't tell you what a true 4K resolution looks like because there just isn't much (if any) content that exists yet that will play in true 4K resolution. If the TV makers expect this technology to take off they will need to continue to advance and improve upon the 4K upscaling technology. Sony does a great job with that on their new line of receivers as well (including
these awesome receivers
that have Control4 technology built in).
Bottom line, 4K technology has the opportunity to revolutionize the TV industry and the way we all watch TV at home, but of course, so did 3D. It'll be interesting to see which (if any) of these technologies do finally catch on.
Let us know your thoughts on 4K technology in the comments.