A BEAUTIFUL DAY IN THE NEIGHBORHOOD
May 5, 2018
LOCATION: San Antonio, Texas // DEALER: DataSmart Home Technologies
A suburban street in Texas has no residents, but lots of smarts.
Sometimes, Mike Feigin questions his own sanity. And really, who could blame him? Who in their right mind, after all, would build an entire neighborhood that's designed just for show? But there is a method to Mike's madness, and so far his crazy creation is a huge success.
About 20 miles north of Houston, just off Highway 45 in Spring, Texas, you'll find Mike's project, 12 years in the making—Main Street America. From the outside, it looks like a giant shopping mall. But walk through the gated archway and you enter a quietly charming suburban scene: Twelve beautiful homes line a quiet street. The lawns are gorgeous and green. There is designated stroller parking on the sidewalks. All that's missing are the residents. That's because there aren't any.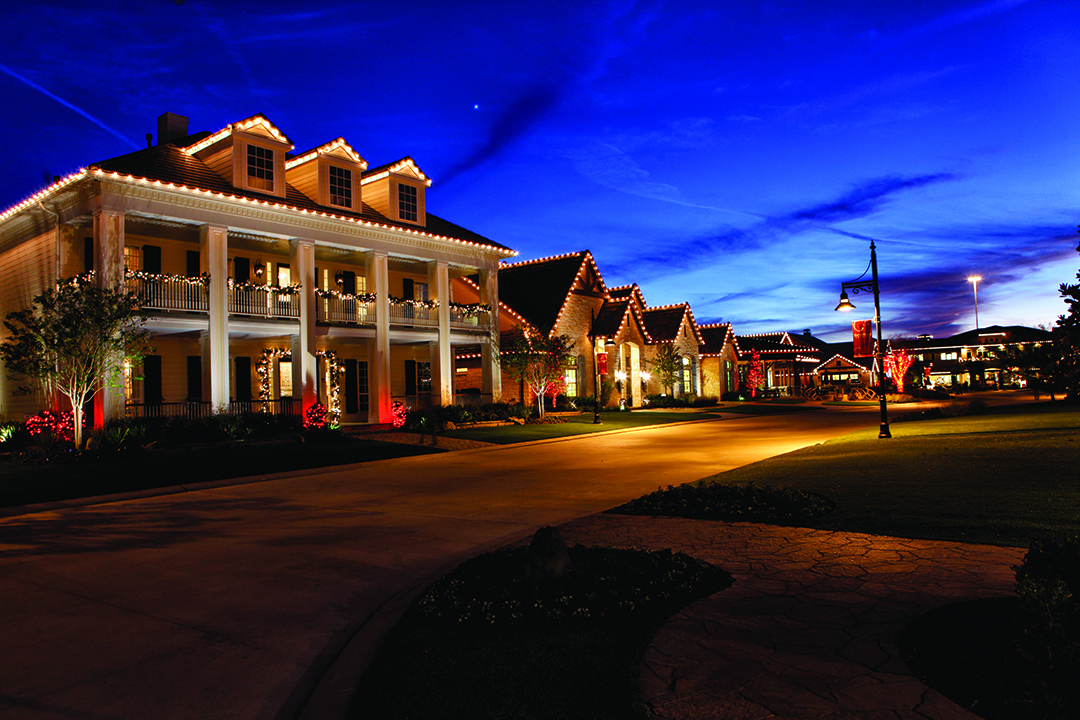 Main Street America isn't a place to live. It's a place to dream. The pristine homes are showcase homes that would-be buyers explore to be inspired. There is also a furniture store, an accessory store, a cooking school, and two restaurants. And to top it all off, Main Street America is also automated.
"There's a lot to do here," says Mike, Main Street's founder and creator. After a stint selling computers, Mike craved the outdoors and got into the homebuilding business. Then, the idea hit him: Create a showcase neighborhood. Soon after embarking on making his dream a reality, Mike upped the ante by automating his Main Street America. But, he didn't know what exactly to DO with home automation. So, he asked his long-time installer, DataSmart Home Technologies, to sign onto the project.
"It has been a pretty overwhelming project, but it's turned out to be a great success," notes Randall Duncan, Managing Partner at DataSmart. Jonathan Ping, one of the lead installers who built the automation system at Main Street, agrees. "We were involved with the groundbreaking, so we've been here since the beginning, working with Mike, to see his vision through. We kind of had free reign to make it come alive." It was then that DataSmart suggested teaming up with Control4, a project partnership that has paid off.
Much of the park is now automated. Main Street staffers can control the audio in each of the 12 showcase homes, and the outdoor speakers throughout the park from their iPhones. The restaurant boasts automation as well. But the star features, at least from an automation perspective, are two of the model homes—the Italian-inspired Villa Lago, and the sleek and urban Midtown—each has been fully automated from head to toe—er, from roof to cellar. "Having these homes out here with their electronics is amazing," Mike says. "And the neat part is, it's the whole house, not just a tiny part of one room." So in a sense, Main Street America is like a showcase of new homes, crossed with high tech, and with a dash of theme-park flavor. Call it the Main Street Electrical Parade of Homes.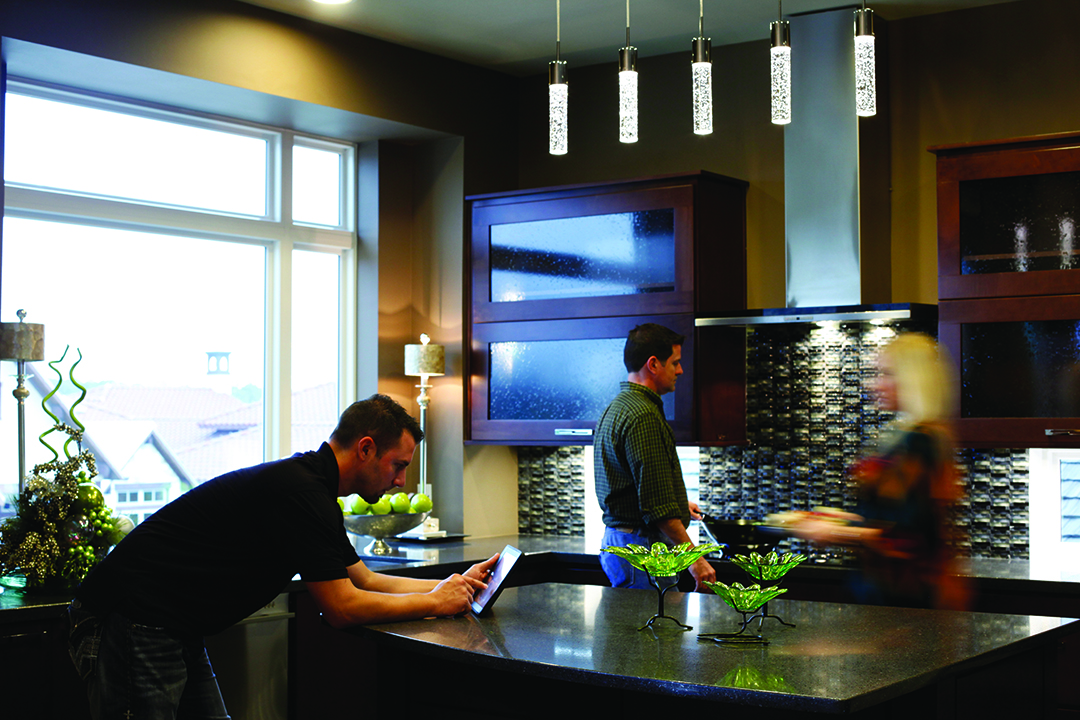 "It's given us the opportunity to bring our clients here and actually show them a six-thousand-square-foot smart home in action," notes DataSmart's Rocky Flores. "Also, it's a great place for builders to come get ideas, to walk the homeowner around and show them the things you can't go to Home Depot and see."
Main Street even provides a personal guide, who will take you on a one-on-one tour through the park, telling you everything you want to know about whatever piques your interest. His name is "TED."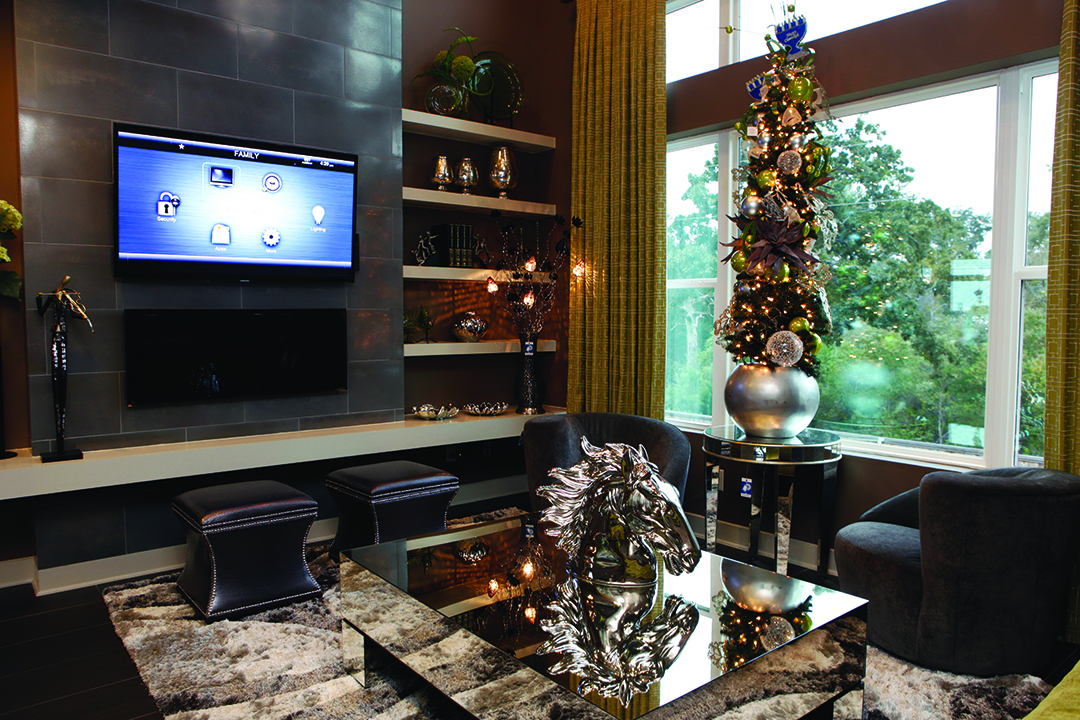 Ready to visit? Here's how it works: As you enter Main Street America, the first thing you do is grab your TED guide. TED is actually a tablet, designed specifically for the Main Street America experience. Every time you see a designated logo on a tag or placard, you're welcome to scan it with TED and learn more about whatever you're looking at —be it a piece of art, a couch, or a Control4 door station. It's an audio headset tour at a museum, but with the added option to build a wishlist of things you just may want to buy. The system goes by the name TED. "That stands for Technological Educational Device," notes Mike. "It's a 7-inch Android device. All the products have radio frequency identification tags. Consumers walk up to a tag, place the tablet next to the tag, then it reads it and gives you more details about that particular product."
DataSmart's Rocky Flores agrees that the TED system is a hit. "You can go to furniture stores and get a salesperson; or you can go to your standard retail store and talk to an electronics guy; but you're on your own time. You can travel the park at your own pace, learning everything at your own speed. It's a plus for everyone."
"It's the automated elements that really stand out to Main Street America visitors. DataSmart's Jonathan Ping notices it every time he's at the park. "The first thing visitors say is "wow." "They didn't necessarily come here to see automation, but they find it, and it ends up being their main focus as they're walking through the park."
Jonathan helped install some of the park's more unique automated features, like seasonal "announcement" settings that can trigger hallways to flash and play haunted sound effects during Halloween, or holiday decorations that can come to life—inside and outside the houses—with a touch of a button.
Because the property is something of a theme park ("It did become what some people call Disney-like," Mike admits), Main Street America staff has a lot of prep work to do in the mornings and evenings. Some of the houses can take up to 45 minutes to turn off properly! Thankfully, automation helps considerably lighten the load. "Of the two homes in the park outfitted with Control4," notes Jonathan, "there's one button that can control the whole home, so in the morning, the staff comes in, they press the Home button, it turns on the lights, it sets up the TVs, it turns on the audio for them, and they don't have to walk around the house and turn on each individual thing separately."
And, it's not just homebuyers and staffers admiring the high-tech here at Main Street. Builders, too, are taking notice. "It exceeded my expectations," says Stephen Hann, chairman of the Custom Builders Council of Houston. Scott Sensat of DesignTech Homes, the main builder on Main Street, agrees. "It's exciting. It's good to have a place where people can go and actually see what automation features are available." Todd LeBlanc, a homebuilder in the Houston area, is similarly impressed. "I think it's great. I would definitely encourage my customers to walk through and take a look."
"There's no place like this in the world," notes Mike. And that's true—at least for now. There are plans to build a second Main Street America within the next five years. Maybe Mike's mad vision of a neighborhood with no residents isn't so crazy after all.
TO SEE MORE SMART HOME STORIES NEAR DALLAS CLICK HERE
Category
SMART HOME STORIES