CONTROL4 AUTOMATION FOR ENTERPRISING MINDS
May 4, 2018
LOCATION: New York City, New York // DEALER: CytexOne
Cameron and Tyler Winklevoss know all about the obstacles and hurdles people face when starting their own business, and are now paying it forward by founding a private investment firm to support passionate and talented entrepreneurs. To support their cause, they recently opened a dynamic office environment for budding start-ups.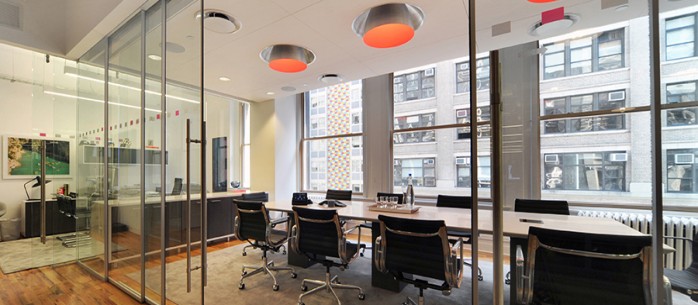 This is certainly no ordinary workspace. Winklevoss Capital Management (WCW), a 5,000-square-foot office in the heart of New York City, is brimming with innovative technology, all with the aim of providing a stimulating environment that's arguably more productive, efficient and comfortable than any other office space in the city, and where peers are able to openly collaborate and share ideas digitally.
Much of the credit for the sublime fourth-floor office setting goes to the Control4 automation system that was installed by a team of custom electronics professionals at
CytexOne
while the building was under construction. Due to the Winklevoss brothers' high-tech backgrounds—and the fact that their respective homes are highly outfitted with home automation systems—Control4 was an amenity planned for from the start, and for some very specific reasons.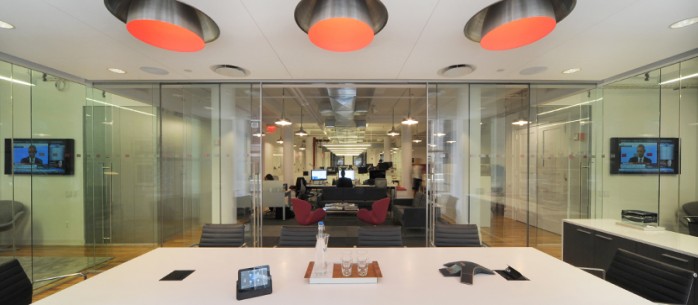 First and foremost of importance, according to CytexOne Technology's Jen Safady, was the ability for employees to stream and share digital media easily throughout the facility. Under the command of the Control4 system, a suite of amplifiers, matrix switches, and a video distribution system streams content from employee iPads, iPhones, MacBooks and iMac computers to several, flat-panel TVs, including a 75-inch Samsung display mounted in a comfortable yet energetic employee lounge. Content from a central rack of cable TV receivers, plus Hulu and Roku players, can be easily accessed and displayed anywhere, precluding the need to huddle around a computer to watch a YouTube video.
Audio travels effortlessly throughout the space, as well. At the beginning of the day, music plays through a dozen ceiling-mounted speakers. The office manager uses a Control4
mobile app
on her smartphone to choose tunes from Pandora, Spotify, Rhapsody, TuneIn, or even favorite songs from her own iTunes collection.
Of course, lighting plays a critical role in any office environment, so every fixture and motorized window shade in the WCW is tied to the Control4 system. Integrated motion sensors signal the Control4 system to turn off the lights when areas are vacant. Meanwhile, shades lower automatically based on a schedule that was programmed into the system by CytexOne. Over the course of the day, there are times when on-the-spot operation of lights and shades are necessary, like when a conference room needs to be darkened for video presentations. Control4
keypads and touch screens
installed throughout the office provide quick and convenient on/off and up/down control.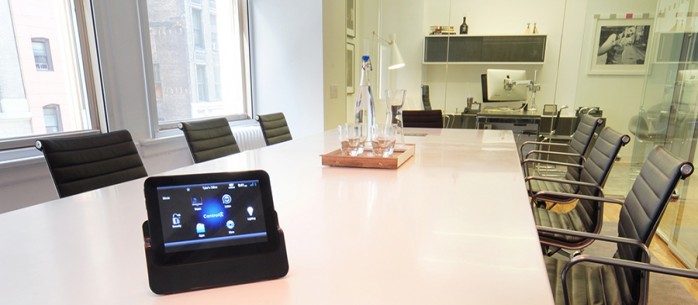 Any owner of a start-up business is bound to burn the midnight oil now and again, and the Control4 system caters to after-hours office visits by making it easy to activate the necessary lights and A/V equipment. The Winklevoss brothers are immediately notified via text message when someone enters the office at night or on weekends, and they can verify who's working via remote access to multiple surveillance cameras.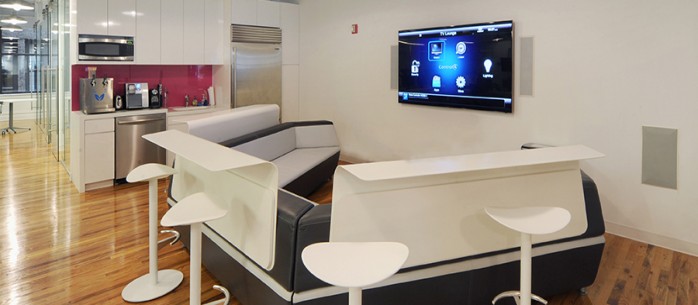 Although the Control4 system is fully functional, CytexOne continues to add features as the WCW team becomes increasingly enamored with the technology. "Through daily use of the system, everyone in the office sees how automation is able to increase work productivity," Safady says. "The Winklevoss brothers feed us their thoughts and we implement them." One recent suggestion was the addition of colored LED lighting around the perimeter of the 75-inch TV in the lounge. Like all things electronic in this office, the bulbs are under the command of Control4, changing color automatically to suit the season, like red for Valentine's Day and orange for Halloween. It's just one more innovative automated twist that helps foster imagination, creativity and inspiration within an office brimming with bright ideas.
TO SEE MORE SMART HOME STORIES IN NEW YORK CLICK HERE
SMART HOME STORIES