Spec Meets Smarts
Written by Guest on January 29, 2018
When a speculative home spans 7,249 square feet and carries a price tag of $15 million, certain amenities are to be expected. Granite countertops—check. Marble flooring—check. Luxurious landscaping—check. But Richard Simis took luxurious living to another level by adding a full-blown, soup-to-nuts Control4 automation system and hiring Glenn Shultz and his team at San Diego-based Shultz Audio Video to handle the design and installation of the gear. "Potential buyers of a premiere property like this demand an atmosphere of luxury, and Simis is a custom homebuilder who recognizes that home automation is critical to achieving this overall goal," Shultz says.
For this project, the builder gave Shultz Audio Video carte blanche, his only specific requirement being that the house would blow the socks off prospective buyers the second they would step over the threshold. Using Control4 as the brains of the operation, and connecting dozens of light switches, high-end AV components, smart thermostats, electronic door locks, a comprehensive security system, surveillance cameras, motorized gates, and more, Shultz Audio Video was able to deliver the prerequisite "WOW factor."
Meant to impress is a "house on" command, which can be engaged from a wireless touch screen or a mobile app on an iPad or smartphone. Crafted by Shultz and intended to be employed by real estate agents who show the house to prospective buyers, the edict synchronously unlocks the front gate, disarms the security system, sets every light in the house to the perfect intensity level, and turns on the whole-house audio system to a predefined Pandora station. The two elegantly mounted 90-inch Sharp flat-panel TVs join the show, presenting a menu of video options provided by a well-appointed rack of equipment stowed in a special utility room in the lower level.
These mega-TVs, other smaller displays, and a bevy of low-profile ceiling speakers are tied to a powerful AV matrix switcher—a solution that "helped maintain the clean, uncluttered look that the builder wanted," says Shultz. "Minus cable boxes, Blu-ray players, and other equipment in each viewing area, the only noticeable technology in this home are the flat-panel TVs."
Today, the smart home system and the "House On" command effectively showcase the elegant design and luxurious amenities of the residence. While admiring the custom home's magnificent features, prospective buyers can easily envision how a Control4 system would be able to enhance their lifestyle through convenient, one-touch control of the entire home environment.
While dramatic in effect, the housewide sweep of lights, music, and more is only the beginning of what's in store for the future owners of the seaside home. After the home is purchased, the team at Shultz Audio Video will be able to fine-tune the Control4 program to meet the specific needs of the new homeowners. "After the residents move in we will meet with them to find out exactly how they'd like the system to operate and will also tie in the spa and automatic doors," Shultz says. "We've outfitted the home with more than $100,000 worth of electronic gear, so most of our post-sale work will likely be adjustments to programming."
Granted, not all builders are willing to go to these lengths to implement smart home technology, but for Simis, it makes good, solid business sense. There's no doubt that home automation features are helping get potential buyers in the door of this elegant residence, and once they're inside, the system continues to impresses visitors with high-caliber smarts that have come to represent the epitome of luxurious living.
For more articles, tips & tricks, and inspirational stories,
download your FREE issue of Home Smart Home Magazine today.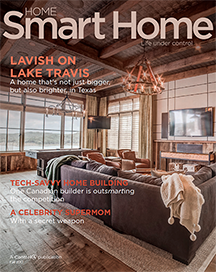 Home Automation