Five innovative ways to disguise your television
June 28, 2017
This post comes to us from guest blogger, Jackson Frey.
We all love nice TVs. One thing you may not love, however, is having your television be the focal point of the room. Luckily, several companies have created options to conceal even massive TVs from view.
Some of the innovative solutions for television concealment range from simple TV frames to TVs that double as mirrors or artwork. Here are five of the most innovative products on the market today.
1. Seura: Vanishing TV Mirrors
If you don't mind buying a whole new TV,
Seura
is an American manufacturer with some seriously innovative products. The company's flagship products are the Vanishing TV Mirrors. Available in two varieties—Entertainment and Vanity—these TVs feature unique mirrored covers that allow a TV picture to show through when on, and completely hide the screen when off. Both TV models are available with a choice of over 100 different frames to match any decor and style.
The Vanishing Entertainment TV Mirrors put "television brightness first and mirror reflectivity second," according to their website. That means they will give you the best possible picture through the glass. These TVs are intended for living rooms and bedrooms, with 4K-resolution screens ranging from 42" to 65" (107 cm to 241 cm).
The Vanishing Vanity TV Mirror has more of a focus on mirror reflectivity. These TVs have screens that appear to float within the mirror, and TV sizes range from 10" to 27" (25 cm to 67 cm). The mirrors are 36" (91 cm) tall and range in width from 24" to 45" (61 cm to 114 cm).
Pricing for the Entertainment TVs starts at $5,499, while the Vanity TVs start at $2,499. Specific quotes are available upon request.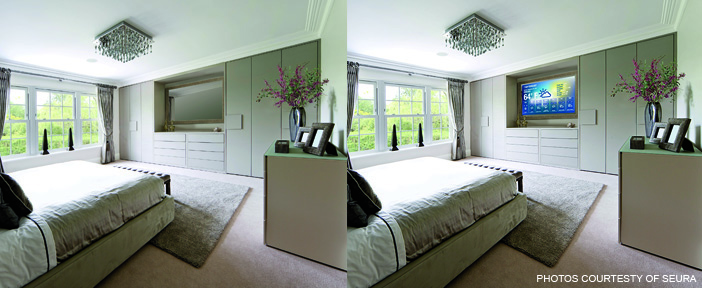 2. Frame My TV: Frames and Covers
If you already have a TV you like and you just want to make it disappear,
Frame My TV
has a solution for you. The company, based in Massachusetts, specializes in disguising TVs. You can choose to have a custom frame built for your TV, or you can take things a step further with mirror or art covers. In a few clicks you can build, price, and even purchase a custom solution for your TV through their
Design Studio
.
There are several frame styles to choose from—everything from premium hardwood to artisanal 22-karat gold. The Framed TV Mirror options use the black of the TV screen as the backing for a special mirror glass that is reflective when the TV is off but lets the light of the screen through clearly when on. Different glass options are suitable for living rooms, bedrooms, and bathrooms.
Frame My TV's TV Art Covers are another unique option for TV concealment. Instead of covering the TV with a mirror, these frames feature your choice of canvas painting. A motor rolls the canvas up when you're ready to watch TV and then rolls it back down when you're finished. There's a wide variety of artwork to choose from, too—you can even have your own custom art integrated into the frame. "This is a truly unique approach to disguising your TV," says Matthew Palermo, a home services expert at
ATTSavings.com
. "There's nothing else quite like it on the market."
Pricing starts at $750 for the frame alone, $1400 for a mirror cover, and $3,250 for the art cover.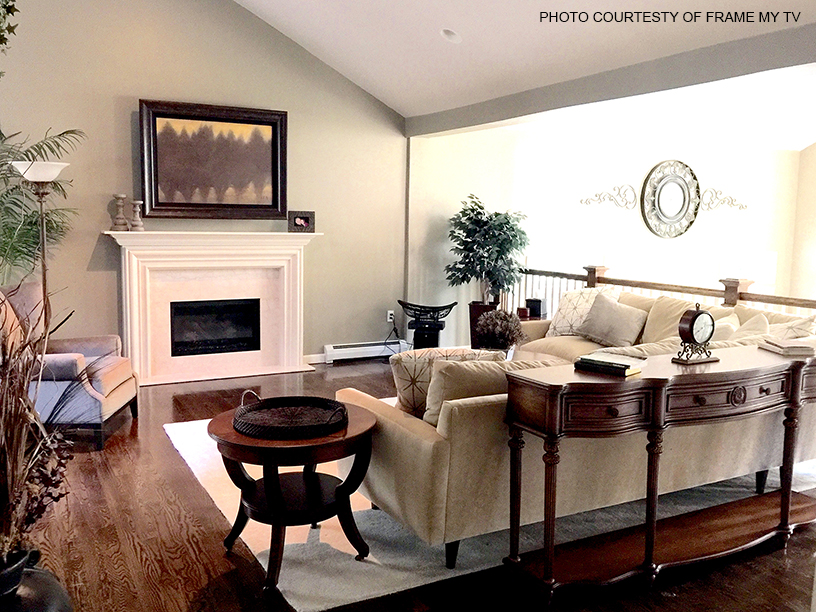 3. Samsung: The Frame TV
The Frame
, a new TV from Samsung, takes a different approach. This TV features a natural wood frame, and inside the frame is a TV that displays artwork rather than a blank screen when off. There have been other TVs that display art, but not on this level, notes
CNET
's David Katzmaier in a review. "The Frame takes the concept further than any TV I've seen," he says.
What's especially innovative about The Frame is that it uses motion sensors to detect when people are in the room. If it detects movement, the screen will remain on and display a programmed selection of artwork. The library includes over 100 pieces of art, including landscapes, wildlife, and action scenes. The TV is scheduled for release this spring in 55" and 65" sizes (140 cm and 165 cm).
No pricing has been announced yet.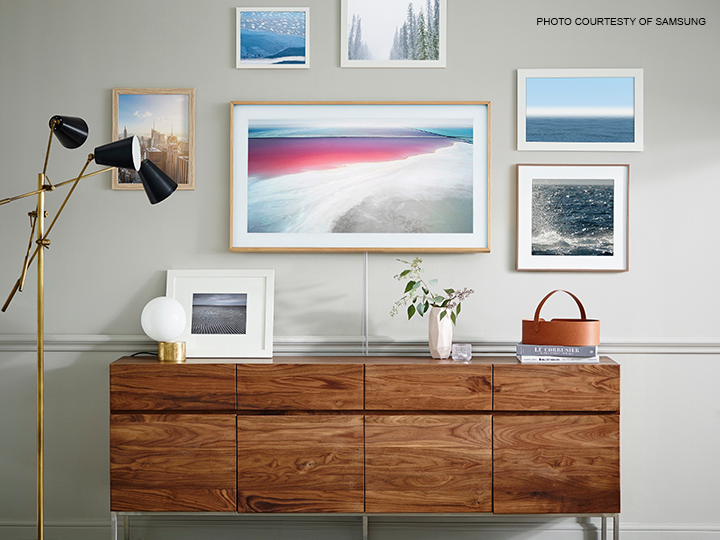 4. Nexus 21: TV Lifts
Another option for disguising your TV is to just hide it altogether. This can be accomplished with a TV lift from
Nexus 21
. These gadgets can be built into cabinets, countertops, or even ceilings. They then raise or lower your TV on demand for a totally clutter-free experience. Nexus 21 is one of the leading providers of such lifts, with a client list that includes Sony, Oakley, Pixar, and NASA.
There are two basic styles of lift: Pop-up and drop-down. The pop-up lifts hold up to 103" TVs (252 cm), while the drop-down lifts can handle up to 75" (191 cm). There is also a flip-down version that can hold up to 75" (191 cm) TVs. The company claims the lifts are nearly silent, and it backs them with a 10-year warranty.
Pricing is on a case-by-case basis.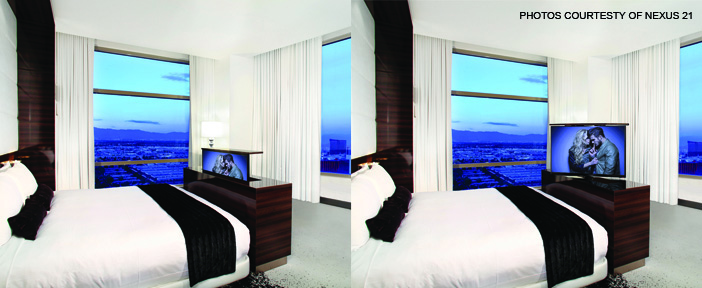 5. Ballard Designs: Shutter TV Wall Cabinet
The Shutter TV Wall Cabinet
by Ballard Designs offers a more charming look to your home than other TV disguises. One customer stated, "It looks lovely in my nautically themed room." The design works well above a fireplace, in a sun room, and even in an outdoor patio setting.
While the shutter is not the most innovative on the list, it provides a warm and natural ambiance to a room. The shutter cabinet goes perfect in virtually any home including a cabin in the mountains, a house in the country, or an apartment in the city.
Out of all the TV disguises, this is the most affordable at $449.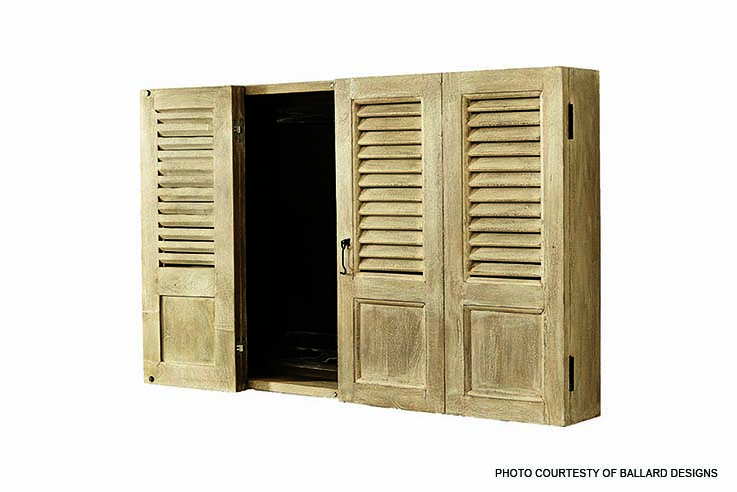 There are many other great options out there for disguising your TV, but these are five of the top options out there. Evaluate your home setup to find the one that works for you.
If you're interested in further simplifying your entertainment gear, Control4 gets rid of all of the remotes that clutter your coffee table and replaces them with just one -- a remote that not only controls all of your entertainment components, but has the brains to even control the shades, temperature, door locks, lights, and more. Find our how a unified smart home solution can improve your home. Simply fill out the form below and we'll be in touch.
We take your privacy seriously and we promise we won't spam you; please see our privacy policy for details. By submitting your information, you are confirming that you are 18 years of age or older.
Thank you
Category
BUILDING & DESIGN