Home Automation for Gamers: 6 Tips to Create an Immersive Gaming Session
August 10, 2016
Do you love gaming but feel like something is missing? With these six home automation tips, you can boost the mood of your gaming session and take it to the next level.
1. Smart (and Colorful) Lighting
Arguably the most immersive way to combine home automation with gaming is smart lighting, as it offers the key to enhancing the environment of your gaming room. With Control4, one touch of a
button on a keypad
can dramatically change a once brightly-lit room into a more comfortable, lounge-like ambiance for your gaming session. Perhaps you want blue accent lighting behind the screens, purple hues to highlight the walls, and the ability for all of your lights to flash on-and-off when the doorbell rings so you don't miss the pizza delivery. Add smart lighting to highlight the decor on your walls—such as your posters and art—in a classy, captivating way. Even accent the lighting under your gaming chairs or side tables. No matter what you desire, smart lighting can take your entertainment zone from casual to stimulating.
2. Your "Gaming" Button
Personalize the button on your keypad to do more than just the lights. Have your dealer set up a "Gaming" button that will also close the shades, turn on the game console, activate the surround sound, and fire up the TV screens. Even go a step further with a "double tap" of the same button that brings up the lights for a predetermined amount of time so you can take a quick break, grab a snack, or answer the door. And since Control4 Keypads have 1-6 LED backlit engraved buttons with four different sizes that allow for a total of 38 possible configurations, you can create multiple scenes if you choose.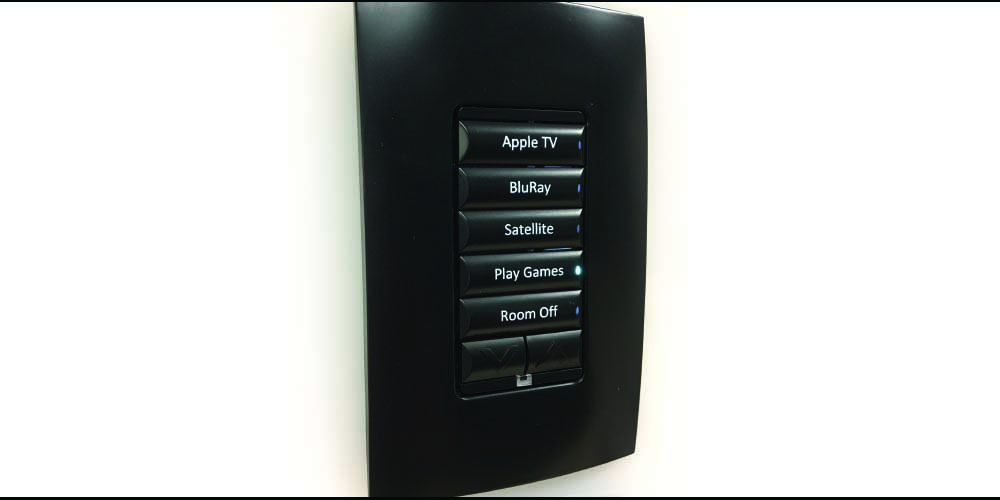 3. Who's at the Door?
Not only can you tie your doorbell to the lights so you know when someone has arrived, a
Control4 Tabletop Touch Screen
can instantly show you who it is at the front door, and you can then choose to communicate with them straight from the screen, or ignore the visitor altogether. Should it be someone that you are expecting, just press your "Front Door" button to let them in, and have it automatically lock behind them as they head to the game room to join in.
4. Immersive Surround Sound & Video
Any gamer would agree—the sound sucks you in. A surround sound system is a crucial piece to an immersive gaming scene. Using a Sony or Denon receiver with built-in Control4 SDDP technology means that your smart home system can reliably bring the sounds of gaming to crystal-clear life. And with
4K Ultra HD multi-room video solutions
, Control4 delivers the very best picture and sound from your entertainment thoughout your entire house and gets you ready for the 4K-gaming world that is soon to come.
5. Easily Switch Entertainment Modes
When you've finished a gaming session or need to take a break, one-touch can switch entertainment settings from "Gaming" mode to "TV", "Music", or "Movie" mode. Or can easily shut everything down when you're ready to turn in for the evening (or in the morning if you've lost track of time).
6. The Importance of a Strong Network
So while this many not necessarily add to the immersiveness of your gaming room, it's a critical component to every one of them. If you're gaming online, there is nothing worse than a shoddy network that disconnects or kicks you out of your game when it temporarily goes offline. It's a necessity that you have a network that you can always rely on. A powerful, configurable, and manageable network like
Pakedge
serves as the foundation of interactivity and predictability, and delivers the best in reliability available today.
With
Control4
, you can create a unique space that provides an unparalleled gaming experience. Share these ideas with your gaming buddies and check out our full list of
home automation ideas
for ways your home automation system can enhance every aspect of your life.
Interested in talking with someone about personalizing your own gaming room?
Simply fill out the form below and we'll be in touch.
We take your privacy seriously and we promise we won't spam you; please see our privacy policy for details. By submitting your information, you are confirming that you are 18 years of age or older.
Thank you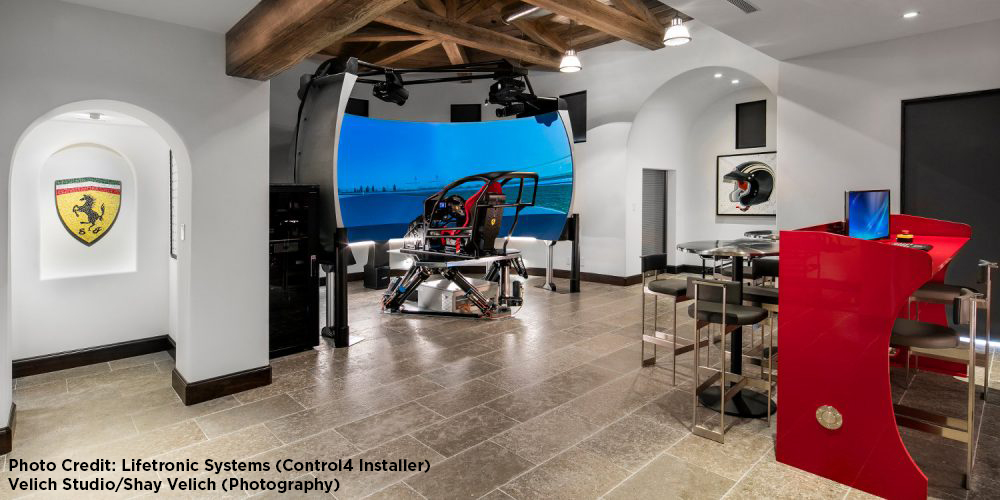 Category
SMART HOME TRENDS