Home Alone: How My Smart Home Helped Me Reclaim My Independence
August 7, 2015
This post comes to us from Control4 customer, Mikki Marshall. We send our most sincere gratitude to her for sharing her incredible story.
From a young age, I've always maintained an "I can do it myself" mentality. My parents supported this early need for independence by often allowing me to choose my own school outfits (within reason) and occasionally walking to the bus stop unattended. Looking back, I guess those were no great feats but at the time I felt invincible and proud to be doing things unaided.
With each passing year, my desire to do things on my own only deepened. After high school I chose to go away to an out of state university, followed by a move to New York City where I dabbled in various jobs before finding my niche in retail. Though my parents never hesitated to send an occasional check when my financial situation was in a drought, I was determined to make it with as little assistance as possible and for twelve years I succeeded in inching my way up the career ladder.
But early one morning all of that came to a sudden end when I awoke on the floor after having fallen down my apartment staircase. A slip of the foot, a missed step and I was paralyzed from the chest down.

The next seven months were spent in the hospital relearning everything from childhood. The ability to perform even the most basic of tasks like dressing, eating, bathing and sitting up in a wheelchair or in bed required physical assistance. I felt defeated. But having little choice, I set aside my pride and learned to accept help from others. It was a long battle but as days turned to weeks and weeks into months, I gradually regained some mobility. And with each small achievement I would yell out excitedly, "Look…look…I'm doing it myself!"
But soon there came another loss when my mother's cancer finally won over. With my father having passed away two years before, I was faced with the stark realization that from then on I really was on my own. With my hospital discharge fast approaching and no parents to go home to, I had two options: move to an assisted living environment or try managing a place of my own.
I chose the latter. I chose independence.

While finding a suitable apartment in New York City is a challenging task for anyone, add to that a newly injured quadriplegic with accessibility needs and the difficulty becomes even greater. With the help of close friends, however, I found a large alcove studio for rent and moved in a week later. I was elated and my confidence was soaring!
Unfortunately that came to a quick end my first night spent alone. The aide had gone home, turning the lights off behind her, leaving me in the dark both literally and figuratively. Feeling helpless lying there in bed, it became clear to me just how dependent I'd become relying on a call bell and a readily-available staff. After panicking (and a good cry) the only solution was to keep the lights on, day and night.
A more pressing matter, however, was my inability to control the thermostat. What many might not realize about spinal cord injuries is that, along with mobility loss, there comes a host of secondary problems such as not being able to regulate one's body temperature. In warm weather or even stuffy rooms, overheating can lead to a stroke. So in the summer months the air conditioner had to be left on as well.
Needless to say my energy bill skyrocketed and a restful night's sleep was a rarity but I adapted and lived with the inconveniences for years until I had the opportunity to purchase the apartment.
I was then able to renovate and adapt it to my needs. The first steps were obvious structural changes that would allow me to move about more freely and safely. Doorways were widened and replaced with pocket doors, light switches were lowered, and in the bathroom, a roll-in-shower with handrails and a cantilevered sink were installed.
Check out Mikki's apartment feature in New York Magazine.
Next, the architectural design team at
MADE LLC
took me to an audio / visual showroom to see a working display of the many features available in a home automation system. I had no idea such things even existed. After comparing a few companies I decided on Control4 based on its user-friendly interface, customer reviews, affordability and, admittedly, the way it looked. It's true.

I'm known to be a tad obsessive about exposed cables and any other visible wiring so a major concern for me was whether the system could be both functional and esthetically pleasing. The answer being "Yes"—the Control4 system would be operated wirelessly "behind the scenes" with all major components being housed in a closet. I was sold!
Once installed, the apartment was truly my own. The smart home technician showed me how to operate the system, and within no time I was back in control for the first time in years! Through the use of a remote, TV interface and/or a tabletop touch screen, I am now able to adjust the blinds, lights and air as well as operate all of my entertainment sources.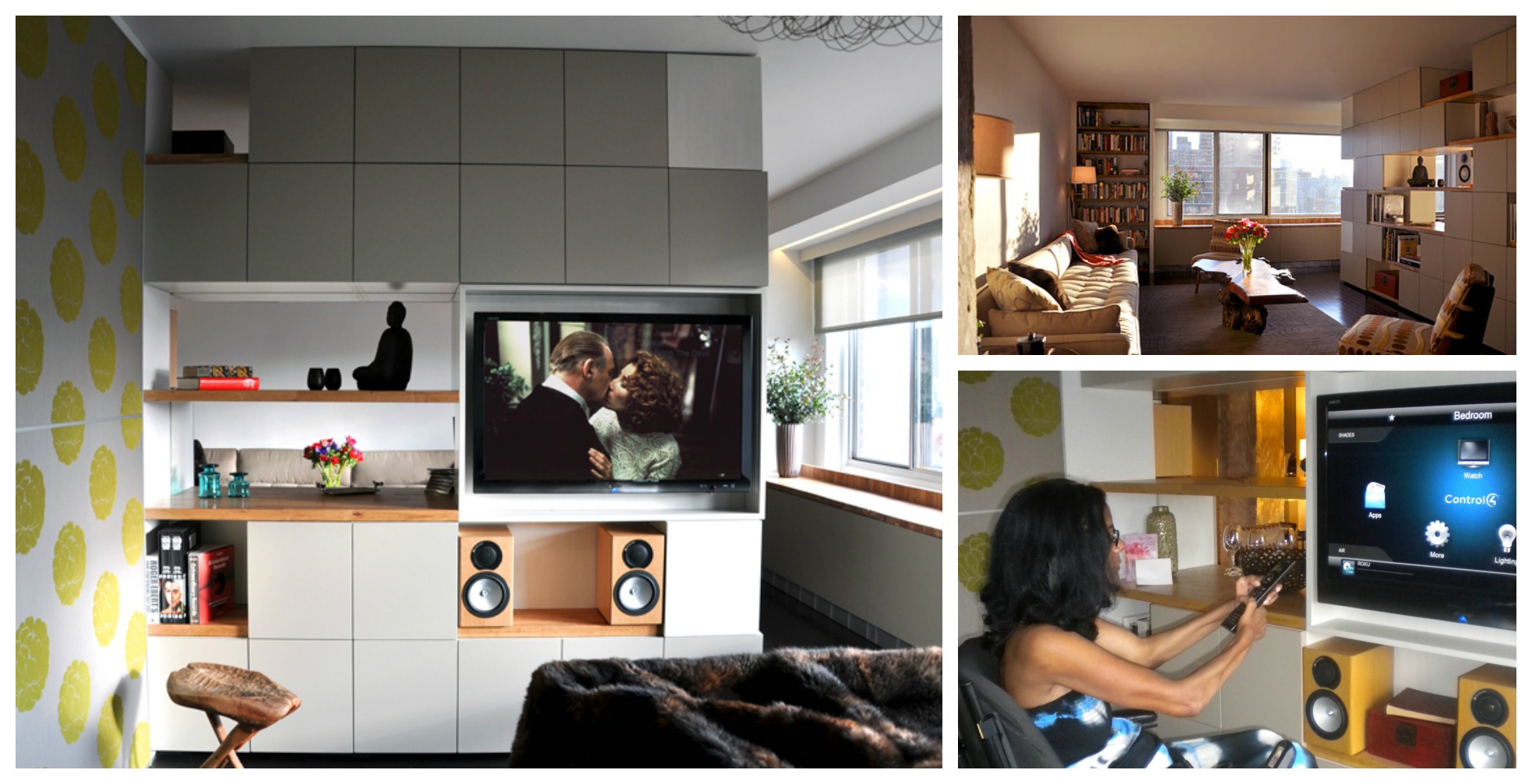 But one of the best features of the Control4 home automation system is its ability to be customized and fine-tuned to address any new needs. I found this out after knocking the remote to the floor one evening and having to spend a long night in the dark once again. But with the addition of the Control4 App on my bedside computer, that no longer poses a problem and I am confident in knowing that should any other issues surface, help is only an email or phone call away. The company stands by its product. The corporate staff is friendly and quick acting and the on-site services provided by my local dealer, Cliff Rosen of
Whole Home Control
, often go beyond the call of duty.

For some, a home automation system might be looked upon as a luxury. But for me, and many others living with physical challenges, it can be life changing. Enabling those with special needs to live on their own in safe and comfortable environments can not only help to boost self-esteem and improve the overall quality of living but there is also the benefit of lowering long term care costs by prolonging the need for nursing homes.
In speaking with other wheelchair users I found that I was not alone in my lack of knowledge regarding smart homes. My hope is for a more well informed disabled community. And for those with more severe challenges who lack the ability to hold a remote or move their arms, voice-activation could be very beneficial.
The other night a friend came over to watch a movie. Comfy with beverages and snacks in hand our only need was for someone to "get" the lights. And so I did. With the tap of a finger, the lights were dimmed, the music was simultaneously powered off, the blinds quietly lowered and the film began to play. I guess it pretty much goes without saying that I did it all by myself.

If you are interested in finding out how Control4 can assist you in your own home, contact a dealer today. They'd be happy to discuss how smart home solutions help to enable a more safe, comfortable and convenient way of life.