The Control4 Advantage
October 13, 2014
This post comes to us from Lisa Montgomery, Senior Editor at Electronic House and freelance home technology writer.
When designed and installed properly by a trained, knowledgeable home automation integrator, an automation system is able to perform some amazing feats. This goes for systems offered by Control4, as well as many other home automation products on the market. Where the differences between systems often lie is in the engineering of their control platforms. For example, some system may have the ability to control just about anything, but actually getting the system to do so may require extensive—and expensive—programming. Or, there may be a system that comes with a huge assortment of stunning user interfaces. This is always helpful, but if the layout and design of the control menus differ among these interfaces, you and your family may have a difficult time mastering them. To preclude issues like these, and to make automation as simple, straightforward and affordable as possible for homeowners, Control4 has implemented several innovative technologies into its systems. Together, they position Control4 as a leader in the home automation market, and offer owners of its systems several unique performance advantages. Here are some of the top reasons to consider Control4 as the system to automate your home.
A Huge, Ever-Expanding Ecosystem
The ease by which products are able to be integrated into the Control4 automation platform is one of the system's biggest selling features. Thanks to Control4's commitment to the development of integration "drivers," more than 11,000 individual products from hundreds of different manufacturers are able to join the Control4 ecosystem, with minimal programming and engineering required of the home automation integrator. "No matter what type of electronic systems or products you have in your home, chances are we have a driver for it," says Control4 Vice President of Lighting and Comfort, Paul Williams. This goes for everything from programmable thermostats and dimmer switches to pool and spa systems and energy monitoring devices. "In essence, a Control4 system becomes a simple addition to your home, rather than a complete technology overhaul." You can stick with the products and systems you've grown to love, and incorporate a wide variety of new products and know that they'll be able to be automated via Control4.
Consistency of Control
Some of the "home automation" systems that have popped up on the market these days are very limiting on what you are able to control. Homeowners find themselves needing to purchase multiple products and use multiple apps to control multiple devices within the home. With Control4, you have one app that controls it all. And that app is the same across all user interfaces. The ability for homeowners to interact with a home automation system through these different types of user interfaces (touchscreens, iOS and Android mobile devices, keypads, on-screen displays, handheld remotes) is only useful if the layout and navigation of the control menus are consistent across all interfaces. In other words, the location of the button used to engage an "Away" scene should be the same whether the homeowner picks up his smartphone or portable touchscreen, and regardless of whether he is home or away. This consistency of control leads to quicker mastery of the system by its users, and is another perk of owning a Control4 automation system. The company's user interface looks and performs the same on each and every type of control device, and is intuitive and simple to use whether you're 5 years old or 99.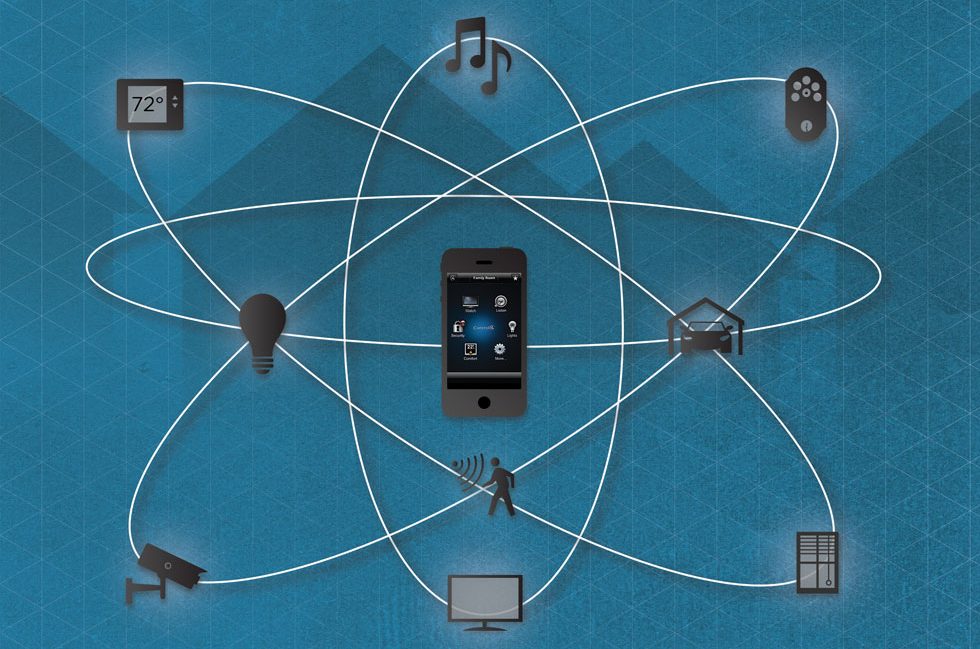 Ease of Integration
The sheer number of products that can join a Control4 network offers homeowner amazing integration options. And with the recent development of the Control4 Simple Device Discovery Protocol (SDDP) technology, the complexity of placing these products under the command of a Control4 system has been minimized significantly. SDDP is a piece of code which Control4 licenses to manufacturers around the world to embed into their various products. Any device with SDDP is instantly recognized, identified, and authenticated by the Control4 system as being part of its network. No drivers need to be downloaded, no complicated programming or configuration of the Control4 software is required. The union is quick, easy, and as a result minimizes the labor involved in setting up a system. For homeowners, this leads to a more affordable home automation solution. Already, more than 500 home electronics products feature Control4's SDDP technology, including those from major home electronics manufacturers including names like Dish Network, Sony, TiVo and Yamaha. Many other manufacturers of flat-panel TVs, video projectors, audio/video receivers, security cameras, alarms panels and other products are expected to incorporate SDDP in the near future.

To start on the path to building your own smart home, visit our Project Planner or find a dealer near you.