Designer Insights: How Home Automation Can Benefit the Interior Designer
April 14, 2014
We had the opportunity to be featured in a profile series with interior design company,
Terry's Blinds
, located in Staffordshire, England. The series is titled
Designer Insights
and you can see the original article post
here
. Thank you to Terry's Blinds for allowing us to discuss the ways home automation can provide a benefit to interior designers.
Click on the image for a
larger view
or see below for the full transcript.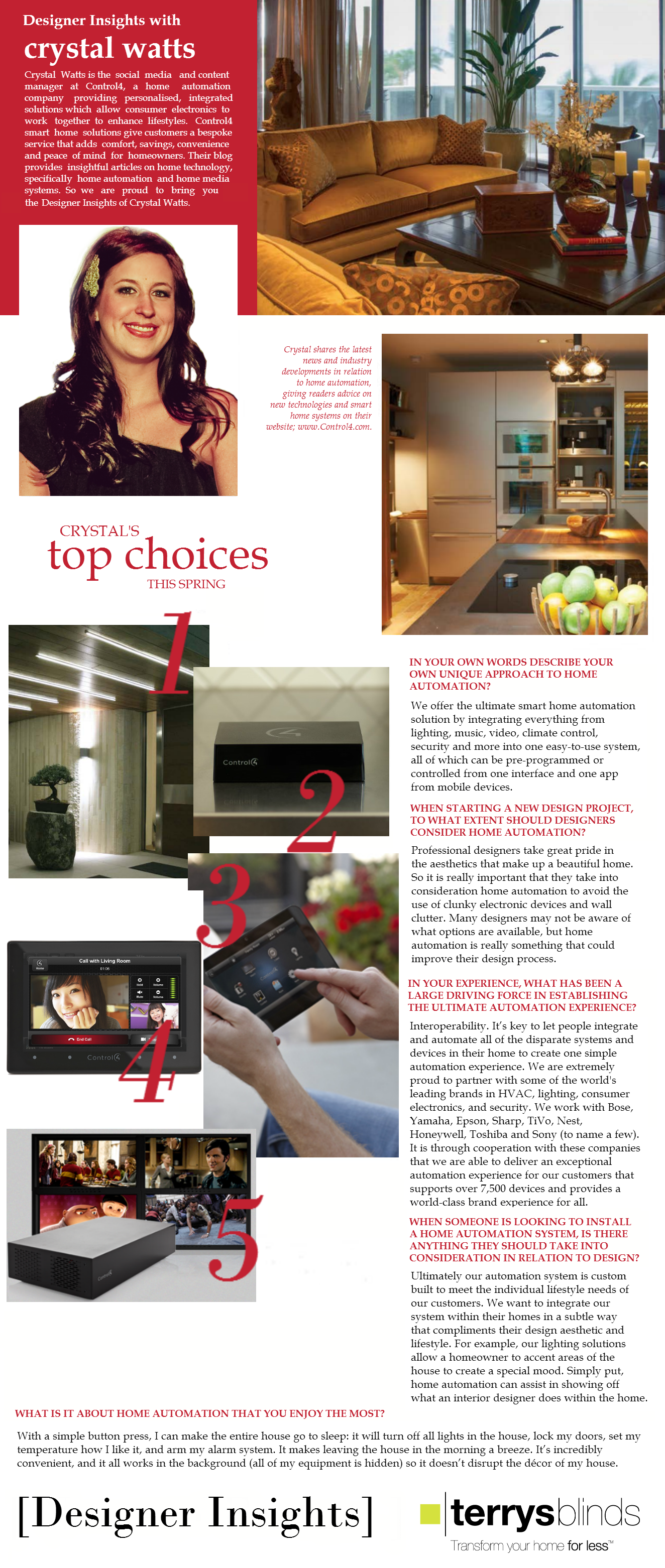 - Transcript -
In your own words describe your own unique approach to home automation?
We offer the ultimate smart home automation solution by integrating everything from lighting, music, video, climate control, security and more into one easy-to-use system, all of which can be pre-programmed or controlled from one interface and one app from your mobile devices.
When starting a new design project, to what extent should designers consider home automation?
Professional designers take great pride in the aesthetics that make up a beautiful home. So it is really important that they take into consideration home automation to avoid the use of clunky electronic devices and wall clutter. Many designers may not be aware of what options are available, but home automation is really something that could improve their design process.
In your experience, what has been a large driving force in establishing the ultimate automation experience?
Interoperability. It's key to let people integrate and automate all of the disparate systems and devices in their home to create one simple automation experience. We are extremely proud to partner with some of the world's leading brands in HVAC, lighting, consumer electronics, and security. We work with Bose, Yamaha, Epson, Sharp, TiVo, Nest, Honeywell, Toshiba and Sony (to name a few). It is through cooperation with these companies that we are able to deliver an exceptional automation experience for our customers that supports over 7,500 devices and provides a world-class brand experience for all.
When someone is looking to install a home automation system, is there anything they should take into consideration in relation to design?
Ultimately our automation system is custom built to meet the individual lifestyle needs of our customers. We want to integrate our system within their homes in a subtle way that compliments their design aesthetic and lifestyle. For example, our lighting solutions allow a homeowner to accent areas of the house to create a special mood. They can get rid of unsightly banks of light switches (or as we call it, "wall acne") on their walls. Perhaps they want to be able to touch one button and activate a certain light level to showcase their art collection. Simply put, home automation can assist in showing off what an interior designer does within the home.
What is it about home automation that you enjoy the most?
There are so many things about home automation that helps to make my life much less chaotic and so much more enjoyable. For instance, with a simple button press, I can make the entire house go to sleep: it will turn off all lights in the house, lock my doors, set my temperature where I like it, and arm my alarm system. It makes leaving the house in the morning a breeze. My husband and I enjoy outdoor entertaining as well, so it's nice to be able to pass around the iPad and give everyone control of the music that pipes from the overhead and faux-rock speakers. But my absolute favorite aspect is that I can log into my house at any given time from my iPhone and view cameras or lock/unlock doors. It's incredibly convenient, and it all works in the background (all of my equipment is hidden) so it doesn't disrupt the décor of my house.
Category
BUILDING & DESIGN