5 Ways To Save—Automatically!
June 10, 2014
It's getting warmer outside, which also means that people will begin cranking up those air conditioners. And if you are the accommodating type, house guests may start coming out of hibernation and heading to your place for their entertainment benefit, which can oftentimes be quite expensive. Heed these home control tips and you might notice a little less cash leaving the checking account every month.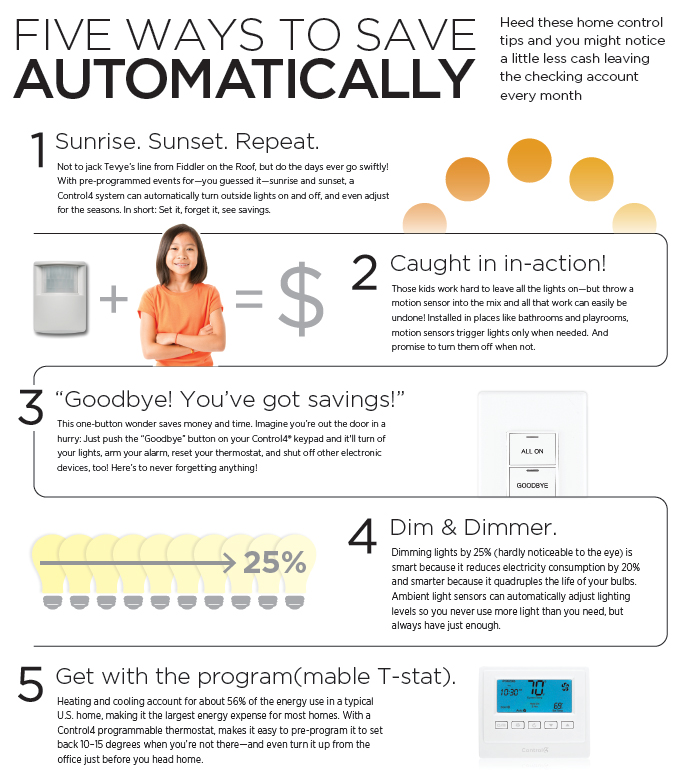 1. SUNRISE. SUNSET. REPEAT.
Not to jack Tevye's line from Fiddler on the Roof, but do the days ever go swiftly! With pre-programmed events for—you guessed it—sunrise and sunset, a Control4 system can automatically turn outside lights on and off, and even adjust for the seasons. In short: Set it, forget it, see savings.
2. CAUGHT IN ACTION!
Those kids work hard to leave all the lights on—but throw a motion sensor into the mix and all that work can easily be undone! Installed in places like bathrooms and playrooms, motion sensors trigger lights only when needed. And promise to turn them off when not.
3. "GOODBYE! YOU'VE GOT SAVINGS!"
This one-button wonder saves money and time. Imagine you're out the door in a hurry: Just push the "Goodbye" button on your Control4 keypad and it'll turn off your lights, arm your alarm, reset your thermostat, and shut off other electronic devices, too! Here's to never forgetting anything!
4. DIM & DIMMER.
Dimming lights by 25% is smart because it reduces electricity consumption by 20% and smarter because it quadruples the life of your bulbs. Ambient light sensors can automatically adjust lighting levels so you never use more light than you need, but always have just enough.
5. GET WITH THE PROGRAM(MABLE T-STAT).
Heating and cooling account for about 56% of the energy use in a typical U.S. home, making it the largest energy expense for most homes. With a
Control4 programmable thermostat, it's easy to pre-program it to set back 10–15 degrees when you're not there—and even turn it up from the offi•ce just before you head home.