Why Control4 Is A Great Home Automation Solution for Builders
February 6, 2014
By Adam Stickle of Primrose Homes
My clientele is increasingly becoming more and more tech dependent. The younger customers have grown up with technology and they expect it to be part of their lives no matter where they are. And, of course, the popularity of mobile devices that can control virtually everything has led them to the question, "Why shouldn't I be able to control everything in my home too?" The ability to connect to and control the devices in a home has become an essential feature, for homes today and homes of the future, in order to maximize efficiency and entertainment.
The way we build homes today is dramatically different than it was even just five years ago. We think carefully about how we pre-wire, not just for electricity, but for internet and even audio. This means we're really thinking about much more than just building to "code," but how the homeowners will actually live within their home and incorporate technology into their daily lives.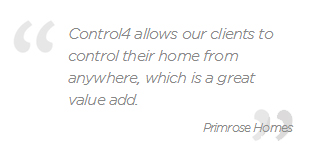 What makes home automation from Control4 such a great option for our clients is that it gives this level of control to the homeowner, and they don't even have to be home to enjoy it—as they can access their entire "connected" home remotely from their smartphones. With Control4, the client also has the ability to start small with just a few automated features and then add additional home automation capabilities based on how they want to live. It's functional, aesthetically pleasing, and the cost is manageable for homeowners.
Control4 products go on every quote we put out. We incorporate home automation technology into all of our custom homes by proposing that each homebuyer include a Control4® HC-250 Controller, which acts as the "brain" of their home automation system, allowing them to add devices and automation capabilities as they go. Whether they desire smart light switches and dimmers, thermostats for energy management, the ability to control their homes remotely from a smartphone, or all of the above, their home automation avenue is paved with possibility.
We work in conjunction with the homeowner and a Control4 professional (
TheaterXtreme
) to design an automation system that suits the wants and needs of the homebuyer. For some people, entertaining is paramount, so for them whole house audio and a killer home theater is really important. For others, safety and security is the primary focus, so we look at smart locks, security cameras and security system integration as well as 24x7 remote monitoring. For others, convenience is key, so we talk to them about smart lighting, remote access and setting scenes that can be triggered with a single button press or work automatically based on predetermined settings. Control4 technology gives us a basic foundation so we can offer every homeowner some level of automation; where they take it from there is all up to them.
We've included other home automation systems in the past, but they have been either way too complex, with a huge upfront investment for the client, or simply not sophisticated enough, with no ability to expand the system as needs change. We have a very good relationship with our Control4 integrator so we take comfort knowing that if there are technical issues with the system, they will take good care of our clients.
Overall, our customers have been very pleased with Control4—they love how simple and effortless it is to use. They also really like how it becomes a part of the house with little to no visible equipment or wiring. It's been great for us, because we've been able to showcase technology in our model homes and within many of the homes we build that our competitors have not. Control4 home automation has certainly helped set us apart from our competition.
Category
BUILDING & DESIGN