The "Internet of Things" and Home Automation
January 21, 2014
Every year at CES there are certain technological "themes" that emerge. Manufacturers constantly aim to pioneer a product category, but this rarely happens, as several similar brands seem to show up with the same "revolutionary" or concept product. There were three themes that really stood out to me this year at CES.
1. Curved displays
2. Wearable technology
3. Connected devices
I'm going to talk primarily about the third technology that seemed to be everywhere on the CES show floor. A connected device is basically any electronic component that has the ability to connect to the Internet, either directly or through the cloud. Whether connected through WiFi, Bluetooth, NFC, RF, ZigBee or any other communication method, the benefit from having a device that is constantly connected is that the device stops functioning as a singular device and instead becomes a part of an entire ecosystem that helps make our lives easier. So what are these "devices" I'm talking about? As we found out at CES this year, it can be almost anything! From washers and dryers to coffee makers, watches to a robot vacuums, thermostats to light bulbs, refrigerators to ovens—and really just about anything in between.
The rapid expansion of these connected devices, or "Internet of Things" technology as it is often called, is very exciting. By connecting these devices, we are gaining more control than we have ever had before. We can adjust the thermostat from the office, check the security cameras from the movie theater, or turn the lights off or close the garage door from just about anywhere—whether you're next door or across the world.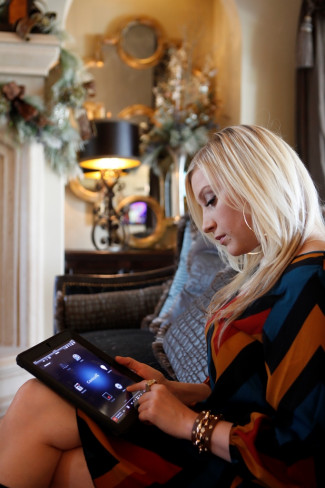 As more manufacturers—such as Samsung, LG, Panasonic, Nest, etc.—build these connected products, the intent is to help us simplify our lives. But while this is the ultimate goal, it becomes difficult to achieve once you realize these devices aren't actually connected to each other. The ability to open an app on your smartphone and control devices from anywhere is great, but gets more and more confusing as you begin to open one app for your thermostat, another for your light bulbs, another for your security, another for your TV, another for your vacuum…you get the idea. And unless you're willing to get rid of all the electronic components and appliances in your house and start over with a single brand, this will end up becoming your "connected" reality.
This is where true home automation steps in to deliver on the promise of simplifying your life. Control4 has been working in the smart home industry for over 10 years and integrates over 7,500 devices, and this list is growing constantly. The best part is that connecting these devices through the Control4 operating system not only simplifies your control over these devices, but it actually connects these devices to each other as well, no matter the brand.
With a single app from your smartphone you can control everything
. And the real magic happens when you program these devices to perform a function based on the actions or location of another device. Simply getting out of bed in the morning can trigger your music to begin playing and your coffee maker to brew coffee. Closing the garage door on your way to work can arm your security system and make sure all the lights and TV's are off in the house. And returning home at night can turn on the lights, unlock the door and turn to your favorite TV channel right as you walk in the door.
The point is that these connected devices are beginning to revolutionize our world but they are only going to begin simplifying our lives when they are actively working together, and not in a disparate environment. Control4 home automation has been connecting such devices for years and as more and more devices gain these capabilities, the possibilities with Control4 will continue to grow exponentially.