Giving "Thanks" to Tech
November 28, 2013
So many technology products and features have become staples in our daily lives, that oftentimes we forget just how much we appreciate the little (or the big) things that help to make each day more enjoyable and convenient. Being that it is the eve of Thanksgiving, we thought we'd catch a few of our employees to find out what technology they are the most thankful for this year.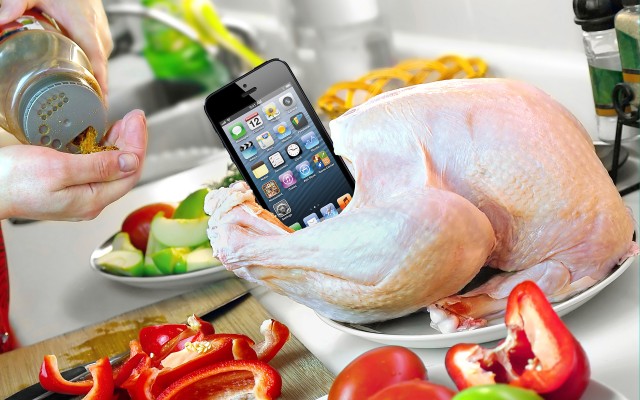 "I am not a gamer. I have been without a TV for four years (changing this Christmas!), and I don't miss the microwave; nope, I don't have one of those either. However, I use my pocket sized personal computer inadequately referred to as a phone many times a day: to check email, to snap photos and text to friends, to check-off my grocery list, to jam out, and even to wake me up in the morning. The feature I am most thankful for this holiday season is by far the coolest, maps. Although I claim to have impeccable sense of direction, even a guy like me can benefit from quicker alternate routes, finding coffee nearby, or planning trips on public transit." -
Mike Klekas, Sr. Web Developer
"I'm thankful for fast mobile data networks and miniaturization of technology components. Every year I have better and more access to various aspects of my work and personal life from just about everywhere on the planet using cool Dick Tracy-like mobile communication devices that seem to get faster, brighter, and smaller." -
Brad Baldwin, Sr. Product Manager, User Experience
"I am most thankful for my iPhone, my co-workers have teased me relentlessly for not having joined the smartphone community till this year. I thought I was keeping my life simple by leaving out this handy piece of technology, but now I know that it actually does make my life easier. I love being able to FaceTime with my niece and nephews, I love it that it enables me to keep the people I want right at my fingertips." -
Lauren Hemingway, Lead Graphic Designer
"The technology I am most thankful are the smart door locks integrated with my Control4 system. My wife likes to spend mornings out on the deck. When I leave for work, I habitually lock the doors, locking her out of the house without her keys; but she doesn't need keys and she isn't locked out. We can now go for a walk or bike ride without having to lug along keys to get back in the house, and ensure the doors are locked from anywhere." -
Glenn Clapp, Director of Embedded Software
"I am most grateful for Bluetooth – the ability to hit play on my phone and have my Christmas music (I don't care that it's not Thanksgiving yet) or my book or my phone call play over whatever speakers I want (car speakers, home theater, portable desktop speaker, whatever) – really it's kind of miraculous." -
Jennifer West, Marketing Manager
"Simple texting (via phone) is a tech that I'm thankful for. Messages are usually short (brief and to the point), they don't interrupt my work, and they're stored so I can review them at any time." -
Mike Sawyer, Technical Writer
"I am grateful that my Control4 home automation system is easy enough for anyone in my extended family to use. So when my in-laws are over for the big feast, I have confidence that they know just what to do (press the big red 4). I am also grateful for door locks that are easily programmed for my sister-in-law, nephews, parents, so all can come and go at their own pace and pleasure. I am grateful for lighting scenes that give the house just the right glow, adding a little more warmth for the holiday. And I am grateful to work for such a great company, with great people, who all are passionate about making home automation affordable and way cool!" -
John Epeneter, Sr. Product Manager
"My alarm clock. It is my saving grace at 4:30 every morning." -
Carrie Higbee, Events Specialist
"I'm pretty much a technophobe, however I am particularly grateful for my smart phone. I love that it allows me to quickly and easily document events in the lives of my children as they grow up. This morning I was able to capture my 5-year-old as he sang and danced in his Thanksgiving Program at school, and then quickly send it to family members that were unable to attend in person." -
Katie McDaniel, Production Manager, Creative Services
"I'm thankful for my Control4 HDMI Matrix Switch because it allowed me to consolidate all of my electronic devices that were spread all over my house and keep them all in my media closet. It makes things much more efficient and it cleans up the clutter of having devices everywhere. It really is my favorite piece of technology I've acquired in a long time." -
Tyler Reed, Manager, Demand Generation & CRM
"I'm most thankful for my Microsoft Surface 2 because it's everything that I wished my iPad would be but iPad couldn't deliver, so that I can take 2 week int'l trips with a single device that doesn't weigh a ton." -
Troy Holtby, Director – International Sales
"I'm thankful for my Wireless Music Bridge. While cooking, I'm playing music that reminds me of people who won't be here with me this year—my dad, my mom—so, I'm jamming to French café music which my parents always listened to on Winter Sunday days. And then adding some music to bring my daughter's spirit— who is in Thailand—into the house. I dance in the kitchen pretending she's at the island laughing at me! Tomorrow, will be all Dianna Krall, Harry Connick Jr., and Norah Jones…..as we stuff ourselves silly!" -
Susan Cashen, SVP, Marketing.
"I'm thankful for the internet, because it allows me to research the tech stuff I love to play with and it makes it easier to stay in touch with family and friends." -
Spencer Mears, Level II Technical Support
"My iPhone. It's like my own little personal assistant/nanny/trainer all in one. The camera and connection apps are obvious reasons to love my phone, but I also love having my family calendar, grocery list, finances, calorie tracker/meal planner, and the Nike Training Club and Yoga Studio apps all right at my fingertips. And, seriously, how did people ever go out to dinner with the kids before iPhones? Now a little Dora on Netflix or Angry Birds puts them in a trance for 20 minutes and it's like instant date night for me and my hubby. Bliss." -
Lisa Harmer, Senior Marketing Director
"The technology that I am thankful for is Skype and FaceTime. This technology allows me to have face to face conversations with my family no matter where they or I am on the planet! It makes the world a little smaller and brings my family a little closer." -
Paul Williams, VP of Security & Communications Products
"I am thankful for 4Sight with Anywhere Access so I can keep an eye on my home from 1000 miles away while I'm visiting family for the holidays." -
Brian Mierkey, Customer Advocate Manager
"I'm most thankful for cheap PCB manufacturing and cheap Micro-controllers so that I can expand my geek-ness to my home and hopefully create an all in one fish automation solution for my aquariums." -
Brennon Loveless, Web Developer
"I've just moved and have not yet installed Control4 in my new house. These past few weeks have made me realize just how grateful I am to have programmable lighting scenes and 'All off' buttons. Coming in to a dark house is unsettling and leaving your lights on all day and night is not a good solution either. Can't wait to get smart lighting re-installed!" -
Alison Nielson, Sr. Director, Human Resources
"GPS and/or locations services. Every day I travel I thank the tech gods as I rely on the help of some ditgital compass action. I do remember a study abroad year in London where I couldn't leave my flat without an A-Z map in order to zig and zag through the crazy maze of that city. But I've since been back and must admit that it's so much better with a smartphone in my pocket and a pre-paid data plan." -
Shanan Carney, Editor,
Home Smart Home Magazine
"Rhapsody music service. Unlike other services I get to pick the music I want to listen to rather than the provider picking songs they think I might like. It's awesome through my Control4 system or tailgating at a Carolina Panthers game!" -
Scott Salzman,
Regional Sales Manager
"I am most thankful for video calling. With my friends and family being scattered across the country I love that I can quickly check in on them and get some face to face interaction." -
Kevin Hole, Production Designer
"I lost the remote to my Roku and couldn't access Netflix without it…until I found the Roku Remote app on my phone. Now I can access all my apps and programs through Roku using my phone, I love it!" -
Cheree Nielson, Marketing Specialist