Ramping Up the Security in Your Smart Home
October 21, 2013
A truly great home automation system is able to control all of the devices in your home, including your home theater, whole house audio, video, lighting, smart thermostat and, of course, your security system. Our dealers tell us that one of the biggest requests from customers is to integrate their security system into their home automation system. That makes sense. When a security system is integrated with home automation, additional security features can also be automated and controlled, such as door locks, smart lighting, IP cameras, motion sensors, contact sensors and other controllable devices to really give you peace of mind.
In my home I have a smart door lock, motion sensors, IP cameras, lighting and contact sensors that are all managed by my Control4 automation system. Which is integrated with my GE security system. Oftentimes when we have family over to "volunteer" their babysitting services, they like to take our son for a walk to the local park. In the past that meant I had to give them a key to our front door, the alarm security code, and the instructions on how to properly arm and disarm the system. It used to be quite a process. Now that we have installed a smart door lock and integrated our security system with Control4, we are able to create a unique security code for each of our family members. It's a very quick and easy process using my Control4 touch screen. When they decide to go on a walk or for a drive with our son, they just leave through the front door and press the lock button—our security system is armed, motion sensors and contact sensors become activated, and our home turns off any lights that might have been left on accidentally. Upon return, they enter their own code on the lock's keypad and, not only does the door unlock for them, but the security system disarms, motion sensors and contact sensors deactivate and, if it's night time, entry lights turn on so they don't enter a dark home.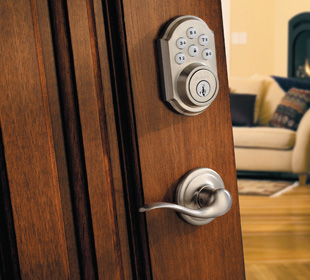 I'm also able to check in on things from my phone from virtually anywhere with my 4Sight with Anywhere Access subscription. Not only can I see what is going on, but I can actually control my home and security system as well. It has been such a great advantage having all of our security features tied into the Control4 system. Just the other day, my mother-in-law took my son for a walk while she was sitting. They got home and the doors were locked. I had forgotten to set up the front door lock code. She just sent me a text to let me know she couldn't get in. I pulled up the MyHome app on my phone and unlocked my front door and disarmed the alarm for her with the simple press of a button.
This level of integration certainly makes things more convenient but it also helps give me additional peace of mind as well. When no one is at home and I'm away I can easily pull up the MyHome app and check my security cameras, make sure that our security system is armed (and if not, arm it), and even just turn off a light or TV that we left on in our hurried rush out the door.
Home automation is certainly fun to have and it's benefited my family's life in so many ways. But as soon as I started integrating our Control4 home automation system with our security system, it has provided not only moments of convenience and fun, but truly an added level of safety and security that would make it hard to ever live without again.