The Benefits of Distributed Video
September 6, 2013
When I was a kid and my dad would take me to the local electronics store, I would normally head straight to the TV section. I loved staring at a wall of TVs that were all playing the exact same thing—typically either a sporting event or a movie. I would ask my dad how they were able to accomplish such a magical task because I wanted to do the same thing with the TVs in my house (all two of them). Neither of us knew it back then but this is what the industry pros refer to as distributed video.
Distributed video allows a single video source, like a satellite receiver or Blu-ray player, to be shared between multiple TVs that are connected to a video switch. This can provide some pretty amazing advantages. The biggest of which is minimizing the amount of sources you would need for every TV in your house. For example, if you have six TVs in your home and would like to watch satellite on all six of them, you will need to have six different satellite receivers, each one requiring a separate monthly fee. And how many times would you actually need to watch all six receivers at the exact same time anyway? It would be very seldom, if ever at all. Distributed video let's you use just two or three satellite receivers for all of the TVs in your house, saving you on that monthly equipment cost.
Another great advantage distributed video provides is the ability to hide all of the gear for your TVs. No one wants to spend thousands of dollars on a gorgeous Plasma or LED TV to hang up on the wall but have a tangle of wires running down the wall and into the cabinet below where all the gear lives. Distributed video let's you hide all of that equipment in the storage closet on the other side of the house or in the basement.
The best method to distribute video throughout your house is with an HDMI switch that has HDBaseT technology built-in. The HDMI switch itself is where all of the components get plugged in. So in one cabinet or storage closet you can keep all of your cable or satellite boxes, Blu-ray players, media players, receivers, gaming consoles and anything else you like to watch on your TV. Those all hook directly into the HDMI switch through HDMI cables.
From there you still need to get those sources to your TV. You can always run HDMI cables to each individual TV, and this is certainly a serviceable solution, but it isn't always a realistic one. A better method of sending the video to each TV in your home is through HDBaseT technology. HDBaseT allows you to send HD video through a standard Cat 5e or Cat 6 cable. By running the video signal through the Ethernet cable, you are able to send network and control functionality right through the same cable. It's an amazing technology that allows video distribution in many situations where it previously wasn't an option.
The final consideration with distributed video is how the equipment will be controlled. Obviously most of this equipment is controlled through an IR signal, which requires line-of-sight. You can always use an IR repeater to control the hidden equipment or it can be controlled through a much more seamless home automation solution.
Control4 recently announced its brand new HDMI switch, combining all of these technologies into a single video switch. The control functionality is even built right into the HDMI switch. By integrating the video distribution with a home automation system, the results provide a truly seamless experience in both quality and control.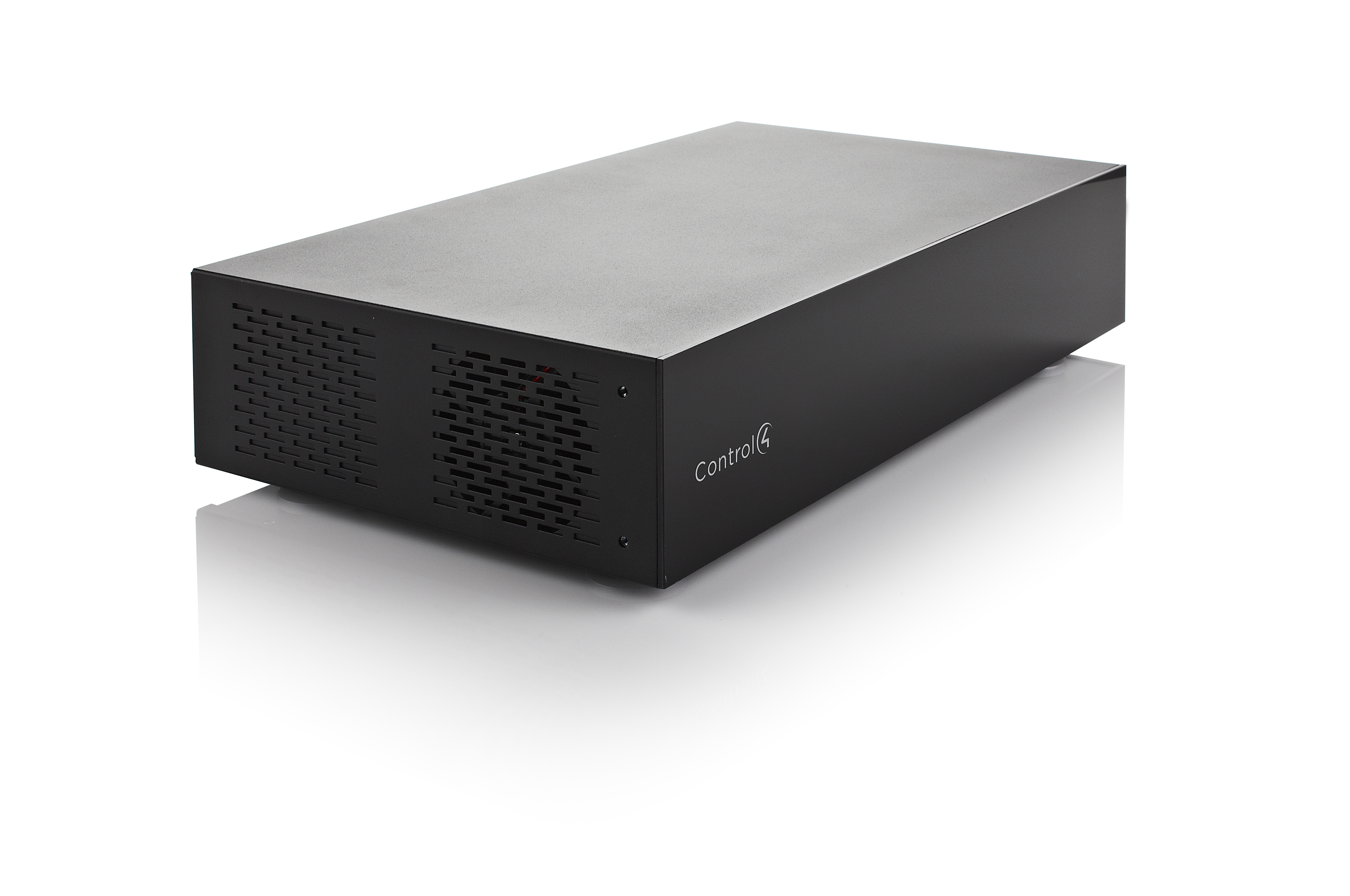 In my own home I have been able to move all of my video sources to a storage closet where I keep my HDMI switch. I use Control4 home automation to control every device in each room and the experience has been fantastic. I was even able to send one satellite box back to my provider, saving the monthly fee, and I now watch video from my AppleTV on each TV in the house, not just the family room TV.
When we recently decided to add a TV to my son's playroom (don't judge, it's free babysitting), I was able to mount the TV on the wall and send the video through the Ethernet cable in that room. The TV is up high enough that he can't get to it and there is no potentially dangerous equipment hanging around. I even taught him how to select his favorite shows right from the iPad. He scrolls right to the movie he wants to watch, presses the button and within seconds the TV turns on and his favorite movie (most of the time it's Despicable Me) starts playing.
Distributed video is no longer just a feature for electronics stores and sports bars. With all of the benefits it can bring to the home, it's definitely something that should be considered along with your next electronics purchase.