Control4 Lighting Control Is Now Better Than Ever!
May 6, 2013
Today, we issued a press release
announcing our next generation, amazingly fantastic new lighting solutions
. The product family represents one of the most significant product rollouts in our company's history. Consumers are getting their smarts-on with regard to intelligent lighting (the industry muckety-mucks say we'll spend about $4.3 billion on smart solutions by 2020)—and we're delivering elegantly "brilliant" solutions that will help facilitate this trend.
Up until recently, many consumers who have embraced home automation did so with the intent to trick out their family room—most likely because they just bought a new flat panel TV, or to drive multi-room audio throughout the home, or to automate climate control to better manage energy consumption in the house. Lighting control was not often the driving factor for a consumer to seek out a Control4 system. In fact, most consumers only "try" smart lighting to complement another automation application. I know for me, I got "hooked" when my dealer explained how cool it would be if the lights in our family room dimmed automatically—every time we hit "play" on the remote to start a movie.
But here's a surprising tidbit. When we asked our customers what's the one home automation application in their system that they cannot live without, the answer is unilaterally, "lighting." Once you live with smart lighting control, you really can't go back to the "old-fashioned" way. For me, lighting is the application that best showcases the delight and surprise of automation. Control4 integrates lighting control with other automation functions to create "scenes. A "Home" scene creates a lighting path from the entry to the kitchen and disarms the security system; an "Entertainment" scene which dims the lights and tees up music; an "Away" scene which lowers the shades, places the AC into energy savings mode, shuts off all but a few select lights, and activates the security system. When my husband travels, I know if necessary, I can press my bedside "panic button" and the alarm would sound, the lights would flash on and off inside my home and out—alerting an intruder to leave the premises before help arrives.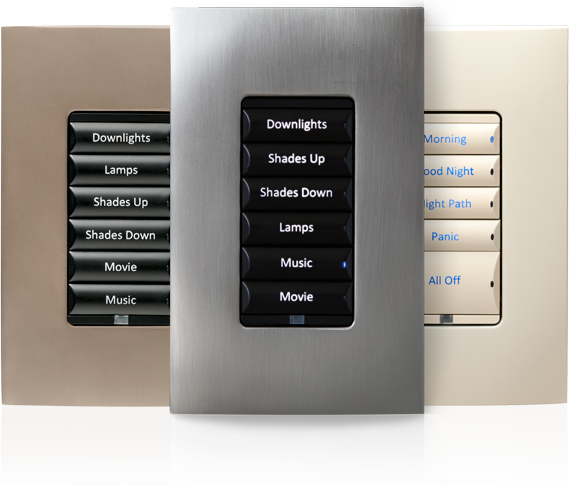 Today,
Control4 launches a brand new line of lighting control products
—a broad range of elegant and energy saving lighting solutions, featuring a diverse palette of color and finish options and lots of cool "personalization" features that ratchet up the lighting experience in your home to a whole new level. Working with your dealer, you can program your smart lighting to enhance the aesthetic of your home (think dramatic lighting effect that turns on automatically in the evening illuminating your pool, front yard or walkways, or a stunning spotlight to showcase a central art piece in the living room or a bank of lights to highlight family photos along a hallway) and combine your new lighting with other automation applications to create the scenes that are most relevant for your family and lifestyle.
Embrace smart lighting and you'll never go back. We, who enjoy, reflect on the old days when a switch on a wall could only turn on a light. With Control4, one button press does a whole lot more!