May the Fourth Be With You: Celebrating Star Wars Day
May 3, 2013
I was seven years old in early 1977 when the first Star Wars movie came out. Back then it was just "Star Wars," of course, but today fanboys around the world know the movie as "Star Wars Episode IV: A New Hope." When you think about it, I'm a member of the youngest generation that has been able to see every Star Wars movie in its original form, during its original release, in an actual movie theater. Like most other males (and quite a few females) my age, I can hardly remember a time when I didn't love Star Wars. I literally grew up with "the Force."
I actually remember the day vividly ... Standing in line in the early summer heat with my dad and older brothers outside Phoenix's old Cine Capri theater ... My dad buying me the biggest Mr. Pibb the concessions stand would sell ... Watching the gold curtains rise as the theater lights dimmed ... Hearing the drum cadence and trumpet fanfare as the
20th Century FOX title screen
appeared ... And of course, the much-loved, much-parodied "
opening crawl
" that caught us up on events that wouldn't be turned into actual movies until I had children of my own.
From the very first scene—Leia's Blockade Runner running from Vader's Star Destroyer—I knew that this was an entirely new type of movie. I felt a visceral thrill as Darth Vader appeared for the very first time on the silver screen. I developed my first crush on Princess Leia (who is now, inexplicably, a "Disney Princess"). Regardless of how you feel about George Lucas, he redefined an entire genre of film. He reinvented special effects. He added words and idioms to our language. He made John Williams a household name. (Or is it the other way around? Tough call.) By the time the final credits rolled, I was an instant convert. I was also sprinting up the aisle to the lobby, thanks to that jumbo-sized Mr. Pibb.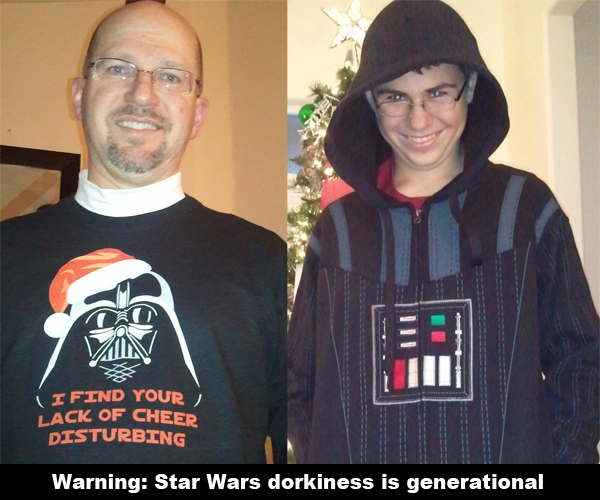 Today, my teenaged sons still watch at least one of the seven Star Wars movies once a week. Back in 1977 I had to stand in line in 100-degee heat to see Luke and Leia and Han and Vader. Now we watch them in full 1080p glory at home, streamed over the network through my Control4-connected Boxee media player. We can all quote movies word for word. In fact, if I "drop the needle" (a classic 1977 term, to be sure) anywhere in the soundtrack of any of those movies, my 13-year-old can tell me what's happening at that exact moment in the movie. He can also wear a Star-Wars-themed tee-shirt every day for two weeks without recycling.
You may not realize this, but Saturday (May Fourth) is "Star Wars Day." The fourth day of May is celebrated by fans around the world because of the phrase "May the fourth be with you." Since 5/4 falls on a Saturday this year, I'll be taking this opportunity to gather my children, queue up the movie that started it all. We'll dim the lights and turn up the sound until the neighbors complain.
Hope your Star Wars Day is as great as mine. May the fourth (and the force) be with you!
---
Exit question: What's
your
favorite of the seven (yes—seven!) Star Wars movies? And more importantly, what's the best beverage to enjoy while watching one? (Hint: There
is
a
correct answer
.)