TopGolf - Where it's Legal to Drink & Drive.
April 4, 2014
With the opening day of the the Masters approaching next week, we've officially developed the golfing itch. So I decided to revisit one of my personal favorite Control4 projects.
TopGolf
is wicked cool. There really isn't any other way to put it. From personalized microchip-embedded golf balls to full-service bars, this 65,000-square-foot, three-story complex has attracted veteran golfers and newcomers alike. To put it into perspective, it's similar to a bowling alley (only way cooler). You take turns driving in an outdoor range and using TopGolf's specialized technology, your distances are tallied by your respective microchips. Sure makes it easy to keep track, especially for people who tend to cheat or drink too much. Only kidding. Kind of.
Every driving station is outfitted with two televisions, one of which will display any channel of choice and the other displays players' scores. This set up ensures you get the best of both worlds—keeping an eye on that important game while playing a bit of it yourself with friends. All in all, TopGolf houses 240 televisions, all of which can be turned on easily and quickly with an iPad and remotely switched from channel-to-channel individually or all at once. The Control4 system is so easy for the staff to use—and only took about a half hour to train them to operate the entire facility—that it allows them to focus on the day-to-day operations while keeping up the excitement for players and guests.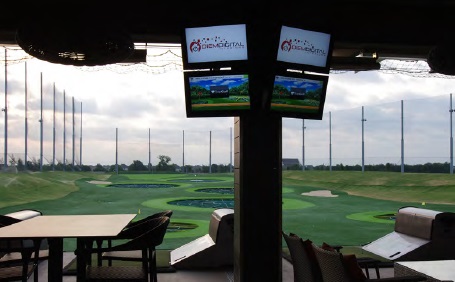 TopGolf's national director of sales, Robb Sidebottom, calls it "a video game come to life." He goes on to say, "It's pretty impressive to be walking through a very large facility and to see the televisions turning on one right after the other… with the music suddenly filling the air during that process. It brings a level of energy to the place before anybody ever walks in."
This just skims the surface of what this golf oasis can do. Read the full
Home Smart Home article
or check out the
project spotlight
for more details!