The Complete Solution
We're changing the rules of music with the new Triad audio experience from Control4.
For decades, Triad has been committed to acoustic excellence and innovation, constructing high-performance, custom-built speakers. As part of the Control4 family, this heritage continues as a complete audio solution, including high-resolution sources, amplifiers, and speakers.
Streaming Music Services
Everyone in the house can listen to what they want, where they want.
Control4 provides broad choice and on-demand entertainment with the most popular music streaming services, with apps included standard on every Control4 system. Everyone in the family can stream his or her own jams in their favorite spaces, without needing additional devices.
These music streaming services may require that the end user have an account with the service, and all streaming services are subject to the restrictions and limitations, included geographical limitations, of the particular service.
High-Resolution Difference
From Mozart to Metallica, listen to music the way the artist intended it to be heard.
You're used to your music being portable—listening in the car or at work—and it's easy to accept a lower quality of sound when you're on the go. But when you're at home, you should never have to sacrifice quality for portability. Bring the concert experience into your home and enjoy incredibly refined sound as you travel from room-to-room or while relaxing on the patio.
Entertainment + Automation
Start with amazing audio. Then satisfy your craving for more.
Once you've experienced superior sound from Control4, see what else we have in store for you. By adding smart lighting, you can press one button that drops the shades, activates a romantic playlist, and dims the lights for dinner. When you're ready for bed, another tap shuts down the entire house. Enjoy additional solutions that maximize your comfort, convenience, entertainment, and peace of mind.
Streaming Sources to Speakers
And Everything In Between
Control4 has all of the components necessary to create your ideal listening experience. Simply select your favorite streaming source from any Control4 interface—such as a handheld remote, keypad, or a touchscreen on the wall—and your smart home controller sends the audio signal to your amplifier, which then delivers high-resolution music to all of your speakers throughout the house.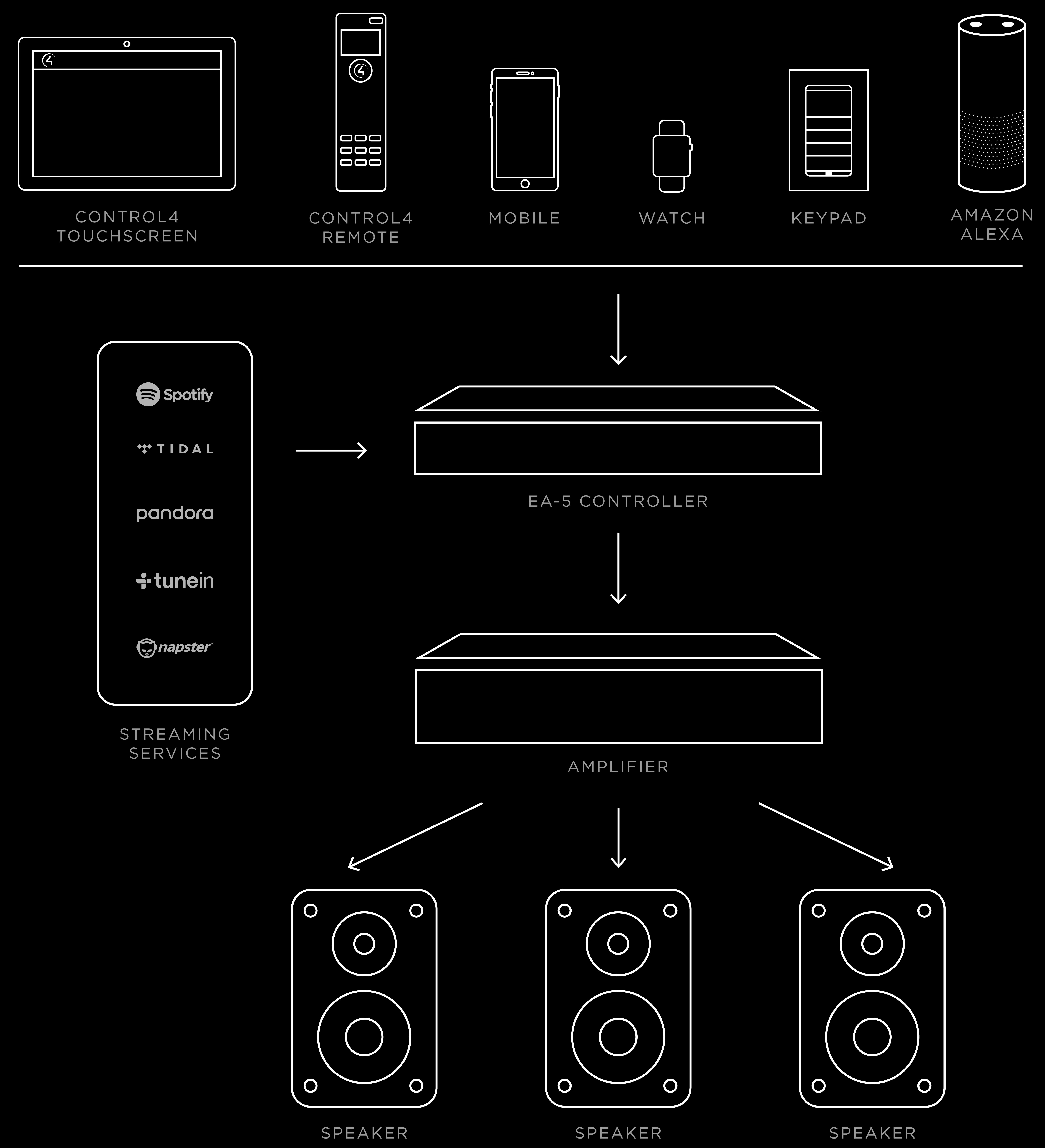 Smartphones & Tablets
Never worry about stopping a conversation to change the music.
Simply pull out your smart device, fire up the Control4 app, and enjoy instant access to your streaming services. Visual feedback displays artist and track information in a clear, elegant way.
Keypads
They're not just for the lights!
In fact, the keypad is one of the most ideal ways to control your music. With one tap, your favorite station starts in one room, or throughout the house. With another tap, skip, pause, or change the volume instantly.
Apple Watch
Quickly start, stop, pause, or skip a song—right from your wrist.
And from the digital crown, you'll be able to adjust the volume levels in any room. Convenient control of your tunes, that goes everywhere with you.
Touch Screens
The boldest and most beautiful way to fill the entire house with music.
Browse and select your playlists with a simple swipe, or pass the touch screen around so your friends and family can choose the tunes. Streaming content from the world's most popular services is right at your fingertips, with stunning cover art on display.
Handheld Remote
The same remote that controls your TV also gives you access to your favorite music.
Quickly fire up a playlist or station in the family room with just a few, fast button presses.
Voice Control
Don't even lift a finger.
Simply tell Alexa what you want to hear and where, and—Voila!—instantly fill the house with high-quality sound. Control4's integration with the Amazon Alexa family of devices makes it simple to play music anywhere with natural, verbal commands.