Press Release
ProSource Names Control4 the 2017 Custom Integration Vendor of the Year
For the third consecutive year, Control4 is named Vendor of the Year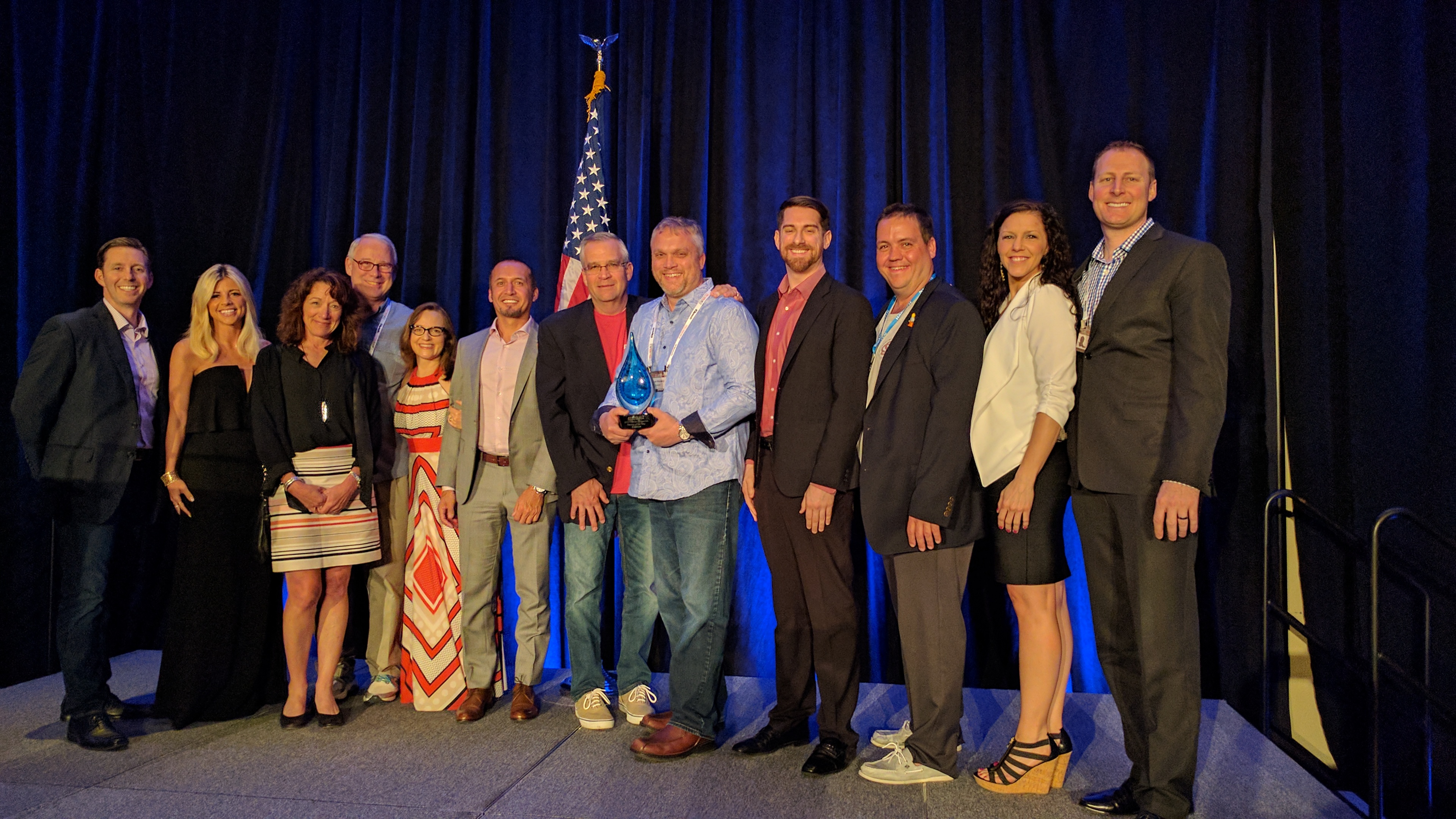 Bryce Judd, Susan Cashen, Ernie Coulter, and Bryan Koutsky from Control4 join members of ProSource at their annual awards event where Control4 is named Vendor of the Year for 2017.
Pictured: Bryce Judd, Control4, Unknown, Susan Cashen, Control4, Ernie Coulter, Control4, Unknown, Unknown, Unknown, Bryan Koutsky, Control, Unknown, Unknown, Unknown, Unknown.
Salt Lake City, UT – June 6, 2017
–
Control4
Corporation (NASDAQ: CTRL), a global provider of smart home solutions, has been named the ProSource Custom Integration Vendor of the Year for the third consecutive year. The award is voted on by a panel comprised of 500 dealers, and is given only to vendors who have had a positive impact on members' performance, helped increase engagement, shown commitment to product development, and remained responsive to individual accounts.
"Control4 is honored to be recognized by the dealers of the ProSource Buying Group. The partnership between the Control4 sales and technical field teams with the ProSource Leadership and District Management group has helped us drive business to an entirely new level, and deliver superior service to our collective dealers," said Control4 SVP of Worldwide Sales, Bryce Judd.
Dave Workman, CEO and President of ProSource said, "Control4 is a critical partner for ProSource in the system integration portion of our group's business. We are pleased that our members have once again honored the company as our Vendor of the Year."
ProSource and Control4 have been working to provide the best experience for dealers, delivering automation systems for homes and businesses together for the past eight years. The network of dealers makes smart features such as lighting, audio, video, security, and comfort a reality for thousands of customers each year.
For more information on Control4 visit
www.control4.com
.
About Control4
Control4
[NASDAQ: CTRL] is a global provider of automation and networking systems for homes and businesses, offering personalized control of lighting, music, video, comfort, security, communications, and more into a unified smart home system that enhances the daily lives of its consumers. Control4 unlocks the potential of connected devices, making networks more robust, entertainment systems easier to use, homes more comfortable and energy efficient, and families more secure. Today, every home and business needs automation horsepower and a high-performance network to manage the increasing number of connected devices. The Control4 platform interoperates with more than 10,000 third-party consumer electronics products, ensuring an ever-expanding ecosystem of devices will work together. Control4 is now available in 90 countries. Leveraging a distribution channel that includes over 5,500 custom integrators, retailers, and distributors authorized to sell the full-line of Control4 products, our Pakedge branded networking solutions and Triad Speakers, Control4 is delivering intelligent solutions for consumers, major consumer electronics companies, hotels, and businesses around the world.
Control4 Press Contact
Kimberly Lancaster, Caster Communications
klancaster@castercomm.com
401-792-7080
# # #
Copyright ©2017, Control4 Corporation. All rights reserved. Control4 and the Control4 logo, are registered trademarks or trademarks of Control4 Corporation in the United States and/or other countries. All other names and brands may be claimed as the property of their respective owners. All specifications subject to change without notice.
Source: Control4