World of Wonder
June 8, 2020
Kirkby Lonsdale (pronounced "curb-E"—the second 'k' is silent—those tricksy Brits!) is a small, ancient market town in the north of England, nestled between two of the country's most stunning national parks—the Yorkshire Dales and the Lake District. The town is peppered with unspoiled historical buildings and landmarks, as well as an array of exceptional independent shops and small businesses, most of them owned and run by locals. It is, in short, the epitome of Englishness.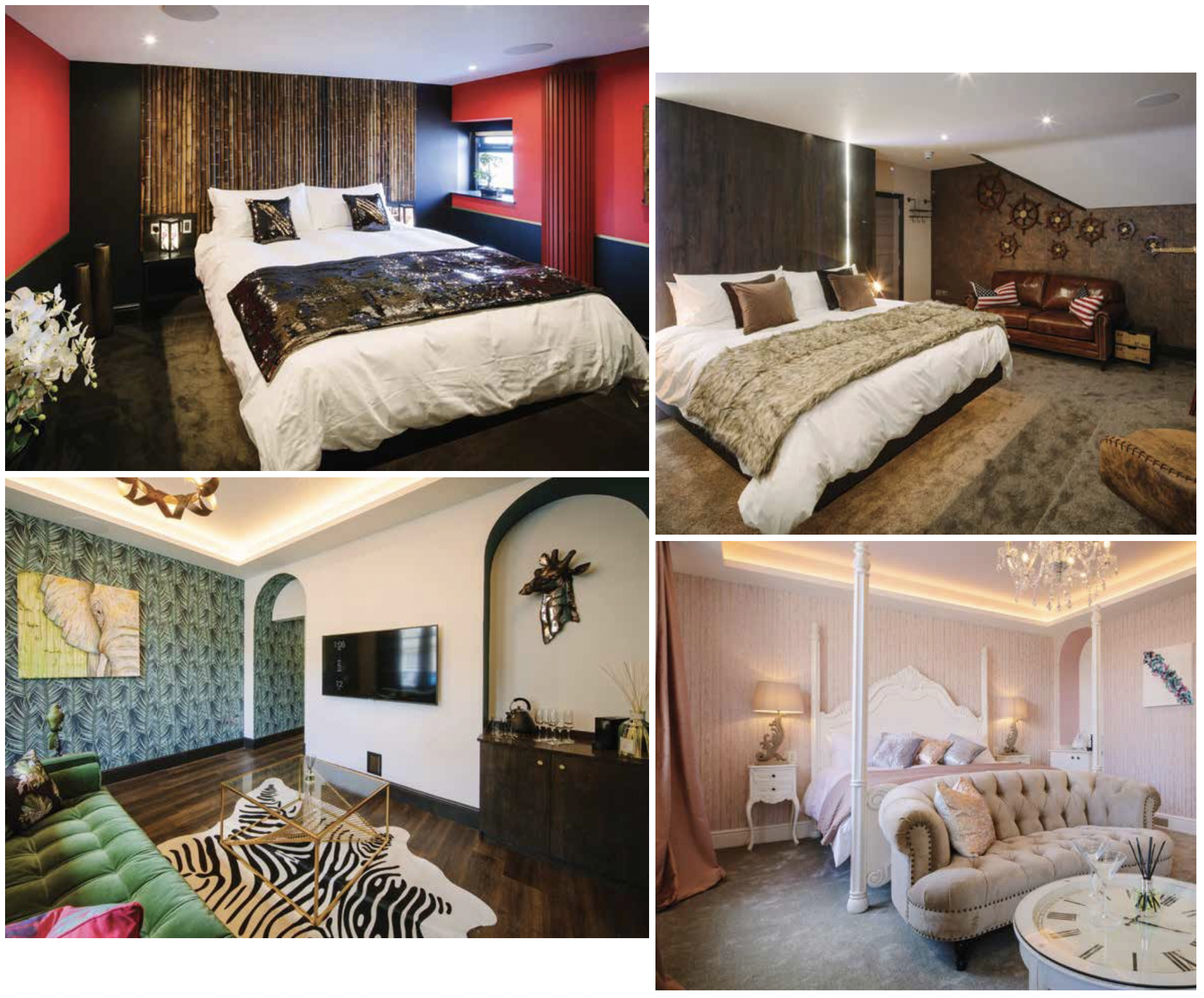 Step inside the delightful, three-story Victorian townhouse at number 4 Main Street, however, and you will be swept across the globe to Africa, the Far East, Europe, and the Americas. Absoluxe Suites is a unique getaway retreat themed around the four corners of the world—and an exemplary showcase for exquisite design, luxury interiors, and state-of-the-art smart home technology. The suites were the brainchild of Kirkby smart home tech specialist Majik House (run by husband-and-wife team Tim and Carol Burrow) and luxury bathroom supplier Aquajade, another Kirkby business (run by their friends, Zuzi and Phil Armstrong).

Despite being very much a local initiative, it was fittingly conceived during a trip overseas. "We do a lot of mutual client referrals, as we're located in the same business park, serving a similar base of residential customers," says Majik House business director Carol Burrow. "Two years ago, the four of us went on a short culinary break to Lyon in France. Over a few bottles of wine, we decided there must be a better way to bring our two businesses together and show off what we do."

And so, the idea of a new hospitality joint venture was born—Absoluxe Suites. "We figured that not only could we create a unique retreat for anyone seeking a taste of luxury, but it could also double as a showcase for our clients, where they could spend a night trying out the latest smart technology in a luxury setting to help them decide what they might want in their own homes. That's very different to spending two hours in a showroom pressing buttons," says Carol.

On their return, they set to work on realizing the idea, drawing on Kirkby's close-knit business community to secure and transform the impressive limestone townhouse. Carol says: "We knew the former owner of the building—which was most recently used as a hair salon– and we managed to do a deal with him even though it wasn't on the market. There hadn't been any major work on the place for more than 20 years, and it had to be completely gutted, although we've retained notable original features such as the stained glass, decorative coving on the staircase, and archways above the internal doors— all of which we've since highlighted."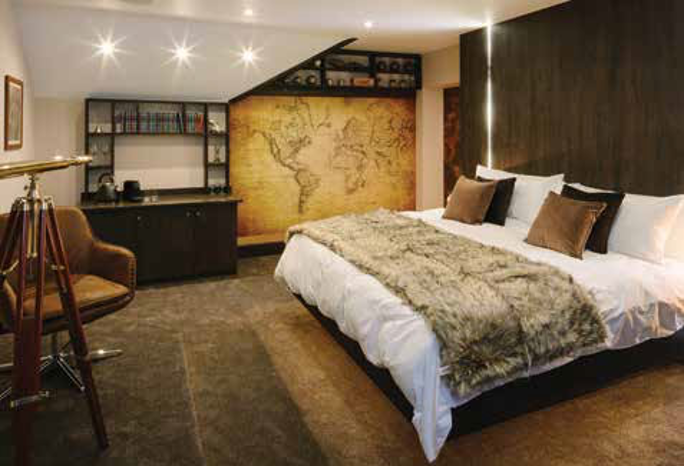 Using various local professionals they'd worked with on previous installations, they spent the next 12 months having the building rewired, replumbed, re-plastered, and reroofed, as well as changing the position of some internal walls.

Meanwhile, Tim and Carol gave Majik House's marketing and events specialist Sally Proctor—who also happens to be a qualified artist—free reign with the design. "Despite my art background, this was my first time dabbling with interiors. Tim and Carol wanted each room to be individually themed, gave me a budget, and just let me get on with it," says Sally.

After playing around with a few ideas, she hit on the "four corners of the world" theme. The quartet of suites would take their look and feel from, respectively, Africa, the Orient, 19th century Paris, and Christopher Columbus's discovery of the Americas. "That fit really nicely, because I wanted an overarching connection that would still let us play with different styles and be a bit experimental in every room," says Sally.

After sketching out the designs and settling on color schemes, she set about sourcing (and creating) pieces for all the suites. "I had a real image in my head of what I wanted to create and managed to find 95% of what I needed, both online and through another local company that had just opened," she says. She also made her own bespoke artwork for each suite and the hallways, such as the elephant portrait which formed the inspiration for the African- themed Oasis suite on the ground floor. This is the largest of the four suites, featuring décor that evokes the lush green canopy of the African Congo, a dedicated luxury media lounge, and an outdoor terrace with a top-of-the-range hot tub from Aquajade.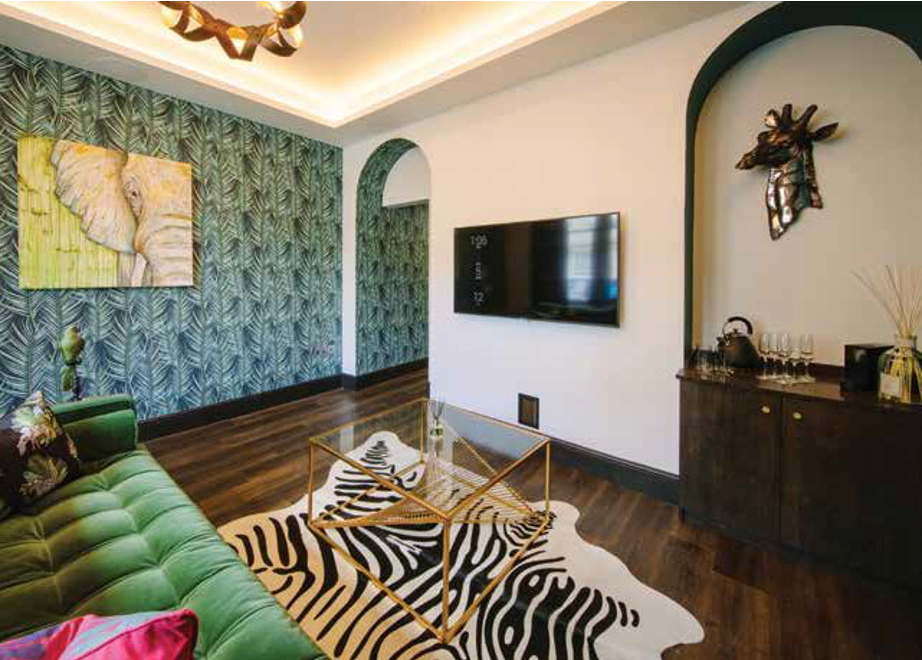 Carol Burrow says: "There are usually gasps when people walk round for the first time. The design hits them first. Most people say entering the Oasis is like walking into a spa. The technology, though, is much more subtle. When they arrive and tap in the door entry code for their suite, the lighting comes on, along with music appropriate to the theme of the suite—so when they enter, it almost feels like it's alive."

The subtle tech is largely down to Majik House founder and Control4 Smart Home Professional Tim Burrow. With discreet, easy-to-use Control4 technology at the heart of the system, Tim can ensure guests are always delighted and the tech's never intrusive. "Everything is integrated fully into the fabric of the building, so there are no cables visible. The only visible tech is the screens, which are mostly flush to walls and positioned so they're not the central focus of the room," he says.

Powerful Pakedge wireless networking is used as the backbone of the network, providing each suite with its own internal wireless network as well as fast Wi-Fi internet access. Control4 technology gives guests in all the suites simple control over lighting, heating, TV, radio, music, window blinds, CCTV, and security. "They can access and control everything simply and intuitively via an on-screen display. All we have to say to them is 'Press the red 4 on the remote control' and they're guided through.

Control4 has never let us down," says Tim. Carol adds: "I always give the remote to women guests, because nine times out of ten they say they're no good with technology. Then they press the red 4, a screen comes up straight away, and very quickly they have it all mastered. When they leave, many comment in the guest book or on TripAdvisor about how much they love the tech," she says.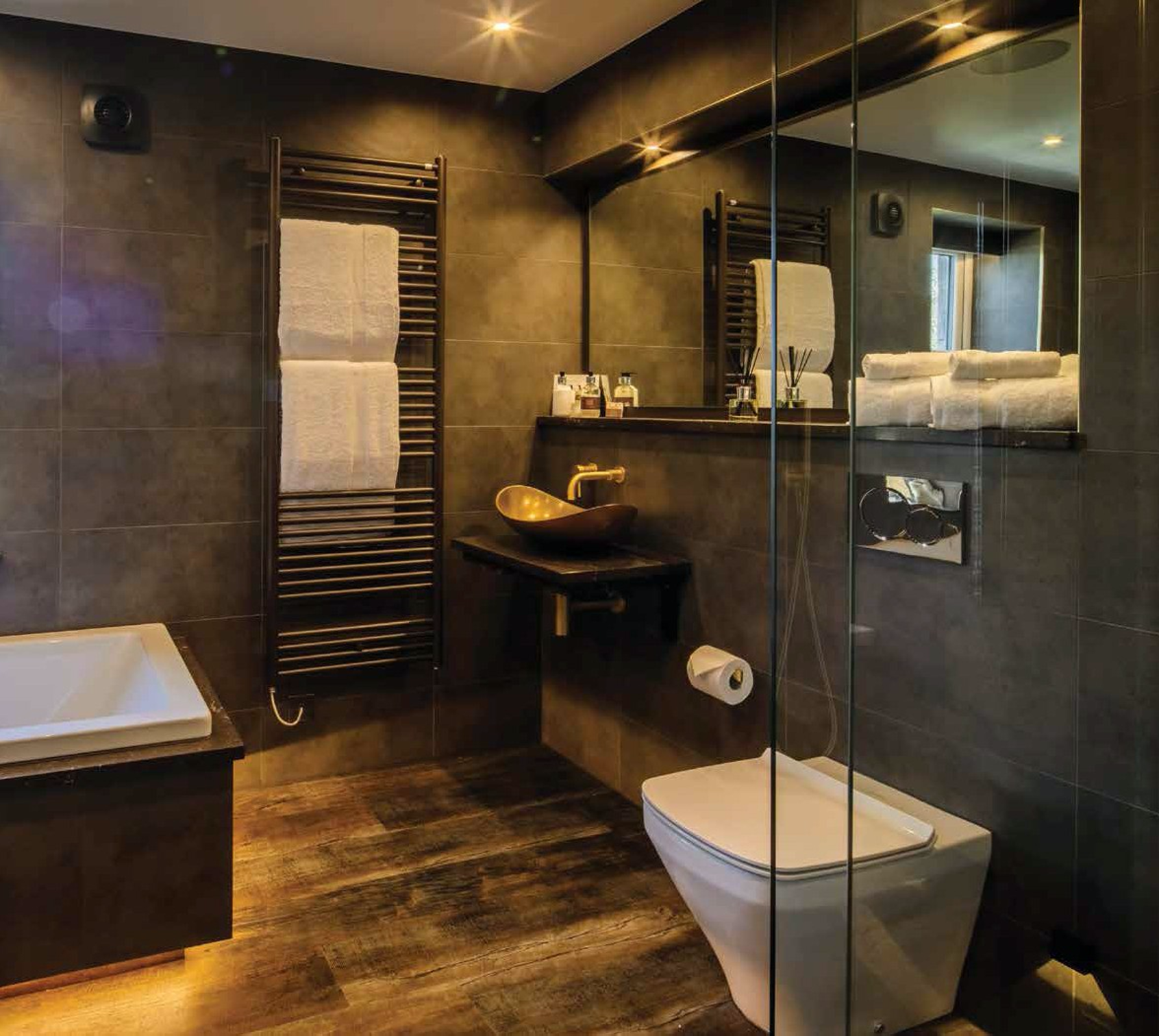 But she doesn't think it's surprising that some guests are initially wary. "We've stayed in a lot of supposedly high-end hotels ourselves where the technology has been atrocious and leaves you really frustrated. That never happens here. Control4 technology is so easy to use, it's a delight," she says.

Also, on the ground floor is the smallest and coziest of the four suites, The Orient. This was originally two lean-to sheds but was completely rebuilt for the refit. It has its own private entrance through the stone archway that leads to the rear of the building, as well as another hot tub. Sally says the suite was inspired by not one but several Far Eastern countries—the bold colors of China, the traditions of Japan, and the cultural essence of Thailand, giving it a distinct sense of Zen-like calm. "The Orient creates a harmonious balance, perfect for relaxation," she says.

On the second floor, the Parisian suite has an altogether softer, more feminine feel, with its 19th-century styling inspired by French impressionist art—complete with decadent chandeliers, velvet-upholstered carved bed, traditional French-style bathroom suite, and luxurious free-standing copper bath, along with wonderfully quirky touches like the French station-clock table in the bedroom.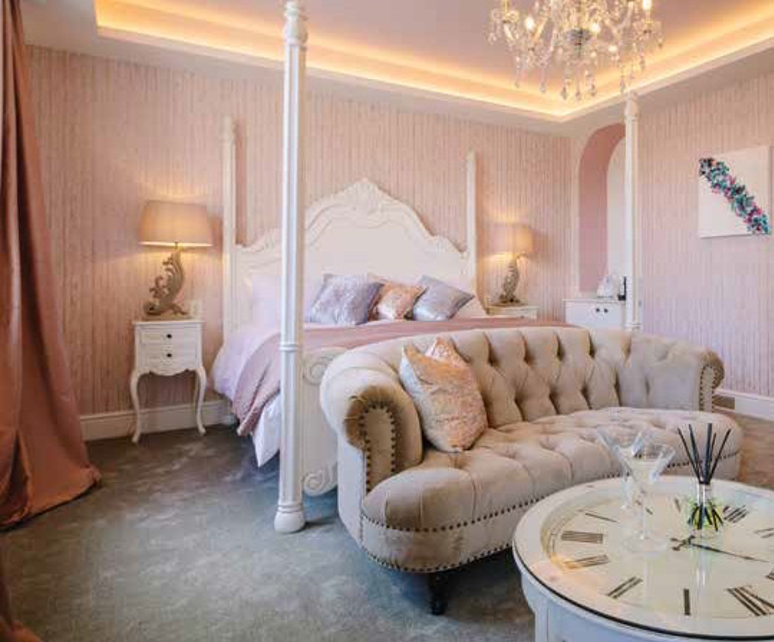 Finally, the top floor houses the Columbus suite, which combines Americana, such as a distressed leather sofa with stars-and-stripes cushions, with nautical motifs like the ship's wheels on the bedroom wall and the vintage telescope pointing out to the suite's stunning views over the Yorkshire Dales.

All of the suites ooze luxury, with super-king-size beds and top-quality linens, fabrics, and soft furnishings throughout, themed according to the suite. Tim has even created custom lighting scenes to imbue every suite with the right atmosphere for any occasion, for example, welcoming guests or chilling out. Again, these can all be accessed easily from the Control4 remote.

Since opening in April 2019, Absoluxe Suites has had a steady stream of guests—mostly couples within a two-hour drive seeking a few days of luxury, although they've also had a number of potential clients and a handful of overseas tourists stay.

And while the suites were inspired by the four corners of the world, Carol and Tim are firmly committed to their local community. "There are natural spin-offs for lots of businesses in Kirkby. For example, we don't do food, but we have a great relationship with the five-star hotel next door, and guests can be at a restaurant or bar within half a minute. We also use lots of local companies for things like laundry, luxury chocolates, and hand-made toiletries," says Carol.

Absoluxe Suites is also helping to shine a luxurious light on this little-known corner of England. "More often than not, guests don't know Kirkby Lonsdale before they stay with us—they're drawn here solely because they've seen the suites online," says Carol. "But once they get here, they fall in love with the town, too."


YOU CAN MAKE YOUR HOME A
WORLD OF WONDER, TOO.

START BY LEAVING YOUR INFO BELOW.
We take your privacy seriously and we promise we won't spam you; please see our privacy policy for details. By submitting your information, you are confirming that you are 18 years of age or older.
Thank you
Category
HOME SMART HOME