Connecting Technology and Design with a Smart Home OS
By
Danielle Karr
| Posted October 4, 2019
It is estimated that there will be more than 12 billion smart devices in homes around the world by next year.
This statistic can strike both excitement and fear in the hearts of designers. Up until recently, technology has generally been seen by the design community as a gadget to add to the home after design is complete. Home technology has evolved, however, and designers have more options than ever.
Motorized cabinetry allows those with physical limitations to reach objects from above, kitchen countertop surfaces feature built-in charging capabilities for mobile devices, app-connected residential sous vide ovens inspire home cooks, mirrors double as TVs and TVs double as beautiful artwork. And, while some of the technology emerging on the market still seems a little gadget-y—like a smart salt shaker—designers should familiarize themselves with tech that, when added to their design repertoire, can bring new and amazing devices together to delight clients.
A foundational smart product that will revolutionize the way clients experience their home is one many designers might not have heard of: a smart home operating system.
A smart home operating system (OS) expertly connects virtually all technology in the home. It can unify hundreds  of connected  devices  and runs them through a single platform for quick and easy control of all home tech. Too many designers have experienced the difficulties of DIY technology when trying to incorporate devices into a design. A smart home OS takes these disparate devices and connects them into one centralized system, allowing clients to access, adjust and automate all home tech with ease.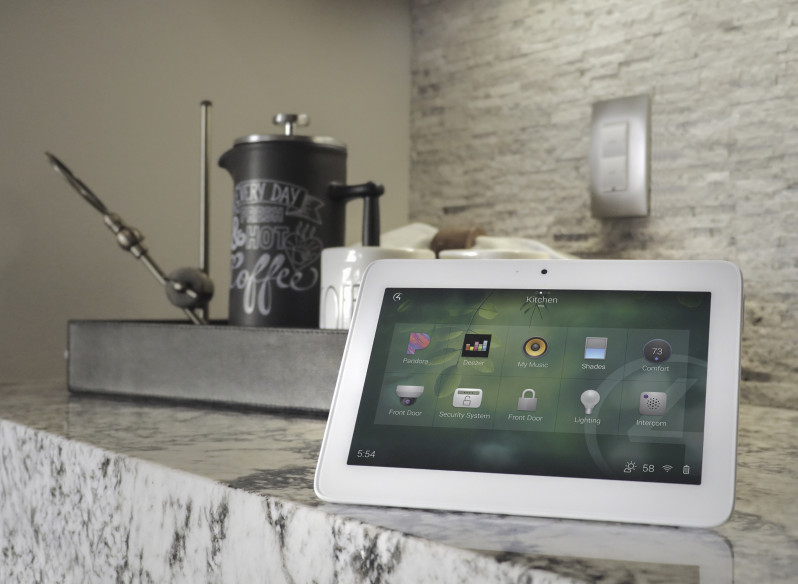 A Connected Home OS Brings the Home Together
A smart home OS supports and controls products across all categories of electronics, appliances and systems in the home. For example, a system like the Control4 Smart Home OS 3 integrates with thousands of different technology devices and services in the home, including:
Connected appliances

HVAC control

Electric blinds and shades

Smart lighting

Security cameras and systems

Video doorbell and smart locks

Universal remotes

Multiroom music and video

Home theater and audio control

Sprinkler systems, pool controls, etc.
Smart home OS design is particularly important when incorporating kitchen and bath technology as it provides various ways for clients to access the technology. A client with messy hands in the kitchen can use a voice command to adjust lighting, or an early riser can quietly use a bedside touch screen to turn on the bathroom lights to a dim 20% so as to not wake his or her partner.
Call a Control4 Smart Home Professional
Much like electrical, plumbing or HVAC experts, a Control4 Smart Home Professional is trained and experienced when it comes to designing electronic ecosystems. Bring a professional in early on a project—they'll work with you to create a smart home that is comprehensive, reliable and customized to your clients' needs. A smart home OS will also require a rock-solid network, so the smart home professional will make sure the tech infrastructure of the home is dependable and "future-proof"—meaning they'll make sure the network and hardware can handle more devices, when clients inevitably decide to add them later.
Once the technology is installed and the core programming is finished, a smart home pro will teach clients how to manage and personalize their smart home OS to ensure they know how to access and control devices, adjust presets and create automated scenes. A Control4 Smart Home Professional will also provide concierge-style tech support and service for clients if they ever need to add, remove or change devices.
If you're ready to elevate your designs with a custom smart-living experience—no matter the size or budget, new construction or old—ask your local smart home professional to help integrate a smart home OS to your project.
We take your privacy seriously and we promise we won't spam you; please see our privacy policy for details. By submitting your information, you are confirming that you are 18 years of age or older.
Thank you
BUILDING & DESIGN