Showroom Spotlight: A Sunset (Boulevard) Showroom
September 20, 2019
The Los Angeles market has long hosted luxurious smart homes, and Control4 Dealer
Malibu Wired
captures the business by delivering seamless, design-conscious, and innovative experiences. But in recent months, Malibu Wired began feeling the pull of mainstream smart home demand. Its customer base diversified at a quick clip as two things happened: First, projects broadened and scaled from one room (or a one-room pool house) to more modest-sized LA-area homes; and second, Malibu Wired built relationships with a few key realtors who wanted to market and sell new residential developments as "smart." After years in their original Malibu location, Malibu Wired co-owner, Tommy Bartnick, found a spot at the base of Sunset Boulevard to give both new and existing customers an accessible location showcasing the latest entertainment and technology trends.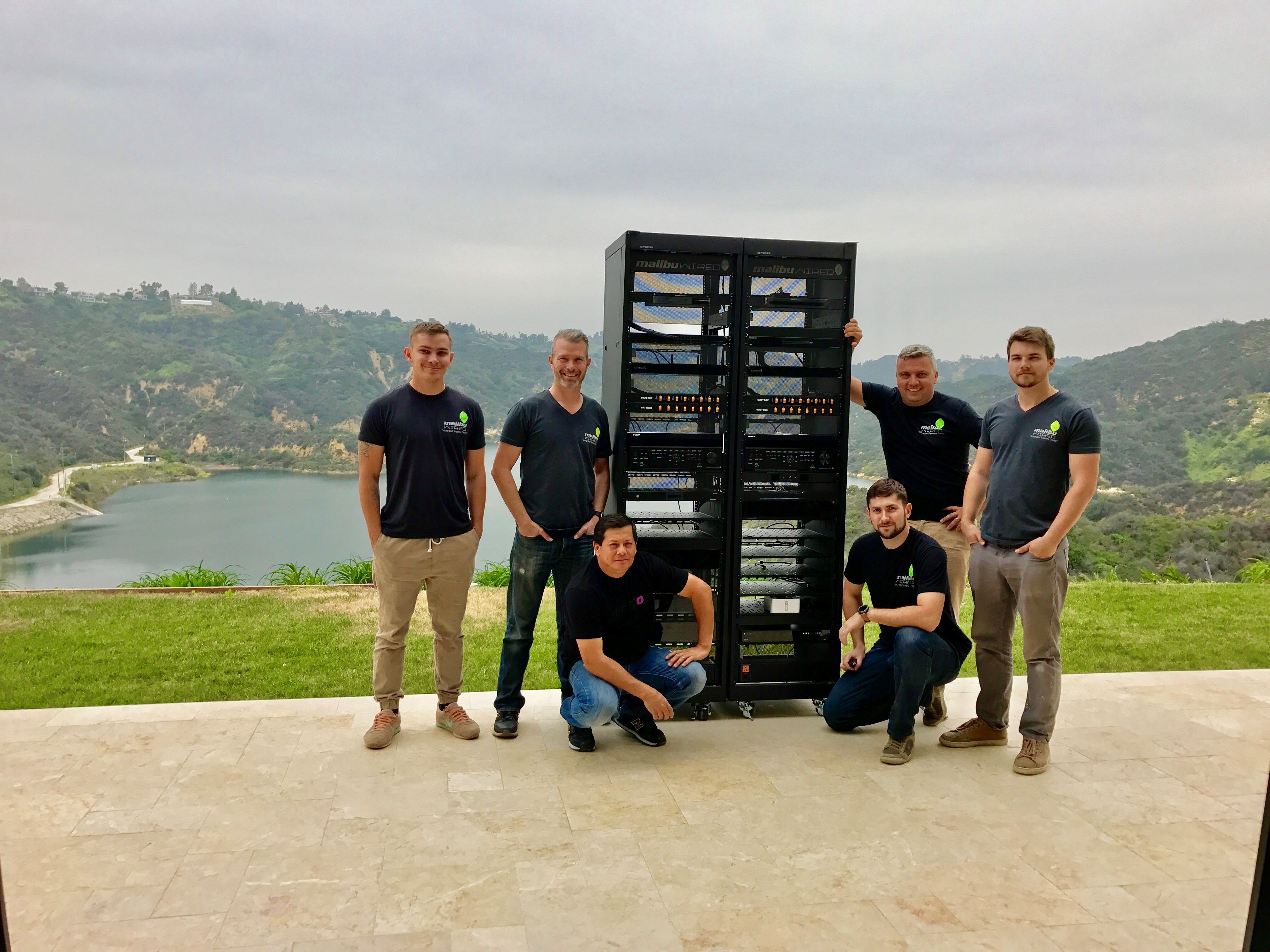 A "Money-Is-No-Object" Kind of Market
Malibu Wired has been behind some of the most outrageous smart home projects in the LA market, delivering dream systems where money is no object. One home was equipped with over $30,000 in lighting and $25,000 in video tiles after the homeowner requested Control4 for their 5,000 square-foot beachfront "weekend getaway" house, after trying a similar experience when they stayed at a Control4-automated suite in a Las Vegas hotel. Another home's system was extended into its backyard (with incredible views of the Golden State's coveted coastline) so that the family and guests could enjoy cool California nights watching movies and listening to music in a lavish $60,000 outdoor amphitheater. TV power-couple Adam Housley and Tamera Mowry-Housley have smart lighting, multi-room music, comfort, and
Intercom Anywhere
in their
LA
home controlled by Control4, and loved it so much that they had Malibu Wired add Control4 to their Napa home that they renovated in a special
HGTV
episode. The smart home systems let them manage their houses during busy travel schedule, or use their
Triad
multi-room audio systems for entertaining throughout the home, out on the patio or by the pool.
This caliber of special requests was the status quo for Malibu Wired, who was popular with luxury clientele plus designers, builders, architects, and realtors in the surrounding communities because of their combination of technical expertise with a unique focus on design and ambiance. But even so, the LA market is competitive, and Malibu Wired found it needed a boost to showcase its expertise. "After years of meetings at architect offices or even at project sites, it was clear that having our own showroom and meeting space would help us lead the discussion by being able to illustrate our skills and deliver more customized smart home experiences," explained Bartnick.
---
EXPERIENCE THE MAGIC OF A CERTIFIED SHOWROOM.
CLICK HERE TO FIND ONE NEAR YOU.
---
Malibu Wired "is focused on innovation, and always looking to grow," added Bartnick. In early 2018, their plans for a new Sunset Boulevard location coincided with Control4's launch of their
Certified Showroom
program, which would help them refine their space and create immersive smart home demo experiences. "Jumping into the program was a no brainer," said Bartnick. The team was quick to start with guidelines from Control4 and put their own spin on it with the features their customers and colleagues needed to experience first-hand.


Catering to All Design Tastes and Budgets
While it had captured the luxury market, Malibu Wired had the opportunity to bring their expertise to a new customer base. In 2017, LA and surrounding areas started to see an uptick in young home buyers, particularly on the Westside of Los Angeles with its burgeoning tech community, these new homeowners want home technology. From entertainment systems to whole-home lighting to really cool accessories that impress their friends and co-workers, these young suburbanites wanted it all, and Malibu Wired wanted to own this new wave of millennials looking for homes. "Selling in LA is as much about selling the lifestyle as it is the product, and we've found that when it comes to selling the smart home, an authentic and immersive experience impresses all genres of clientele," said Bartnick. "That's the real benefit of a showroom."
While it's a Control4 Certified Showroom, Bartnick also found importance in making sure that the space included a variety of popular brands and household names to show clients the variety that can be automated in their homes. The Malibu Wired Sunset Boulevard showroom was designed to put experiences front-and-center: Guests are welcomed with at-home-style demos in a sleek, bright environment for a range of one-room to whole-home projects. "We designed each section to cater to what our clients ask for, adding more third-party devices to show everything we can automate," said Bartnick.
Malibu Wired used the demos to show clients that anyone could add automation and the Smart Home OS, smart lighting and shading, temperature control, multi-room audio, and more for their (or their client's) home, using projects from their portfolio as examples. "We're here to deliver the experience and solution the customer wants, and we can create so much bling that you feel like you've walked into Hollywood studio or make it so discreet that only the homeowner even knows it there. That's the beauty of home technology and what we are able to do with Control4," said Bartnick.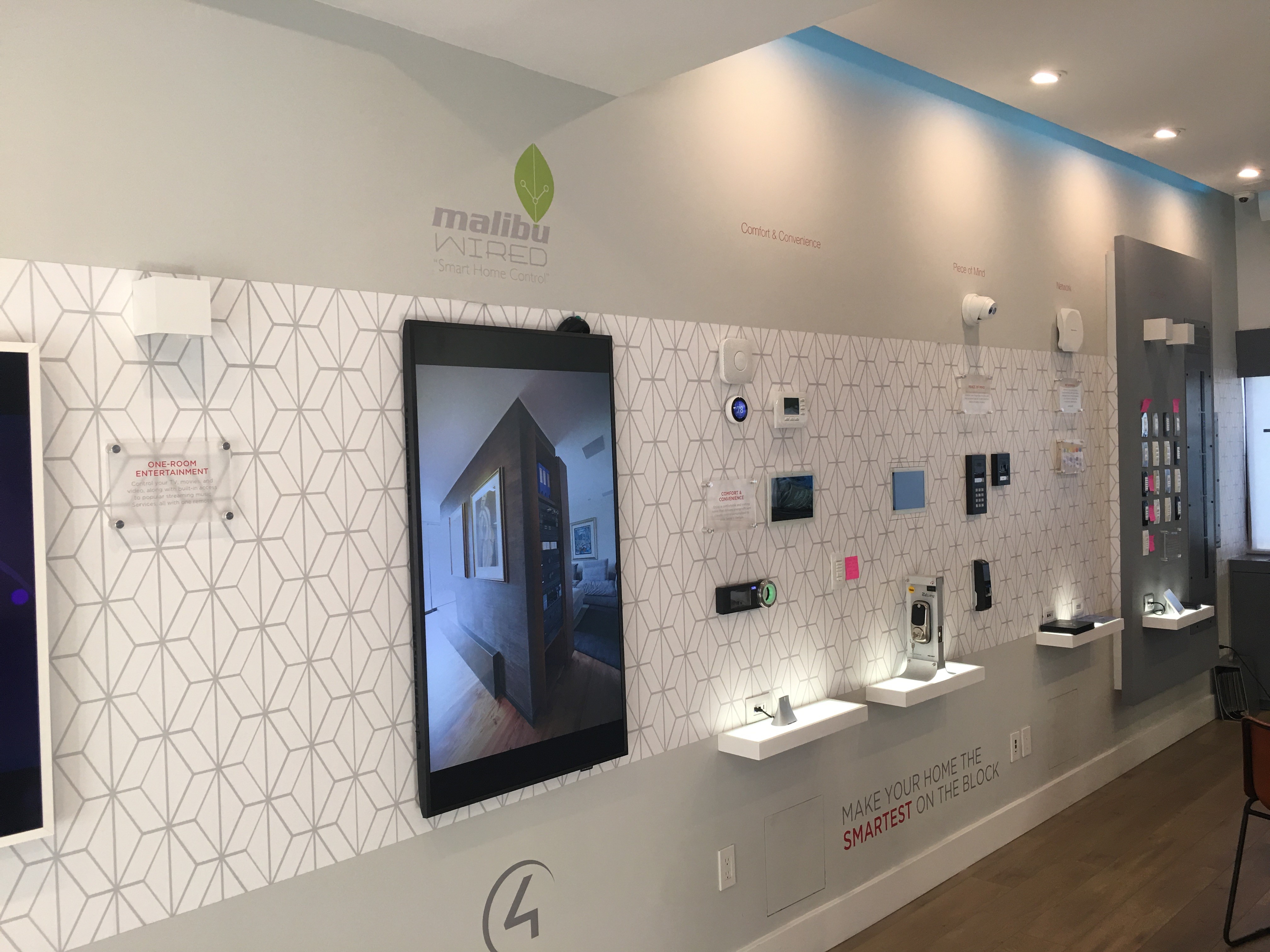 All About Authenticity
Since bringing first-hand smart home experiences to the design process through their Control4 Certified Showroom, Malibu Wired's new Sunset Boulevard location was opened to the public for demos at any time "We get a lot of people coming in that we would've never encountered before," said Bartnick. Where business previously came in as referrals from friends, designers, or realtors who'd experienced Control4 before, this new customer base had curiosity, but no experience with home technology. "Often times, walk-ins want to learn more about what we do, and while they might not be ready to buy just yet, the showroom visit turns them into a future customer. That's definitely different from what our business model was in the past."
Malibu Wired continues to serve luxury, 5,000+ square-foot homes, upgrade systems with new features and products from Control4 and other brands, and has added smaller projects into their client portfolio, even expanding into commercial spaces, including five LA-area tequila bars for
Casa Rica Tequila
. Malibu Wired also uses their showroom to proactively network and build relationships with the designers, influencers, and realtors in the area with events. With a C4Yourself Day event, Malibu Wired invited the community to "see for itself" the possibilities of home automation.
The demo experience is inviting and is continuously updated as new products hit the market, which has made the showroom a catalyst in diversifying Malibu Wired's project portfolio to serve LA's curiosity for home technology. "I've noticed plenty of growth in the business since we opened up the showroom," commented Bartnick. Successfully presenting the smart home has made the difference in their business in just the first year, but technology moves quickly. According to Bartnick, now Malibu Wired is already drawing up plans to expand their showroom to support their growth. "We're competitive now, and an even larger showroom space would further set us up for success."
Drop your info below and we'll help you find the
Certified Showrooms near you!
We take your privacy seriously and we promise we won't spam you; please see our privacy policy for details. By submitting your information, you are confirming that you are 18 years of age or older.
Thank you
Category
SMART HOME TRENDS