Giving Clients What They Really Want: Evan Christensen and Harry Hamilton on Home Automation
By
Danielle Karr
| Posted December 11, 2018
When it comes to understanding the way a homeowner thinks, Harry Hamilton and Evan Christensen are world-class experts. Their technology firm,
Above Grade Automation
, is a full-service smart home and commercial automation design and integration company serving the Central California Coast. They have made a name for themselves by providing their clients with smart home technology solutions that are elegant, fun, and exactly what the clients are wanting. This dynamic duo is able to consistently provide the products and services that delight each of their clients by taking time to unearth a homeowner's true wants and needs when it comes to home automation. We sat down with these two smart home professionals to find out what they love about the home automation industry, how they give clients the smart home results they really want, and how other industry professionals can take advantage of their honed technological expertise.
What got you interested in becoming a home automation expert?
Harry:
So my firm started as a civil engineering firm, and we decided to get into smart home automation to help provide our customers with more options. We were already adding land surveying and electrical engineering to our services, so it made sense to add home automation as well. A guy at the company had used Control4 before and really liked it, so he told me to look into it. I did and liked what I found, and, after a long journey, I was able to go through the Control4 training program and become certified. I then went to CEDIA and realized that if I was going to be successful with home automation I was going to need some help. Right after that, I met Evan at his wedding and quickly realized he was the person I was looking for.
Evan:
It's funny because he actually asked me to join his company via text message while I was on my honeymoon in Mexico! I had just graduated with my management degree and was working for an entertainment post-production company managing facility and security operations. But, after talking with my wife, we decided to go for it and I accepted the offer. So I got there and my priority was poring over spec sheets to learn about all this new technology and apply what I knew from high-end facility operations so we could deliver a great product. My first project was also one of our biggest projects, and so we had to put it all out there and agonize over the details to get things just right. I'm happy to say it turned out really amazing.
What do you love most about this industry?
Harry:
I've always been of the mantra that there is no problem you can't solve if you throw enough brain cells at it. I am a perfectionist—if it's worth doing, it's worth doing right—and so I enjoy the challenge of building both beautiful and functional technology solutions into a space. I think this is also why I work well with architects and interior designers; they want a space to be functional but they also want it to have form. With this technology, we can make something work well and make it beautiful in how it works.
Evan:
I love that this industry is constantly changing and there is always something new. I love meeting new manufacturers to see what they can offer clients, and I feel like every week there is an exciting new challenge or a new product that comes across our desks. To me, this industry is a mix between science and art—there is a technical backend, but then we spend a lot of time trying to find the best experience and best-looking experience for the clients, which is all about feeling.
How do you approach a project to make sure the client is satisfied with the results?
Harry:
A client will tell you that they want it to be 'loud' in their theater room, but my goal as a home automation designer is to quantify what 'loud' really means to the client and then figure out how to deliver on that. My job is to learn how a client is going to listen to the sources and what types of sources they are really looking for in order to provide them a satisfactory experience. Clients tell us all the time what they want in the terms that they understand, and so it is our job to then turn it into a measurable item and deliver the results that will make a customer truly happy. It is important to codify the client's wants at the beginning, so often we create a functional specification to go off of that you can prove at the end of the project.
Evan:
As Harry said, we have to derive meaning and desires from what our clients tell us. For example, if the ask is for 'audio in every room,' then your proposal needs to list out specifically how it's going to achieve that -and understand that you can't take that direction literally. Even for folks who can afford it, few people want to rock out in their laundry room. You don't give the clients what they ask for; you give them what they want. And it's up to us to figure that out. It's all about giving them the experience that will make them happy in the end.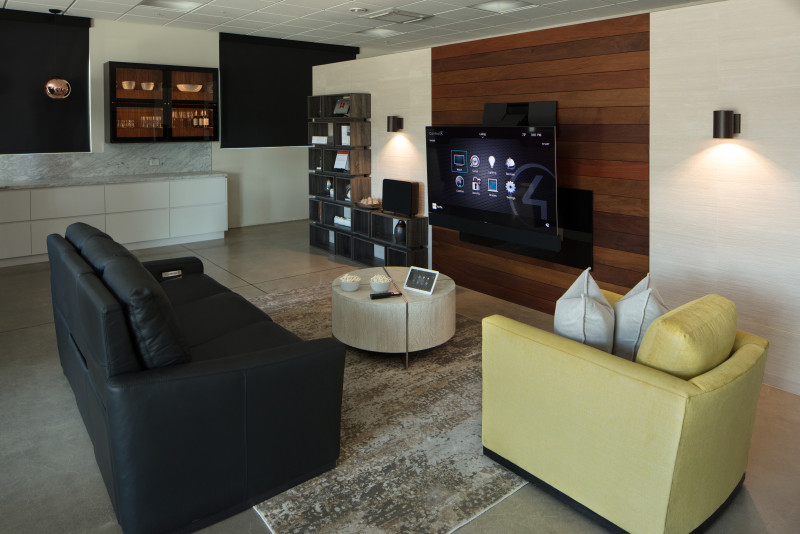 What can you offer interior designers to help them succeed with their projects?
Harry:
In a high-end residence, a homeowner is hiring experts because they are wanting custom things done right. So, an interior designer would not want to let their client end up with technology that is just off the shelf and generic when everything else they are designing in the home is custom and connected in an elevated way. We give designers the ability to provide the best for their clients by being their technology expert. We allow them to focus on their project and know that we are going to give their client a custom and high-quality home automation experience.
Evan:
Staying up to date on the latest technology shouldn't be an interior designer's or architect's job. It is something that would take up so much of their time, but it is something that we focus on and can provide them in every one of their projects. It is my job to be knowledgeable so they can trust that I'm giving them the most contemporary products offerings and something that looks really great in the home. For example, we recently were brought onto a project, and the designer was telling us that the homeowner wanted a Samsung's 'The Frame' TV with a sound bar underneath; however, I was able to bring up the point that a sound bar would detract from the intent. This particular model goes into 'art mode" when not in use, and looks very close to a framed piece of art. A soundbar would be a dead giveaway that it's a TV. So we recommended a different sound solution and were able to help give them the end result they really wanted.
What other advice do you have for interior designers or architects about home automation?
Harry:
I would advise the designer to challenge their integrator. One thing I feel is that a lot of time smart home professionals are forced to rush and get things done because they are brought into a project late. If an architect or designer brings them in early, they can challenge them to get creative and find solutions that make the project really special. The point of an integrator is to make technology simple and marry the different parts of the home together--so challenge the integrator to bring in new ideas and ways of doing things to the project.
Evan:
Start the automation process early! A lot of these designs conceptually happen early, so when you're building the focal points of the spaces get the integrator in and have them figure out ways to marry the different parts of the home together with technology, without having to compromise on design. We can bring in new ideas and ways of doing things that will step up the overall project. Often designers or architects are happy to pick products that allow for a better-integrated experience for their client, so bringing in the smart home professional early helps craft truly custom automation in the home.
_______________________________________________________
Category
BUILDING & DESIGN